Gestalt Graphology: Exploring the Mystery and Complexity of Human Nature Through Handwriting Analysis (Paperback)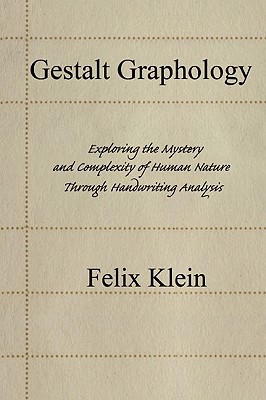 $22.95

Usually Ships in 1-5 Days
Description
---
Founder of the National Society for Graphology, Felix Klein began his study of graphology in his birthplace, Vienna, Austria, at the age of thirteen. He was a practicing graphologist all of his life and lectured and gave seminars throughout the United States and in Canada, England, Germany, Israel and Mexico.
Mr. Klein came to the United States in 1940 after spending six months each in the concentration camps at Dachau and Buchenwald. While in those camps he formulated his theory of directional pressure as a result of studying changes in the handwriting of his fellow inmates.
Mr. Klein did extensive work in personnel selection for major companies and banks, vocational guidance, and individual analyses, as well as forensic document examination for such entities as the U.N., AT&T, and a major political figure in Ghana, Africa.
It was probably as a teacher that Felix was most known and loved. He held classes and offered correspondence courses in all levels of graphology: elementary, intermediate, advanced, Master Research, and Psychology for Graphologists.
Wherever Felix spoke, his warm, caring personality and his naturalness and keen sense of humor generated enthusiastic responses from young and old alike.