A Year of Last Things: Poems (Hardcover)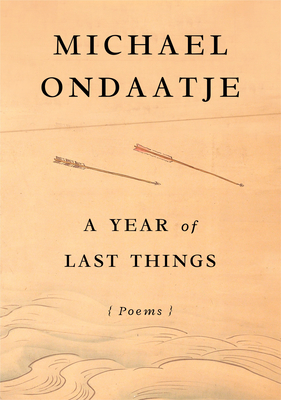 $28.00

Coming Soon - Available for Pre-Order Now
Description
---
From one of the most influential writers of his generation, a gorgeously surprising poetry collection about memory, history, and the act of looking back

Following several of his internationally acclaimed novels, A Year of Last Things is Michael Ondaatje's long-awaited return to poetry. In pieces that are sometimes witty, sometimes moving, and always wise, we journey back through time by way of alchemical leaps, unearthing writings by revered masters, moments of shared tenderness, and the abandoned landscapes we hold on to to rediscover the influence of every border crossed.

Moving from a Sri Lankan boarding school to Molière's chair during his last stage performance, to Bulgarian churches and their icons, to the California coast and his beloved Canadian rivers, Michael Ondaatje casts a brilliant eye that merges memory with the present, in the way memory as the distant shores of art and lost friends continue to influence everything that surrounds him.

From his poem "His chair, a narrow bed, a motel room, the fox":
At the Hacienda Motel in Los Angeles Sam Cooke was shot dead.
'See that shadow on the wall . . .' All those motels and hotels
in literature and song, where X wrote this,
where Y got drunk, where Z overdosed.
The one Hank Williams was driven past, dead already in his car.
The Slavianski Bazaar Hotel in "The Lady with a Dog,"
where Dmitri imagines their dark but hopeful future.
The Hôtel de ville de Courtrai, where Verlaine shot Rimbaud.
The Casa Verdi in Milan, where retired opera singers were welcomed
along with various heteronyms of Fernando Pessoa in their afterlife.
About the Author
---
MICHAEL ONDAATJE is the author of seven novels, including Coming Through Slaughter, The Cat's Table, and Warlight; a memoir, Running in the Family; a nonfiction book on film-editing, The Conversations; and several books of poetry, including The Cinnamon Peeler and Handwriting. Among other accolades, The English Patient received the Booker Prize in 1992 and was made into a film by Anthony Minghella; Anil's Ghost was awarded the Irish Times International Fiction Prize and the Prix Médicis. Born in Sri Lanka, Michael Ondaatje lives in Toronto.
Praise For…
---
"Each new book of Michael Ondaatje's is a literary event, but that is particularly true for his books of poetry. In A Year of Last Things he comes close to writing something like a timeless poem, 'a memory poem' that reflects outside and inside time at the same moment, recording the mercurial, mysterious feeling of being alive. The poems become intimate, unresolved stories, loyal to feeling and presence, the lyricism of dreams applied to narratives of lives and landscapes. A Year of Last Things is a remarkable, incomparable new collection."
—Terrance Hayes