All the Broken Places: A Novel (Hardcover)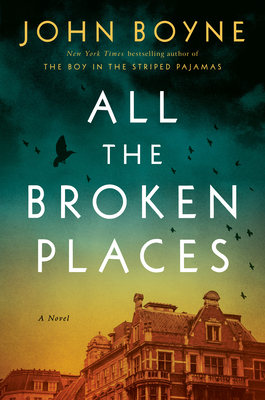 December 2022 Indie Next List
---
"Gretel Fernsby is a character for the ages! She's a 91-year-old full of guilt with stories to tell. Boyne writes her with great compassion — maybe more than she deserves — and brings alive a story spanning decades and continents."
— Claire Benedict, Bear Pond Books, Montpelier, VT
Description
---
"You can't prepare yourself for the magnitude and emotional impact of this powerful novel." —John Irving, #1 New York Times bestselling author of The World According to Garp

"Exceptional, layered and compelling…This book moves like a freight train." —Amy Bloom, New York Times bestselling author of In Love

From the New York Times bestselling author John Boyne, a devastating, beautiful story about a woman who must confront the sins of her own terrible past, and a present in which it is never too late for bravery

Ninety-one-year-old Gretel Fernsby has lived in the same well-to-do mansion block in London for decades. She lives a quiet, comfortable life, despite her deeply disturbing, dark past. She doesn't talk about her escape from Nazi Germany at age 12. She doesn't talk about the grim post-war years in France with her mother. Most of all, she doesn't talk about her father, who was the commandant of one of the Reich's most notorious extermination camps.

Then, a new family moves into the apartment below her. In spite of herself, Gretel can't help but begin a friendship with the little boy, Henry, though his presence brings back memories she would rather forget. One night, she witnesses a disturbing, violent argument between Henry's beautiful mother and his arrogant father, one that threatens Gretel's hard-won, self-contained existence.

All The Broken Places moves back and forth in time between Gretel's girlhood in Germany to present-day London as a woman whose life has been haunted by the past. Now, Gretel faces a similar crossroads to one she encountered long ago. Back then, she denied her own complicity, but now, faced with a chance to interrogate her guilt, grief and remorse, she can choose to save a young boy. If she does, she will be forced to reveal the secrets she has spent a lifetime protecting. This time, she can make a different choice than before—whatever the cost to herself….
About the Author
---
John Boyne is the author of thirteen novels for adults, six for younger readers and a collection of short stories. His 2006 novel, The Boy in the Striped Pajamas, was a #1 New York Times bestseller with more than 11 million copies sold worldwide, and has been adapted for cinema, theatre, ballet and opera. His many international bestsellers include The Heart's Invisible Furies and A Ladder to the Sky. He has won three Irish Book Awards, along with a host of other international literary prizes. His novels are published in more than fifty languages. He lives in Dublin, Ireland.


Praise For…
---
"When is a monster's child culpable? Guilt and complicity are multifaceted. John Boyne is a maestro of historical fiction. You can't prepare yourself for the magnitude and emotional impact of this powerful novel."
—John Irving, #1 New York Times bestselling author of The World According to Garp

"This novel, this exceptional, layered and compelling story, is built on modern history and all of us people who live it. The protagonist, the elderly, forthright and mysterious Mrs. Fernsby, is more than memorable and every one of Boyne's characters, and every scene, dark or light, is limned in truth and insight. This book moves like a freight train,with force and consequence for the reader." 
—Amy Bloom, New York Times bestselling author of In Love

"John Boyne has written a propulsive, heartrending mystery that delivers on both an intellectual and emotional level. It is the story of Gretel Fernsby, a ninety-one year old woman who has spent her life keeping a terrible secret, and the reckoning she faces when past and present collide. Complex. Ferocious. Beautiful and hard. I could not put this novel down."
—Ariel Lawhon, New York Times bestselling author of I Was Anastasia and Code Name Hélène

"What an incredible feat of storytelling. All the Broken Places is a stark confrontation of evil, an examination of guilt and deflection, and an old-fashioned page-turner. John treads the finest of narrative lines with skill and grace and proves himself yet again to be among the world's greatest storytellers." 
—Donal Ryan, #1 international bestselling author of The Queen of Dirt Island and Strange Flowers

"A powerful novel about secrets and atonement after Auschwitz… All the Broken Places is a defence of literature's need to shine a light on the darkest aspects of human nature; and it does so with a novelist's skill, precision and power."
—The Guardian

"This is a powerful page-turner, a novel that tackles complex issues while keeping its reader utterly gripped. Gretel's "final story" is an essential one."
—Minneapolis Star-Tribune

"Clear your calendar. Get All the Broken Places and just don't make any plans, other than to read and read and read."
—Washington Blade

"A complex, thoughtful character study that avoids easy answers." 
—Kirkus Reviews

"In Gretel, Boyne has created a magnificently dyspeptic protagonist whose self-assurance, sharp tongue and wry humor are at odds with her private agony."
—the Financial Times