Like, Comment, Subscribe: Inside YouTube's Chaotic Rise to World Domination (Large Print / Paperback)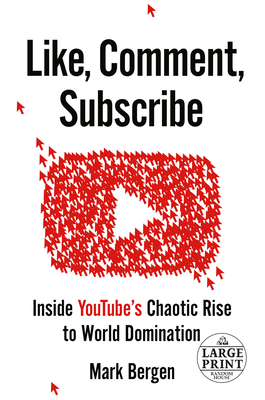 $32.00
Email or call for price
Description
---
The gripping inside story of YouTube, the company that upended media, culture, industry, and democracy—by a leading tech journalist

Across the world, people watch more than a billion hours of video on YouTube every day. Every minute, more than five hundred additional hours of footage are uploaded to the site, a technical feat unmatched in the history of computing. YouTube invented the attention economy we all live in today, forever changing how people are entertained, informed, and paid online. Everyone knows YouTube. And yet virtually no one knows how it works.

Like, Comment, Subscribe is the first book to reveal the riveting, behind-the-scenes account of YouTube's technology and business, detailing how it helped Google, its parent company, achieve unimaginable power, a narrative told through the people who run YouTube and the famous stars born on its stage. It's the story of a revolution in media and an industry run amok, how a devotion to a simple idea—let everyone broadcast online and make money doing so—unleashed an outrage and addiction machine that spun out of the company's control and forever changed the world.

Mark Bergen, a top technology reporter at Bloomberg, might know Google better than any other reporter in Silicon Valley, having broken numerous stories about its successes and scandals. As compelling as the very platform it investigates, Like, Comment, Subscribe is a thrilling, character-driven story of technological and creative ingenuity and the hubris that undermined it.
About the Author
---
Mark Bergen has been one of the leading business journalists covering everything about Google for more than seven years. He writes for Bloomberg and Businessweek, and previously reported on technology and media for the premier industry publications Recode and Ad Age. Before that, he covered business and economics from India, writing articles for The New York Times, The Wall Street Journal, Time, Reuters, the BBC, The New Yorker, and several other outlets. He has frequently discussed his Google reporting on Bloomberg TV, CNBC, MSNBC, and NPR stations. He lives in California and watches a considerable amount of YouTube.