Momo Arashima Breaks the Mirror of the Sun (Hardcover)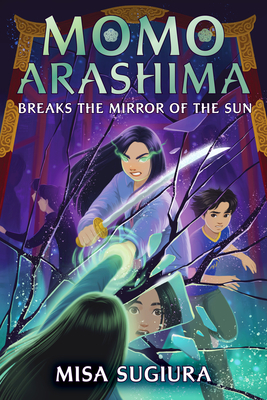 $18.99

Coming Soon - Available for Pre-Order Now
Other Books in Series
This is book number 2 in the Momo Arashima series.
Description
---
In the next book in the thrilling fantasy series filled with gods and monsters of Shinto mythology, a twelve-year-old girl must steal an ancient relic, work with new friends and learn to control her own dangerous power to defeat a new threat.

After vanquishing a demon king, saving her mom, and reconnecting with her friend Danny, Momo ought to be living the life she's always wanted. But lately, Danny has been ditching her to hang out with mean-girl Ryleigh—and groups of kids have begun vanishing without a trace. Then a whole backyard full of cool kids at Ryleigh's exclusive birthday party becomes the latest to disappear, leaving Momo, Ryleigh, Danny, boy band superstar Jin, and Momo's old friend Niko the fox to fight a dangerous new enemy from Shinto legend.

This time they are up against Tamamo-no-mae—beautiful, bloodthirsty, and manipulative, she's the ultimate mean girl of the Kami-verse. To defeat her, Momo must travel to the Sky Kingdom and steal the legendary Mirror of the Sun. But if she's going to survive monster ambushes, escape giant snakes, and pull off the heist of the millennium, Momo will have to find a way to work with her team (even Ryleigh), and grapple with the growing power that connects her with her storm god grandfather, Susano'o', and her greatest foe—Izanami the Destroyer.
About the Author
---
Misa Sugiura's ancestors include a poet, a priestess, a samurai, and a stowaway. She was born and raised in Chicagoland but eventually found her way to her true home in Northern California, where she lives and writes under a giant oak tree with her husband, two sons, and a cat named Mouse. Momo Arashima Steals the Sword of the Wind is her first middle-grade novel and was inspired by the gods and monsters of her parents' home country, Japan.