Chasing Hope: A Reporter's Life (Hardcover)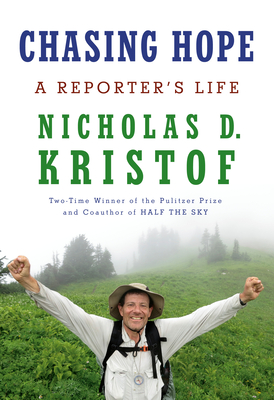 $32.00

Coming Soon - Available for Pre-Order Now
Description
---
From New York Times columnist, Pulitzer Prize winner, and best-selling author Nicholas D. Kristof, an intimate and gripping memoir about a life in journalism

Since 1984, Nicholas Kristof has worked almost continuously for The New York Times as a reporter, foreign correspondent, bureau chief, and now columnist, becoming one of the foremost reporters of his generation. Here, he recounts his event-filled path from a small-town farm in Oregon to every corner of the world.

Reporting from Hong Kong, Beijing, and Tokyo, while traveling far afield to India, Africa, and Europe, Kristof witnessed and wrote about century-defining events: the Tiananmen Square protests and massacre, the Yemeni civil war, the Darfur genocide in Sudan, and the wave of addiction and despair that swept through his hometown and a broad swath of working-class America. Fully aware that coverage of atrocities generates considerably fewer page views than the coverage of politics, he nevertheless continued to weaponize his pen against regimes and groups violating basic human rights, raising the cost of oppression and torture. Some of the risks he took while doing so make for hair-raising reading.

Kristof writes about some of the great members of his profession and introduces us to extraordinary people he has met, such as the dissident whom he helped escape from China and a Catholic nun who browbeat a warlord into releasing schoolgirls he had kidnapped. These are the people, the heroes, who have allowed Kristof to remain optimistic. Side by side with the worst of humanity, you always see the best.

This is a candid memoir of vulnerability and courage, humility and purpose, mistakes and learning—a singular tale of the trials, tribulations, and hope to be found in a life dedicated to the pursuit of truth.
About the Author
---
NICHOLAS D. KRISTOF is an op-ed columnist for The New York Times, where he was previously bureau chief in Hong Kong, Beijing, and Tokyo. He is the coauthor, with his wife, Sheryl WuDunn, of five previous books: Tightrope, A Path Appears, Half the Sky, Thunder from the East, and China Wakes. He was awarded two Pulitzer Prizes, one with WuDunn in 1990 for their coverage of China, and the second in 2006 for his columns on Darfur.
Praise For…
---
"Malaria, warlords, death threats, bombs, riots, plane crashes, scorpions, flak jackets, mobs, machetes, and deadlines—that's the price of truth-seeking and Kristof takes it on with conviction, courage, and humility. This is the kind of memoir that changes the world. Read it."—Bonnie Garmus, author of Lessons in Chemistry

"Delightful and inspiring, Chasing Hope is an illuminating and, at times, hilarious read, about an American farm boy who grew into a brave international correspondent and discovered truths that made a vast difference in the world.  May this book be read by every budding journalist, and even experienced ones, and indeed by anyone who hopes for the future of humanity."—Ann Curry, journalist

"In Chasing Hope, Nick Kristof tells the stories behind the headlines: the hidden injustices he exposed, the risks he took, and the history he watched unfold. This courageous memoir is uplifting and will inspire anyone interested in building a better world. I hope you read it!"—Sheryl Sandberg, founder, LeanIn.org


"Chasing Hope is exactly what I needed to read right now: an outstanding memoir about journalism, hope, integrity, and courage. In a world where journalism and the truth it seeks to reveal is under constant attack, it is more important than ever to impress upon people why the fourth estate matters and how reporting the facts, if done with honesty and objectivity, can shine a light in the darkest of places. Nick Kristof shows us what a life in pursuit of the truth looks like, the sacrifices individual reporters make to report on people and places in dire and dangerous circumstances. His life, and his career, have been dedicated to the presumption that words and truth matter. It is a lesson that is sorely in need of repeating in our modern, chaotic, divided world." —Kristin Hannah, author of The Women



"Nick Kristof is a journalistic exemplar, practicing the art of storytelling in its purest form. He has a penchant for covering the stories too many shy away from—rolling up his sleeves and getting his hands dirty with the hope that it will motivate us to act. His North Star has never wavered. This book should be required reading for anyone interested in journalism, or for those who need to be reminded that, in the right hands, it can be a truly noble profession."—Katie Couric

"Packed with action, adventure, high stakes and close shaves, this outstanding memoir shows us how great reporting works - and, crucially, why more than ever it's vitally important."—Lee Child, author of the Jack Reacher series