The Backyard Bird Chronicles (Book)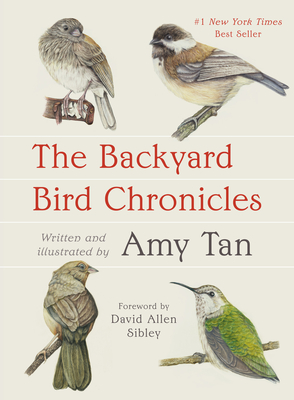 $35.00

Coming Soon - Available for Pre-Order Now
Description
---
A gorgeous, witty account of birding, nature, and the beauty around us that hides in plain sight, written and illustrated by the best-selling author of The Joy Luck Club • With a foreword by David Allen Sibley

"Unexpected and spectacular" —Ann Patchett, best-selling author of These Precious Days

"The drawings and essays in this book do a lot more than just describe the birds. They carry a sense of discovery through observation and drawing, suggest the layers of patterns in the natural world, and emphasize a deep personal connection between the watcher and the watched. The birds that inhabit Amy Tan's backyard seem a lot like the characters in her novels." —David Allen Sibley, from the foreword

Tracking the natural beauty that surrounds us, The Backyard Bird Chronicles maps the passage of time through daily entries, thoughtful questions, and beautiful original sketches. With boundless charm and wit, author Amy Tan charts her foray into birding and the natural wonders of the world.

In 2016, Amy Tan grew overwhelmed by the state of the world: Hatred and misinformation became a daily presence on social media, and the country felt more divisive than ever. In search of peace, Tan turned toward the natural world just beyond her window and, specifically, the birds visiting her yard. But what began as an attempt to find solace turned into something far greater—an opportunity to savor quiet moments during a volatile time, connect to nature in a meaningful way, and imagine the intricate lives of the birds she admired.
About the Author
---
AMY TAN is the author of several novels, including The Joy Luck Club and The Bonesetter's Daughter. She is a co-producer and co-screenwriter of the film version of The Joy Luck Club and is on the board of American Bird Conservancy. She lives in Sausalito, California.
Praise For…
---
"Much of great writing comes from great interest, and in The Backyard Bird Chronicles, Amy Tan shows us how the world fascinates her, especially the birds. The result is both unexpected and spectacular."
—Ann Patchett, author of These Precious Days
 
"What an enchanting and illuminating book! How lucky for us that Amy Tan has turned her genius, her deep empathy and insight, her keen eye for what is telling, to birds. Every page of these chronicles radiates warm curiosity, wonder, and delight."
—Jennifer Ackerman, The Genius of Birds

"This is one of the most infectious and convincing books about nature I've read. For the bird-watcher, the would-be bird-watcher, or for the bird-watching skeptic, this offers great delight and unexpected intrigue. Through Tan's ecstatic eyes, what could be a dry treatise on ornithological happenings becomes something far more fun and much more profound. It's really a book about seeing." 
—Dave Eggers, author of Ungrateful Mammals

"Anybody even mildly interested in birds, or thinking about getting interested in birds (which are, after all, the indicator genus for the health of the planet), will want this book perched on their shelf, if only for the gift of Amy Tan's eye and the example she gives us of how to pay attention. What a treasure."
—Robert Hass, Pulitzer Prize-Winning author of Summer Snow: New Poems

"Backyard Bird Chronicles is fun reading. It shows how we can become engaged emotionally, literally and artistically with the natural world—to joyfully learn about the most accessible and yet wild animals, the often rare and beautiful birds that choose to come and live near and sometimes with us."
—Bernd Heinrich, author of Mind of the Raven

"With this book as your guide, embark into the bird world Amy Tan. This is an intimate view, a sort-of love affair with the birds and their behavior, that Amy has come to know over several years. Within the leafy universe of her own backyard, she has quietly beheld, patiently observed, and taken in-depth notations of an extensive array of bird species. In colorful detail, she describes various bird's behavior, while capturing their beauty in exquisitely rendered illustrations. Species include fearsome predators and watchful prey, long distance migrants and hometown residents. Through her unique insight and gift as an author and artist, Amy exposes a world of intrigue, beauty, even humor about the birds we all share this world with."
—Keith Hansen, author of Hansen's Field Guide to Birds of the Sierra Nevada

"Amy Tan's bird journals can change the way you see the world. They show that stories, mysteries, humor, and beauty are all around us if we take the time to pay attention. They remind us that we never stop learning and growing, and if we put in the work, we can learn and master new skills. These journals invite us to look out of our own windows with fresh eyes and wonder."
—John Muir Laws, author of The Laws Guide to Drawing Birds

"If you really want to understand something, draw it. That's the conclusion I've reached in witnessing how much Amy Tan has learned about the bird community in her back yard. No matter how much you think you know about birds, you are guaranteed to learn something surprising and inspiring from this charmingly illustrated and creatively-conceived book."
—Michael J. Parr, President of American Bird Conservancy