The Fortune Men: A novel (Hardcover)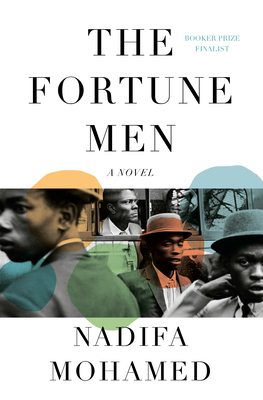 $27.00
Email or call for price
Description
---
BOOKER PRIZE FINALIST • Based on a true event, this novel is "a blues song cut straight from the heart ... about the unjust death of an innocent Black man caught up in a corrupt system" (Walter Mosley, best-selling author of Devil in a Blue Dress).

In Cardiff, Wales in 1952, Mahmood Mattan, a young Somali sailor, is accused of a crime he did not commit: the brutal killing of Violet Volacki, a shopkeeper from Tiger Bay. At first, Mahmood believes he can ignore the fingers pointing his way; he may be a gambler and a petty thief, but he is no murderer. He is a father of three, secure in his innocence and his belief in British justice.

But as the trial draws closer, his prospect for freedom dwindles. Now, Mahmood must stage a terrifying fight for his life, with all the chips stacked against him: a shoddy investigation, an inhumane legal system, and, most evidently, pervasive and deep-rooted racism at every step.

Under the shadow of the hangman's noose, Mahmood begins to realize that even the truth may not be enough to save him. A haunting tale of miscarried justice, this book offers a chilling look at the dark corners of our humanity.
About the Author
---
NADIFA MOHAMED was born in 1981 in Hargeisa, Somaliland. At the age of four she moved with her family to London. She is the author of Black Mamba Boy and The Orchard of Lost Souls. She has received both The Betty Trask Award and the Somerset Maugham Award, and in 2013, she was named as one of Granta's Best of Young British Novelists. Her work appears regularly in The Guardian and the BBC. A fellow of the Royal Society of Literature, she lives in London.

Praise For…
---
BOOKER PRIZE FINALIST • A COSTA BOOK AWARD NOMINEE • ONE OF THE BEST BOOKS OF THE YEAR: THE GUARDIAN AND THE NEW YORKER

"A potent, pointed novel . . . Mohamed is a big talent, and she's only getting started."—Dwight Garner, The New York Times

"Equally informative and moving . . . The immediate allure of the novel is the vibrancy of Mohamed's prose, her ability to capture the complicated culture of Cardiff and the sound of tortured optimism. . . . The horrific finale of The Fortune Men is never in doubt, but for more than 200 pages Mohamed still creates a sharp sense of suspense by pulling us right into Mahmood's world as his life tilts and then crashes. . . . There's a natural grandeur to her portrayal of this ordinary man caught in the city's gears. Readers will hear echoes of Dostoevsky and Kafka in her re-creation of this nightmare. . . . With The Fortune Men, Mohamed has given us a clear vision of so many victims caught in the maw of racist legal systems."—Ron Charles, The Washington Post

"Brilliantly depicts the complexities of community within the Black diaspora . . . Mohamed balances colonial history and violence with the evocative interior lives of Mahmood and Violet Volacki. . . . After Mahmood's arrest, the novel shifts its focus to the British criminal justice system, providing a visceral account of the protagonist's carceral experience. . . . Mohamed manages such tender detail even while zooming out on the British prison and court systems more broadly."—Nicole R. Fleetwood, The New York Times

"Searing . . . Mohamed maintains a high level of tension as the tragedy slowly unfolds. . . . This is a powerful portrayal of an innocent man trapped by a racist system that will resonate with readers familiar with such travesties of justice in the U.S."—Publishers Weekly (starred review)

"[The Fortune Men] poignantly imagines Mattan's trial and his time in jail, as his hopes of freedom dwindle. Mohamed underscores Mattan's confidence in his good character—his belief that 'the truth kill the lie'—while also showing how, 'as each witness takes the stand, his previous estimation of his own power diminishes.'"—The New Yorker

"Searing, affecting and distressingly relevant . . . The Fortune Men, which was shortlisted for the 2021 Booker Prize, manages an intimate presentation of Mattan's experience. . . . In fictionalizing this story of a lethal miscarriage of justice, Somali-born British writer Nadifa Mohamed has crafted a mesmerizing novel that, notwithstanding its historical setting, has disconcerting resonance for the present."—Steven W. Beattie, The Toronto Star

"The writing carries a depth of humanity that puts the reader right in the shoes of the characters — the clothes they wear, the streets they walk, the emotions they feel. . . . [The Fortune Men] is filled with the hope of how things should be and the truth of how things are. All of it, the life of Mahmood Mattan, the system convicting him of this murder, and the community that allows it, all brought painfully into focus with Mohamed's unflinching and gifted prose."—Urban Waite, San Francisco Chronicle

"[The Fortune Men] was shortlisted for the Booker Prize this year, and it's not hard to see why: It's a riveting tale in which Mohamed brings to life a 1950s port city and the injustice that occurred there."—Wadzanai Mhute, Oprah Daily

"Provocative and evocative . . . A memorable portrait . . . [The Fortune Men] is an intimate look at a man whose pride is seen as defiance and whose refusal to be demeaned proves dangerous to a Black man and a foreigner. . . . Mohamed vividly draws the brawling and diverse tough-luck world of the Cardiff docks."—Stuart Miller, Boston Globe

"Great literary deftness . . . Mohamed never overdoes things, nor does she reduce any character to stereotype. . . . The Fortune Men gives us richly satisfying insight into the life of the victim himself. . . . Balancing the slow horror of the legal process and the indifference (at best) of the 'system' to Mahmood's plight, Mohamed gives us a wonderfully subtle portrait of Mahmood's Welsh family."—Simon Lewis, The Post and Courier

"Compelling . . . [Mohamed's] work recovers the intimate lives of men and women caught up in the tumult of history."—CBC Radio

"Riveting . . . Memorable . . . The Fortune Men is a sweeping indictment of British jurisprudence and the many forms prejudice can take. . . . Most poignant of all is the portrait of Mahmood, a proud Muslim who retains his hope and humanity even in the face of the most brutal of injustices."—Michael Magras, Shelf Awareness

"The Fortune Men is that rare novel that breaks your heart and, in so doing, gives you life. Nadifa Mohamed is a revelation—she writes with the fierce compassionate lightning of a truth-teller, lays bare the ghastly colonial condition that afflicts so many of us, where truth cannot overcome injustice. If a novel can be an avenger then The Fortune Men is the one we've all been waiting for."—Junot Díaz, Pulitzer Prize-winning author of The Brief Wondrous Life of Oscar Wao

"Nadifa Mohamed's The Fortune Men is a blues song cut straight from the heart. It tells about the unjust death of an innocent Black man caught up in a corrupt system. Nadifa's masterful evocation of the full life of Mahmood Mattan, the last man executed in Cardiff for a crime he was exonerated for forty years later, is brought alive with subtle artistry and heartbreaking humanity. In one man's life Mohamed captures the multitudes of homelands, dialects, hopes, and prayers of Somalis, Jews, Maltese and West Indians drawn in by the ships that filled Wales' Tiger Bay in the 1950's, all hoping for a future that eludes Mattan."—Walter Mosley, author of Devil in a Blue Dress

"Heart-wrenching. . . . This powerful, deeply affecting exploration of mid-twentieth-century racism and other forms of prejudice has stark relevance today."—Booklist

"A novel on fire, a restitution of justice in prose . . . The Fortune Men can be read as a comment on 21st-century Britain and its continued troubled legacy of empire, but also as a beautifully judged fiction in its own right—teeming with life, character and humour, and, particularly, evocative of place."—Catherine Taylor, Financial Times

"Nadifa Mohamed's The Fortune Men . . . is an elegant portrayal of life in the racial, cultural hub of Cardiff's Tiger Bay in the early Fifties. Eschewing a simple morality play for complex vivid characters, it centers on the plight of Mahmood Mattan, who finds himself in the shadow of the hangman's noose for a murder he didn't commit."—Gary Younge, The New Statesman, "Books of the year"

"A miraculous feat . . . [Mohamed] brings magic to her project, achieving in fiction what no historical account could match. . . . In a reversal of the western perspective, Mohamed shows us Britain through the eyes of this outsider, the Black African, the Muslim. It's an eye-opening angle of vision and an unforgettable one. . . . Mahmood Mattan has been rescued. Given new life, he emerges from the pages of The Fortune Men as a full-blooded literary victim-hero with all the complexity that such a status tends to require."—Claudia Peck, Star Tribune

"Based on a real-life case from 1952, The Fortune Man is a masterpiece in storytelling. It tells of Mahmood Mattan, a Somali seaman who was wrongfully convicted of the murder of Lily Volpert and was one of the last men to be executed in Wales. Mohamed's ability to examine the blistering racial injustices of the time is sobering and immense."—Eva Waite-Taylor, The Independent

"Utterly gripping . . . Nadifa Mohamed's fictional account of this real-life miscarriage of justice has quite rightly been longlisted for the Booker Prize. . . . She tackles this largely forgotten story with skill and empathy."—Alex Peake-Tomkinson, Prospect

"An engrossing and tense story . . . the senses of loss and cruelty are palpable . . . [The Fortune Men is] an intimate personal portrait with a broader message on the mistreatment of migrants."—Kirkus Reviews

"[The Fortune Men is] unbearably wrenching, as racism, inept policing and the lure of a cash reward from the victim's family combine to corner the father-of-three in a monstrous web of injustice. . . . Mohamed makes the outrage at the book's heart blazingly unignorable by inhabiting Mattan's point of view, a bold endeavour pulled off to powerful effect."—Anthony Cummins, Daily Mail U.K.

"The Fortune Men . . . confirms [Mohamed] as a literary star of her generation. . . . When Mohamed's prose – simple and full of soul – illuminates him, Mahmood emerges as a beacon of humour, hope and endurance."—Ashish Ghadiali, The Observer

"A writer of great humanity and intelligence. Nadifa Mohamed deeply understands how lives are shaped both by the grand sweep of history and the intimate encounters of human beings."—Kamila Shamsie, author of Home Fire
 
"The Fortune Men describes how innocence is forced to justify itself before gross injustice. A novel of tremendous power, compassion and subtlety, it feels unsettlingly timely."—Pankaj Mishra, author of Age of Anger
 
"Nadifa Mohamed just gets better and better. Long regarded as one of our most promising young novelists, she has fully arrived with The Fortune Men. Chilling and utterly compelling, it shines an essential light on a much-neglected period of our national life."—Sathnam Sanghera, author of EmpireLand: How Modern Britain is Shaped by its Imperial Past