On Critical Race Theory: Why It Matters & Why You Should Care (Paperback)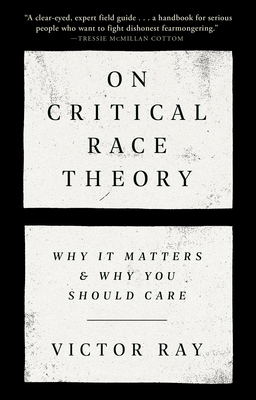 $18.00

Usually Ships in 1-5 Days
Description
---
What exactly is critical race theory? This concise and accessible exploration demystifies a crucial framework for understanding and fighting racial injustice in the United States.

"A clear-eyed, expert field guide."—Dr. Tressie McMillan Cottom, author of Thick
 
From renowned scholar Dr. Victor Ray, On Critical Race Theory explains the centrality of race in American history and politics, and how the often mischaracterized intellectual movement became a political necessity.

Ray draws upon the radical thinking of giants such as Ida B. Wells, W.E.B. Du Bois, and Dr. Martin Luther King, Jr., to clearly trace the foundations of critical race theory in the Black intellectual traditions of emancipation and the civil rights movement. From these foundations, Ray explores the many facets of our society that critical race theory interrogates, from deeply embedded structural racism to the historical connection between whiteness and property, ownership, and more.

In succinct, thoughtful essays, Ray presents, analyzes, and breaks down the scholarship and concepts that constitute this often misconstrued term. He explores how the conversation on critical race theory has expanded into the contemporary popular conscience, showing why critical race theory matters and why we should all care.
About the Author
---
Victor Ray was born in Pittsburgh and raised in western Pennsylvania. After receiving his bachelor of arts in urban studies at Vassar, he earned his PhD from Duke University in 2014. His work has been published in a number of peer-reviewed journals, including American Sociological Review and The Annals of the American Academy of Political and Social Science. Dr. Ray is a nonresident senior fellow at the Brookings Institution and his research has been funded by the Ford Foundation. As an active public scholar, his social and critical commentary has appeared in outlets such as The Washington Post, Newsweek, Harvard Business Review, and Boston Review. Victor Ray currently resides in Iowa City.
Praise For…
---
"Regimes ban books when the books explain what is actually happening. Everyone who reads Victor Ray's book will emerge understanding that this is exactly why critical race theory is being banned. In clear and accessible prose, Ray explains why we need critical race theory to understand the problems we face, and simultaneously reveals why it is such a target. The government doesn't want you to have this knowledge. This book explains why."—Jason Stanley, author of How Fascism Works

"Sociologist Victor Ray has given us the profound gift of a clear-eyed, expert field guide to racial fascism and critical race theory. This is a handbook for serious people who want to fight dishonest fearmongering."—Dr. Tressie McMillan Cottom, author of Thick