Nubia: The Reckoning (Hardcover)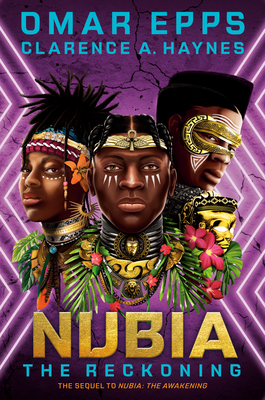 $19.99

Usually Ships in 1-5 Days
Other Books in Series
This is book number 2 in the NUBIA series.
Description
---
The sequel to Nubia: The Awakening, the epic fantasy from actor and producer Omar Epps and writer Clarence A. Haynes! A powerful saga of three teens, the children of refugees from a fallen African utopia, who must navigate their newfound powers in a climate-ravaged New York City.

Zuberi, Uzochi, and Lencho were among the first of a new generation of Nubians to awaken to extraordinary powers—gifts their parents lost when they fled their island home decades ago. And now that Uzochi has been declared a Nubian catalyst, everyone expects him to lead.

But what should be a time of rebirth and celebration is instead one of turmoil. The so-called sky king, Krazen St. John, is bent on harnessing Nubian gifts for himself, and he has assembled a special, superhuman militia to do his bidding, putting a ruthless Lencho in charge.

Facing down his cousin feels insurmountable for Uzochi, even with Zuberi at his side, but now there's more at stake than the hostile government of Tri-State East. Uzochi's training has led him to discover an ancient, forgotten force hungry for conquest—and it won't stop until all of Tri-State East . . . and possibly the world . . . is under its control.
About the Author
---
Actor and producer Omar Epps was introduced to audiences as Q in Ernest Dickerson's film Juice, opposite Tupac Shakur. He has gone on to star in the beloved romance Love & Basketball, as Dr. Eric Foreman on House, and as Darnell on This Is Us. He is the author of the memoir From Fatherless to Fatherhood and both novels in the Nubia series.

Clarence A. Haynes has worked as an editor for a variety of publishers, including Penguin Random House, Amazon Publishing, and Legacy Lit, an imprint of Hachette Book Group. He has edited top-selling fiction titles like The Hundredth Queen, Scarlet Odyssey, and Washington Post bestseller The Vine Witch, along with its two sequels. He is also the author of the nonfiction work The Legacy of Jim Crow.
Praise For…
---
"An ambitious return to a future of promise, danger, and self-discovery that fans of the first volume will enjoy." —Kirkus Reviews