Nubia: The Awakening (Hardcover)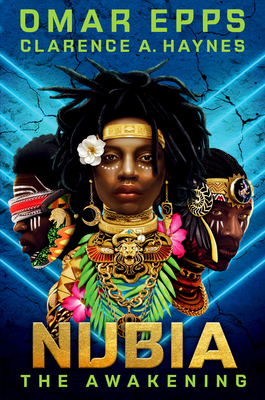 $19.99

Usually Ships in 1-5 Days
Other Books in Series
This is book number 1 in the NUBIA series.
Description
---
From beloved actor and producer Omar Epps and writer Clarence A. Haynes comes the biggest epic fantasy of the year. A powerful saga of three teens, the children of refugees from a fallen African utopia, who must navigate their newfound powers in a climate-ravaged New York City. Perfect for fans of Black Panther and Children of Blood and Bone.

For Zuberi, Uzochi, and Lencho, Nubia is a mystery. Before they were born, a massive storm destroyed their ancestral homeland, forcing their families to flee across the ocean to New York City. Nubia, a utopic island nation off the coast of West Africa, was no more, and their parents' sorrow was too deep for them to share much of their history beyond the folklore.

But New York, ravaged by climate change and class division, is far from a safe haven for refugees, and Nubians live as outcasts, struggling to survive in the constantly flooding lower half of Manhattan, while the rich thrive in the tech-driven sky city known as the Up High.

To many, being Nubian means you're fated for a life plagued by difficulties and disrespect. But Zuberi, Uzochi, and Lencho are beginning to feel there might be more. Something within them is changing, giving each of them extraordinary powers. Extraordinary and terrifying powers that seem to be tied to the secrets their parents have kept from them.

And there are people Up High watching, eager to do anything they can to become even more powerful than they already are. Now Zuberi, Uzochi, and Lencho will be faced with the choice—do they use their inheritance to lift their people, or to leave them behind. The fate of their city, and their people, hangs in the balance.
About the Author
---
Actor and producer Omar Epps was first introduced to audiences as Q in Ernest Dickerson's cult classic Juice, opposite Tupac Shakur. He has gone on to star in the beloved romance Love & Basketball, as Dr. Eric Foreman on massively popular TV show House, as Jeff Cole in In Too Deep, as Isaac Johnson on Shooter, and as Darnell on This Is Us. He is the author of a memoir, From Fatherless to Fatherhood. Nubia: The Awakening is his first novel.

Clarence A. Haynes has worked as an editor for a variety of publishers that include Penguin Random House and Amazon Publishing as well as Legacy Lit, an imprint of Hachette Book Group. He has edited top-selling fiction titles like The Hundredth Queen, Scarlet Odyssey, Legacy of Lies, These Toxic Things, and The Washington Post and Amazon Charts bestseller The Vine Witch, along with its two sequels. He is also the author of the nonfiction work The Legacy of Jim Crow.
Praise For…
---
"Perfect for fans of Divergent and Black Panther." —In Touch Weekly 
 
"A Fascinating Dystopian Page-Turner" —The Root 
 
"Nubia: The Awakening is a story with a familiar sci-fi trope of dystopian futures but is done in a revolutionary way that brings diversity, camaraderie and familiarity to the forefront." —MadameNoire 
 
"This novel offers a powerful critique of capitalism, classism, and racial injustice . . . [and] combines a high-action plot with engaging characters and will keep readers on the edge of their seats. VERDICT: A complex dystopian novel that will circulate well with fans of Black Panther, Tomi Adeyemi, and Roseanne A. Brown." —School Library Journal 
 
"Epps and Haynes' characters are admirable; each of the narrators is given agency and motivation in a way that makes them memorable in their own right . . . Readers will find plenty of familiar sf and fantasy tropes here, but these are made fresh by the story highlighting the power of the African diaspora."  —Booklist  
 
"Epps and Haynes skillfully build emotional and narrative suspense by weaving the cast members' conflicting needs and expectations into an explosive adventure." —Publishers Weekly
 
"A justifiable critique of today." —Kirkus Reviews