Crucible of Gold: Book Seven of Temeraire (Paperback)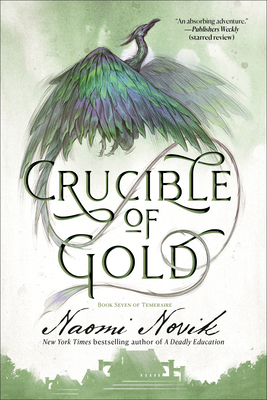 $18.00

Usually Ships in 1-5 Days
Other Books in Series
This is book number 7 in the Temeraire series.
Description
---
From the New York Times bestselling author of A Deadly Education comes the seventh volume of the Temeraire series, as the Napoleonic Wars bring Will Laurence and Temeraire to South America.

"An absorbing adventure." —Publishers Weekly (starred review)

The French have invaded Spain, forged an alliance with Africa's powerful Tswana empire, and brought revolution to Brazil. Captain Will Laurence and his indefatigable fighting dragon, Temeraire, must travel to South America to negotiate with the Incas, who are also being wooed by the French.

If they fail, Napoleon may conquer yet another continent in his campaign for world domination, and the tide of the war may prove impossible to stop.

Don't miss any of Naomi Novik's magical Temeraire series
HIS MAJESTY'S DRAGON • THRONE OF JADE • BLACK POWDER WAR • EMPIRE OF IVORY • VICTORY OF EAGLES • TONGUES OF SERPENTS • CRUCIBLE OF GOLD • BLOOD OF TYRANTS • LEAGUE OF DRAGONS
About the Author
---
Naomi Novik is the New York Times bestselling author of A Deadly Education, The Last Graduate, and The Golden Enclaves, the award-winning novels Uprooted and Spinning Silver, and the Temeraire series. She is a founder of the Organization for Transformative Works and the Archive of Our Own. She lives in New York City with her family and six computers.
Praise For…
---
Praise for His Majesty's Dragon and the Temeraire series

"These are beautifully written novels—not only fresh, original, and fast paced, but full of wonderful characters with real heart. [The Temeraire series] is a terrific meld of two genres that I particularly love—fantasy and historical epic."—Peter Jackson
 
"A terrifically entertaining fantasy novel . . . Is it hard to imagine a cross between Susanna Clarke, of Norrell and Strange fame, and the late Patrick O'Brian? Not if you've read this wonderful, arresting novel."—Stephen King
 
"A splendid series . . . Not only is it a new way to utilize dragons, it's a very clever one and fits neatly into the historical niche this author has used."—Anne McCaffrey
 
"Just when you think you've seen every variation possible on the dragon story, along comes Naomi Novik. Her wonderful Temeraire is a dragon for the ages."—Terry Brooks
 
"Enthralling reading—it's like Jane Austen playing Dungeons & Dragons with Eragon's Christopher Paolini."—Time
 
"A completely authentic tale, brimming with all the detail and richness one looks for . . . as well as the impossible wonder of gilded fantasy."—Entertainment Weekly (Editor's Choice, Grade: A)
 
"Novik has accomplished something singular with her Temeraire series. . . . At its heart, it's a story about friendship that transcends not only time and class, but species."—NPR

"[Naomi Novik] is soaring on the wings of a dragon."—The New York Times
 
"A thrilling fantasy . . . All hail Naomi Novik."—The Washington Post Book World
 
"An amazing performance . . . [I] was immediately hooked by the writing, the research and the sheer courage of the whole enterprise."—Chicago Tribune
 
"Novik's influences run the gamut from Jane Austen to Patrick O'Brian, with a side trip through Anne McCaffrey. Her books are completely involving and probably addictive, their central conceit explored in clever detail with a great deal of wit and historical insight."—San Francisco Chronicle
 
"Something new and quite wonderful . . . The Temeraire trilogy could well be this year's Jonathan Strange and Mr. Norrell."—BookPage

"A superbly written, character-driven series . . . What keeps one turning the pages is the urge to find out what happens next to Captain Laurence and Temeraire, characters who win one's heart from the beginning. Bravo!"—Booklist (starred review)