R is for Ricochet (A Kinsey Millhone Novel #18) (Paperback)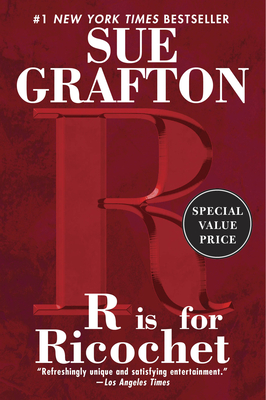 $9.99
Email or call for price
Other Books in Series
This is book number 18 in the A Kinsey Millhone Novel series.
Description
---
In this #1 New York Times bestseller in Sue Grafton's Alphabet series, private investigator Kinsey Millhone has her hands full when a job that should be easy money takes a turn for the worse.
Reba Lafferty was a daughter of privilege, the only child of an adoring father. Nord Lafferty was already in his fifties when Reba was born, and he could deny her nothing. Over the years, he quietly settled her many scrapes with the law, but wasn't there for her when she was convicted of embezzlement and sent to the California Institution for Women. Now, at thirty-two, she's about to be paroled, having served twenty-two months of a four-year sentence. Her father wants to be sure Reba stays straight, stays home and away from the drugs, the booze, and the gamblers...
It seems a straightforward assignment for Kinsey: babysit Reba until she settles in, make sure she follows all the niceties of her parole. Maybe a week's work. Nothing untoward—the woman seems remorseful and friendly. And the money is good.
But life is never that simple, and Reba is out of prison less than twenty-four hours when one of her old crowd comes circling round...
About the Author
---
New York Times
bestselling author Sue Grafton is published in 28 countries and 26 languages—including Estonian, Bulgarian, and Indonesian. Books in her alphabet series, begun in 1982, are international bestsellers with readership in the millions. And like Raymond Chandler, Ross Macdonald, Robert Parker, and John D. MacDonald—the best of her breed—Sue Grafton has earned new respect for the mystery form. Her readers appreciate her buoyant style, her eye for detail, her deft hand with character, her acute social observances, and her abundant storytelling talents.
Sue divides her time between Montecito, California and Louisville, Kentucky, where she was born and raised. She has three children and two grandchildren. Grafton has been married to Steve Humphrey for more than twenty years. She loves cats, gardens, and good cuisine.
Praise For…
---
Praise for R is for Ricochet

"A tale of love gone right and wrong and every which way in between. R is for Ricochet will have fans purring contentedly."—Kirkus Reviews

"Grafton, as usual, creates believable and enduring characters and a strong sense of place in her town of Santa Teresa circa 1987."—Publishers Weekly

"Refreshingly unique and satisfying entertainment...The prose is smooth and seemingly effortless, with descriptions crisp and concise."—Los Angeles Times

More Praise for Sue Grafton and the Alphabet Series

"I'm going to miss Kinsey Millhone. Ever since the first of Sue Grafton's Alphabet mysteries, A Is For Alibi, came out in 1982, Kinsey has been a good friend and the very model of an independent woman, a gutsy Californian P.I. rocking a traditional man's job...it's Kinsey herself who keeps this series so warm and welcoming. She's smart, she's resourceful, and she's tough enough to be sensitive on the right occasions."—New York Times Book Review

"The consistent quality and skillful innovations in this alphabet series justify all the praise these books have received over the past 35 years."—Wall Street Journal

"A superb storyteller."—Publishers Weekly

"Grafton's endless resourcefulness in varying her pitches in this landmark series, graced by her trademark self-deprecating humor, is one of the seven wonders of the genre."—Kirkus Reviews

"Grafton is a writer of many strengths—crisp characterizations, deft plotting, and eloquent dialogue among them—and she has kept her long-running alphabet mystery series fresh and each new release more welcome than the last."—Louisville Courier-Journal

"[Grafton's] ability to give equal weight to the story of the detective and the detective story sets her apart in the world of crime fiction."—Richmond Times-Dispatch