Wifedom: Mrs. Orwell's Invisible Life (Hardcover)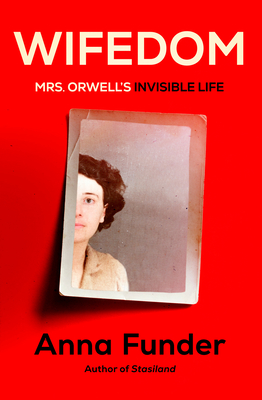 Description
---
The New York Times Book Review Editors' Choice • This is the story of the marriage behind some of the most famous literary works of the 20th century —and a probing consideration of what it means to be a wife and a writer in the modern world

"Simply, a masterpiece...Funder not only re-makes the art of biography, she resurrects a woman in full." —Geraldine Brooks, winner of the Pulitzer Prize, author of Horse

At the end of summer 2017, Anna Funder found herself at a moment of peak overload. Family obligations and household responsibilities were crushing her soul and taking her away from her writing deadlines. She needed help, and George Orwell came to her rescue.

"I've always loved Orwell," Funder writes, "his self-deprecating humour, his laser vision about how power works, and who it works on." So after rereading and savoring books Orwell had written, she devoured six major biographies tracing his life and work. But then she read about his forgotten wife, and it was a revelation.

Eileen O'Shaughnessy married Orwell in 1936. O'Shaughnessy was a writer herself, and her literary brilliance not only shaped Orwell's work, but her practical common sense saved his life. But why and how, Funder wondered, was she written out of their story? Using newly discovered letters from Eileen to her best friend, Funder re-creates the Orwells' marriage, through the Spanish Civil War and the Second World War in London. As she peeks behind the curtain of Orwell's private life she is led to question what it takes to be a writer—and what it is to be a wife.

A breathtakingly intimate view of one of the most important literary marriages of the twentieth century, Wifedom speaks to our present moment as much as it illuminates the past. Genre-bending and utterly original, it is an ode to the unsung work of women everywhere.
About the Author
---
ANNA FUNDER is the author of Stasiland and All That I Am, and the novella The Girl with the Dogs. Stasiland, hailed as a 'classic', tells true stories of ordinary people who heroically resisted the communist dictatorship of East Germany, and of others who worked for the Stasi. In 2004 Stasiland won the UK's premier award for non-fiction, the Samuel Johnson Prize, and was a finalist for many other awards. Anna's novel All That I Am is an homage to four German anti-Hitler activists living bravely but precariously in exile in London in the 1930s. All That I Am won many literary awards including Australia's most prestigious, the Miles Franklin Prize, and was a finalist for the International IMPAC Dublin Award and the Commonwealth Writers Prize. It spent over a year on the bestseller lists, was BBC Book of the Week and Book at Bedtime, and The Times Book of the Month. Both books are international best sellers, published in over twenty-four countries. Originally trained as an international human rights lawyer, Anna is a former DAAD Fellow in Berlin, Australia Council Fellow, and Rockefeller Foundation Fellow. She has lived in Paris, Berlin, and Brooklyn, and now lives in Sydney, Australia.
Praise For…
---
"Simply, a masterpiece. Here, Anna Funder not only re-makes the art of biography, she resurrects a woman in full. And this in a narrative that grips the reader and unfolds through some of the most consequential moments--historical and cultural--of the twentieth century." —Geraldine Brooks, winner of the Pulitzer Prize, author of Horse

"A marvelous book . . . I just loved it all, and have a permanently marked-up, dog-eared copy on my shelf for the next generation." —Tom Hanks

"Funder is a boundary-breaking, risk-taking writer whose previous books synthesized memoir, fact and imagination to impressive effect. . . . At her best, Ms. Funder shows that radical compassion—which is not the same as forgiveness—will move one closer to understanding, in marriage and biography, every time." —Donna Rifkind, The Wall Street Journal

"With the precision of a historian, Funder cobbles together scant details to reconstruct a life. And with the imaginative force of a novelist, she speculates in clearly sign-posted moments on what that life was like. . . .For the first time, in this book, Eileen is given a voice — her voice. . . Wifedom is spectacular achievement of both scholarship and pure feeling." —Jessica Ferri, Los Angeles Times

"A brilliant, creative hybrid of life writing, feminist polemic and literary criticism, which upends the way we read. . . . A dashing addition to a genre of books that bring out of obscurity the women (and occasional man) behind famous writers and artists."  —Susan Wyndham, The Guardian (Australia)

"Radical. . . . Funder does a virtuoso performance on the theme, adding personal memoir, some fictional reconstructions and a glittering sense of purpose. . . . [She] squeezes every drop from the sources, to make Eileen real. . . . Funder stresses that she has no wish to "cancel" Orwell, a writer she finds inspiring. Her aim is rather to rescue Eileen and other women from having been canceled themselves."  –Sarah Bakewell, The New York Times Book Review

"[Wifedom] dwells imaginatively upon six letters. . . written by Orwell's first wife, Eileen O'Shaughnessy, and seeks to liberate her from his shadow — a task that also involves reassessing him . . . . Wifedom is radical in its outlook and distinguished by a creative writer's imaginative insights. It is composed in elegant, mournful prose that occasionally froths into indignation at the lot of this "invisible worker" and "invisible warrior". . . . It is a spellbinding achievement." —Jason Harding, Financial Times
"Electrifying. . . . a genre-melding hybrid that allows Eileen's likeness to be partially recovered through her own words and the testimonies of those who remembered her, as well as reimagined in fictional passages to flesh out the gaps in the record. . . . Wifedom is a vital portrait of a woman whose unseen work was instrumental in the creation of books that became cornerstones of 20th century literature, the extent of her contribution impossible to measure, obscured as it is by the role of 'wife'." —Stephanie Merritt, Observer (UK)

"Now Anna Funder's fascinating, furious, inventive biography of Eileen takes us more immersively into the Orwell's world. And Funder is a formidable writer for the job. . . . In Wifedom she blends fiction, biography and autobiography to bring Eileen vividly alive on the page." —Alice O'Keeffe, The Times (UK)

"Elegantly and imaginatively (resurrects) Eileen." —The Economist

"Audaciously brilliant." —Jessie Thompson, Independent (UK)

"In this rattlingly fierce book, Anna Funder sets out to unmask the "wicked magic trick" by which Eileen O'Shaughnessy Blair has been made to disappear…readers will be simply thrilled – and shaken – by this passionately partisan act of literary reparation." —Sunday Times (UK)

"An extraordinary blend of forensic historical detective work and evocative fiction, as well as snatches of memoir. It not only writes O'Shaughnessy back into the story but also questions how far we've really come in terms of gender equality. To read about O'Shaughnessy is to fall in love with her." —Radio Times (UK)

"Anna Funder is a premier-league writer who can roll fiction, reportage, criticism and memoir into glinting prose, her sentences like handheld treasures you keep turning over, admiring for their graceful contours and crafted precision." —Marina Benjamin, The Spectator

★"Eileen O'Shaughnessy, George Orwell's first wife, takes center stage in this potent biography. . . . Stylistic flourishes enhance the account, most notably the novelistic interludes interspersing Funder's narration with first-person passages drawn from O'Shaughnessy's letters that recreate scenes from her life. . . . Full of keen psychological insight and eloquent prose, this shines." —Publishers Weekly (starred review)

★ "By dint of extensive research and literary daring, Funder retrieves Eileen from the shadows in a provocative mix of facts and "a fiction that tries not to lie," using her remarkable subject's vivid letters as prompts for imagined scenes that fill the maddening gaps in Orwell's autobiographical accounts and those of his biographers. Eileen emerges as a brilliant, funny, resourceful, stoic, hard-working Oxford graduate. . . . Laced with personal reflections and charged with a searing critique of the patriarchy and its smothering of women's lives and legacies, Funder's gripping and insightful portrait of the hidden Eileen Orwell is incandescent." —Donna Seaman, Booklist (starred review)

★ "An electrifying biography of George Orwell's first wife. . . . [Wifedom] is not a traditional biography but rather a pastiche of Eileen's letters to her friend Norah Symes, Funder's invented scenes of the Orwells' lives, and a first-person account of Funder's own life as the mother of teenage daughters as the "revelations of #MeToo erupt," a time of "unspeakable truths." Eileen is a worthy subject in her own right, but the author ably depicts the balance of power between the Orwells, particularly the way George wrote Eileen out of the narrative. . . . Funder creates a convincing, vivid portrait of Eileen as an irreplaceable font of unpaid labor for George. . . . Daring in both form and content, Funder's book is a nuanced, sophisticated literary achievement. . . . A sharp, captivating look at a complicated relationship and a resurrection of a vital figure in Orwell's life." —Kirkus Reviews (starred review)

"A truly wonderful biography. . . Anna Funder has written another brilliant human portrait." —Claire Tomalin

"Wonderful, unexpected and exciting from beginning to end." —Antonia Fraser, author of Marie Antoinette: The Journey

"A strikingly original study that casts Orwell in new light. Deeply perceptive, it is a testament to forgotten wives of famous men everywhere." —Julia Boyd, author of A Village in the Third Reich

"Wifedom is both an immovable and an irresistible book, an object and a force . . . another great and important narrative of oppression and covert suppression." —Michael Hofmann, Australian Book Review

"George Orwell's first wife emerges vividly from Anna Funder's new book . . . welcome and necessary, returning life to a woman who was gifted, vivid, complex and highly intelligent, who gave up her own ambitions in the furtherance of her husband's." —Geordie Williamson, Weekend Australian

"Funder is the perfect writer to integrate Orwell's legacy. She, too, has devoted her writing life to the subject of surviving tyranny." —The Conversation (Australia)