Say It Loud!: On Race, Law, History, and Culture (Hardcover)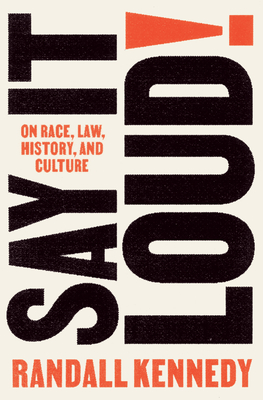 Description
---
A NEW YORK TIMES NOTABLE BOOK OF THE YEAR • A collection of provocative essays exploring the key social justice issues of our time—from George Floyd to antiracism to inequality and the Supreme Court. Kennedy is "among the most incisive American commentators on race" (The New York Times).

Informed by sharpness of observation and often courting controversy, deep fellow feeling, decency, and wit, Say It Loud! includes:

The George Floyd Moment: Promise and Peril • Isabel Wilkerson, the Election of 2020, and Racial Caste • The Princeton Ultimatum: Anti­racism Gone Awry • The Constitutional Roots of "Birtherism" • Inequality and the Supreme Court • "Nigger": The Strange Career Contin­ues • Frederick Douglass: Everyone's Hero • Remembering Thurgood Marshall • Why Clar­ence Thomas Ought to Be Ostracized • The Politics of Black Respectability • Policing Ra­cial Solidarity

In each essay, Kennedy is mindful of com­plexity, ambivalence, and paradox, and he is always stirring and enlightening. Say It Loud! is a wide-ranging summa of Randall Kennedy's thought on the realities and imaginaries of race in America.
About the Author
---
RANDALL KENNEDY is the author of six previous books. He is the Michael R. Klein Professor at Harvard Law School, where he teaches courses on contracts, criminal law, and the regulation of race relations. He is a memberof the bar of the District of Columbia, of the American Law Institute, and of the American Academy of Arts and Sciences. He lives in Massachusetts.
Praise For…
---
A NEW YORK TIMES NOTABLE BOOK OF THE YEAR • One of Library Journal's "Titles to Watch"
 
"In these trenchant essays, Kennedy updates previously published pieces that survey hot-button issues and enduring controversies involving race and the law . . .  [A] wide-ranging volume that stoutly defend[s] his centrist stance on race against excesses of the right and left . . . In a time of polarized racial politics, Kennedy's closely reasoned and humanely argued takes offer an appealing alternative."
—Publishers Weekly

"Kennedy observes that "social relations are complex and messy." Having lived through several eras, Kennedy calls himself a "Black/Negro/Colored/African American" man born in the year of Brown v. Board of Education. Some of the pieces are of a historical survey nature, [others] the author's denunciations of "antiracism gone awry" and small-step racial justice laws that "are attentive to the pluralism that infuses American practices."
       "Sometimes contrarian, sometimes controversial, Kennedy's arguments merit consideration in a riven discourse."
—Kirkus Reviews