Girl A: A Novel (Hardcover)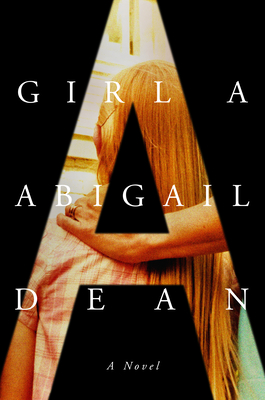 Staff Reviews
---
Abigail Dean's brilliant debut will entice you with its straight-from-the-headlines story, but it is her extraordinary writing that makes this propulsive novel stand out from the crowd. Lex was Girl A, the girl who escaped from a "House of Horrors" and saved her siblings, thrusting them into the public eye and forcing them to be scattered to the wind. Today she is a successful lawyer to all who know her—but underneath, the scars of abuse continue to fester. The death of her mother has forced her to return and attempt to reunite with her brothers and sisters. Smoothly moving between childhood and present day, Girl A is a deftly drawn character study of Lex and her siblings as they confront their past and struggle to find peace.
— From
Elaine & Luisa's Picks: Winter 2021
Description
---
AN INSTANT NEW YORK TIMES BESTSELLER

"A stunning debut." —Washington Post
 
"Haunting [and] powerful." —The New York Times
 
"A modern-day classic." —Jeffery Deaver, New York Times bestselling author of The Bone Collector

"Fantastic, I loved it." —Paula Hawkins, New York Times bestselling author of The Girl on the Train

She thought she had escaped her past. But there are some things you can't outrun.

Lex Gracie doesn't want to think about her family. She doesn't want to think about growing up in her parents' House of Horrors. And she doesn't want to think about her identity as Girl A: the girl who escaped, the eldest sister who freed her older brother and four younger siblings. It's been easy enough to avoid her parents--her father never made it out of the House of Horrors he created, and her mother spent the rest of her life behind bars. But when her mother dies in prison and leaves Lex and her siblings the family home, she can't run from her past any longer. Together with her sister, Evie, Lex intends to turn the home into a force for good. But first she must come to terms with her siblings--and with the childhood they shared.

What begins as a propulsive tale of escape and survival becomes a gripping psychological family story about the shifting alliances and betrayals of sibling relationships--about the secrets our siblings keep, from themselves and each other. Who have each of these siblings become? How do their memories defy or galvanize Lex's own? As Lex pins each sibling down to agree to her family's final act, she discovers how potent the spell of their shared family mythology is, and who among them remains in its thrall and who has truly broken free.

For readers of Room and Sharp Objects, an absorbing and psychologically immersive novel about a young girl who escapes captivity–but not the secrets that shadow the rest of her life.
About the Author
---
Abigail Dean works as a lawyer for Google, and before that was a bookseller. She lives in London, and is working on her second novel.
Praise For…
---
HAILED A BEST NEW BOOK OF 2021 BY MARIE CLAIRE, ENTERTAINMENT WEEKLY, LITHUB, GOOD HOUSEKEEPING, O MAGAZINE, WOMAN'S DAY, AND REDBOOK

"Nothing short of astonishing… Rarely does a novel offer up such unique plotting, such heart-stopping psychological drama, and such a rich portrayal of its inhabitants. A modern-day classic." —Jeffery Deaver, New York Times bestselling author of The Goodbye Man and The Bone Collector

"Sensational… gripping, haunting and beautiful written." —Richard Osman, international bestselling author of The Thursday Murder Club

"A haunting, powerful book, the mystery at its heart not who committed a crime, but how to carry on with life in its aftermath… the suppressed tension acts like the winding back of a slingshot, which about halfway through the novel suddenly rockets forward, propelling the story through scenes of genuine fear to its moving, pitch-perfect ending... Dean tells this story with such nuance and humanity, you're desperate to step into its pages." —Flynn Berry, The New York Times

"Abigail Dean wastes no time diving into the wreckage of the Gracie clan... [Girl A] often reads more like a slow-burn character study, though it's richer for it." —Entertainment Weekly

"The height of a pandemic might not be the ideal time to read a novel about six English children held captive at home and abused by their deranged parents. But put your fears aside or you'll miss out on a stunning debut...compelling."—Washington Post

"A novel that's psychologically astute and written with flair. In the traditional new year battle between much touted first thrillers it's the clear winner." —Sunday Times (UK)

"The biggest mystery thriller since Gone Girl." —Elle (UK)

"A tour de force, beautifully written, richly imagined, and compulsively readable. Add to this its grave sometimes ominous tone, and the result is unforgettable." —Booklist (starred)

"This gripping story about family dynamics and the nature of human psychology will hold you tight all the way through." —Good Housekeeping

"[Dean] skillfully brings the complicated relationships among the siblings as well as the secrets they share into dramatic relief. This assured psychological thriller marks Dean as a writer to watch." —Publishers Weekly

"It is rare for a novel to be so deft yet devastating. A story of terrible control but also irresistible humanity, Girl A is a portrait of survival, intelligence and love, and it will stay with me for a long time. A book of deep feeling, and an astonishing achievement." —Jessie Burton, author of the New York Times bestseller The Miniaturist

"A riveting page-turner, full of hope in the face of despair." —Sophie Hannah, Guardian UK

"Incendiary, beautifully written thriller debut." —Guardian (UK)

"Girl A is truly my idea of the perfect book: gripping and beautifully written, with complex (and often chilling) characters that are fully realised, and hard to forget. I'll be thinking about this for a long, long time, so… Believe the hype – it really is that good." —Katie Lowe, author of The Furies
 
"A searing, gripping tale of love, loss and survival that exposes the bare bones of humanity and explores how victims cope long after the headlines stop rolling. One of the most compelling novels I've read in a long time." —Stacey Halls, author of The Familiars and The Foundling

"Terrifyingly gripping." —Susie Steiner, author of Missing, Presumed and Persons Unknown

"Emotionally complex and beautifully written, with shades of Gillian Flynn and Ali Land, the dark secrets of Girl A unfold with such cool confidence that I kept having to remind myself that this was a debut. Incredibly impressive." —Catherine Ryan Howard, author of The Nothing Man