Indelible City: Dispossession and Defiance in Hong Kong (Hardcover)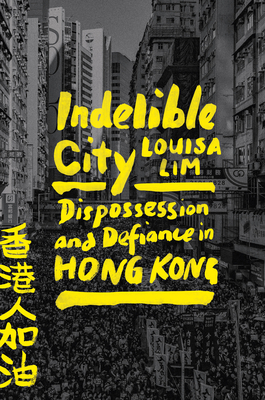 Description
---
A NEW YORK TIMES NOTABLE BOOK OF THE YEAR

An award-winning journalist and longtime Hong Konger indelibly captures the place, its people, and the untold history they are claiming, just as it is being erased.

The story of Hong Kong has long been dominated by competing myths: to Britain, a "barren rock" with no appreciable history; to China, a part of Chinese soil from time immemorial, at last returned to the ancestral fold. For decades, Hong Kong's history was simply not taught, especially to Hong Kongers, obscuring its origins as a place of refuge and rebellion. When protests erupted in 2019 and were met with escalating suppression from Beijing, Louisa Lim—raised in Hong Kong as a half-Chinese, half-English child, and now a reporter who has covered the region for nearly two decades—realized that she was uniquely positioned to unearth the city's untold stories.
 
Lim's deeply researched and personal account casts startling new light on key moments: the British takeover in 1842, the negotiations over the 1997 return to China, and the future Beijing seeks to impose. Indelible City features guerrilla calligraphers, amateur historians and archaeologists, and others who, like Lim, aim to put Hong Kongers at the center of their own story. Wending through it all is the King of Kowloon, whose iconic street art both embodied and inspired the identity of Hong Kong—a site of disappearance and reappearance, power and powerlessness, loss and reclamation.
About the Author
---
Louisa Lim is the author of The People's Republic of Amnesia: Tiananmen Revisited, which was shortlisted for the Orwell Prize and the Helen Bernstein Book Award for Excellence in Journalism. She covered China and Hong Kong for more than two decades as a correspondent for the BBC and NPR, and has also written for The New York Times, The Wash­ington Post, and The Guardian. Raised in Hong Kong, she lives in Australia with her two children and teaches at the University of Melbourne.
Praise For…
---
Praise for Indelible City:
 
"The engine for this vivid, loving book is Lim's insistent questioning — her recognition that whatever comes next for Hong Kong will require not only fortitude but also willful acts of imagination." –The New York Times

"Bring[s] to light the remarkable resilience of Hong Kongers . . . . [and] shows the vibrancy, volatility, attempted erasure, and resistance of the people." –Shondaland

"Powerful." –The Economist

"Dismantles the received wisdom about Hong Kong's history and replaces it with an engaging, exhaustively researched account of its long struggle for sovereignty." –The New York Times Book Review

"Arriving at the exact right moment, Indelible City charts the course of the region by digging deeply into its history. Lim deftly weaves her way through the ages, arriving at our current time, all the while capturing Hong Kong's soul inside the book's pages." –Newsweek

"Cleverly uses the story of a slightly mad calligrapher, Tsang Tsou-choi, to discuss Hong Kong's erased history. . . . Lim's book is touched by a sense of loss, even while she hopes for Hong Kong's renewal in the future." –New York Review of Books

"A great book. . . hits [the] sweet spots. . . history, myth, activism, and what it means to call a place home. . . . Lim's work feels particularly relevant now." –WNYC, On the Media

"Beautiful and timely. . . . [Louisa Lim] fills a gap that has long been missing in books about Hong Kong: an account of the city's long history of defiance, told from the perspective of Hong Kongers themselves." –Commonweal Magazine

"Lim takes her reader on an intimate and dream-like wend through the streets of Hong Kong, revealing layers of the bracing, complex, and palimpsestic city. . . . Weaving together multiple histories and narratives, those real and fictive, sanctioned and preserved, erased and newly discovered, Lim pushes back against the authoritative, state-imposed narrative." –LitHub

"Lim uses reporting and memoir to sketch a vivid portrait of her native Hong Kong's past and present. . . . [and] uncovers the inspiring, complicated, and rebellious history of her city and its citizens." –The Millions

"Riveting. . . . a vivid and vital contribution to postcolonial history." –Publishers Weekly, starred review

"Beautifully written… A fascinating work that is essential reading for anyone with an interest in Hong Kong." –Library Journal, starred review

"Lim's outstanding history of Hong Kong is an epic must-read. . . . From the first page, the importance of language and the voices of Hong Kongers are central themes. Yet Indelible City captures much more as it records the struggle of people oppressed. . . yet determined in their pursuit of freedom and cultural identity." –Booklist, starred review

"The best book about the indelible city to date. Irresistibly real and emotionally authentic, it shines with a shimmering light rarely seen in political narrative. A truly extraordinary elegy." –Ai Weiwei

"An utterly brilliant and original ode to Hong Kong, throbbing with eccentricity and sense of place. Like Joseph Mitchell's singular rendering of New York, Lim's Hong Kong will be read decades from now as an indelible portrait." –Evan Osnos, author of Age of Ambition, winner of the National Book Award

"I absolutely loved this book. Each page is a revelation about a city whose history I thought I knew well. Lim's exploration of Hong Kong's identity is insightful, refreshing and entirely original." –Barbara Demick, author of Nothing to Envy and Eat the Buddha

"I read Louisa Lim's book slowly, haunted by memories and stymied by sorrow. An archaeological dig into the disappearing present, her fascinating and heartbreaking account reveals an indelible history hidden in plain sight, and a future that Hong Kong's unique sensibility promises even as the world's most powerful autocracy strives to erase it." –Geremie Barmé, editor of China Heritage