Wintering: The Power of Rest and Retreat in Difficult Times (Hardcover)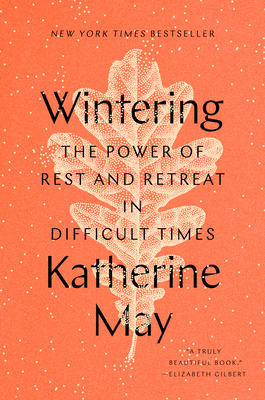 Staff Reviews
---
As we end a year that has required more patience and fortitude than most, there may be no better balm to our collective soul than Katherine May's Wintering. After being set back on her heels by a difficult year, May decided to examine both her personal 'winter' along with the coldest months of the year. She finds rebirth in swimming frozen waters and how stillness is required to grasp the beauty of the Aurora Borealis. Along the way May reminds us of rhythm of healing found both in nature and various cultures around the world. Her beautiful descriptions of the more challenging months of the year point out a fact that is too often missed as we rush about—that times of healing and renewal are vital to a healthy and happy life.
— From
Elaine and Luisa's Picks: Fall 2020
December 2020 Indie Next List
---
"When we all started our own 'winters' in March, some of us were more prepared than others. May writes delicately of the struggles of life and the ways we may be able to prepare ourselves for such times, something I feel we all need to learn in order to survive the emotional winter that is a worldwide pandemic. Grab a cup of tea, find a cozy blanket, and burrow into this book of thoughtfulness and comfort."
— Emma Warren, Oblong Books & Music, Millerton, NY
Description
---
A NEW YORK TIMES BESTSELLER! AS HEARD ON NPR MORNING EDITION AND ON BEING WITH KRISTA TIPPETT
"Katherine May opens up exactly what I and so many need to hear but haven't known how to name." —Krista Tippett, On Being

"Every bit as beautiful and healing as the season itself. . . . This is truly a beautiful book." —Elizabeth Gilbert
"Proves that there is grace in letting go, stepping back and giving yourself time to repair in the dark...May is a clear-eyed observer and her language is steady, honest and accurate—capturing the sense, the beauty and the latent power of our resting landscapes
." —
Wall Street Journal

An intimate, revelatory book exploring the ways we can care for and repair ourselves when life knocks us down.
Sometimes you slip through the cracks: unforeseen circumstances like an abrupt illness, the death of a loved one, a break up, or a job loss can derail a life. These periods of dislocation can be lonely and unexpected. For May, her husband fell ill, her son stopped attending school, and her own medical issues led her to leave a demanding job.
Wintering
explores how she not only endured this painful time, but embraced the singular opportunities it offered.
A moving personal narrative shot through with lessons from literature, mythology, and the natural world, May's story offers instruction on the transformative power of rest and retreat. Illumination emerges from many sources: solstice celebrations and dormice hibernation, C.S. Lewis and Sylvia Plath, swimming in icy waters and sailing arctic seas.
Ultimately
Wintering
invites us to change how we relate to our own fallow times. May models an active acceptance of sadness and finds nourishment in deep retreat, joy in the hushed beauty of winter, and encouragement in understanding life as cyclical, not linear. A secular mystic, May forms a guiding philosophy for transforming the hardships that arise before the ushering in of a new season.
About the Author
---
Katherine May is the New York Times bestselling author of Wintering: The Power of Rest and Retreat in Difficult Times. A writer of both fiction and nonfiction, May has had journalism and essays appear in a range of publications including The New York Times, The Times (London), Good Housekeeping, and Cosmopolitan. She lives by the sea in Whitstable, England and is an avid lover of the outdoors.
Praise For…
---
PRAISE FOR WINTERING

"A beautiful, meditative book…It feels like Katherine May opens up exactly what I and so many need to hear but haven't known how to name." – Krista Tippett, On Being

"There is power and clarity and wisdom to be gained from accepting these difficult times. Wintering offered me empathy, acceptance and perspective that will stay with me long after the pandemic." – New York Times

"Honest and deeply sympathetic...proves that there is grace in letting go, stepping back and giving yourself time to repair in the dark...May is a clear-eyed observer and her language is steady, honest and accurate—capturing the sense, the beauty and the latent power of our resting landscapes." – Wall Street Journal
 
"Wintering succeeds in delivering a powerful, realtime account of what it is to experience life's inevitable winters — both literal and metaphorical — and come out on the other side. I can think of no more valuable voice to have in your ear as we stumble our way out of a pandemic and emerge from a collective wintering." – Popsugar

"May writes beautifully….A contemplative, hopeful, consoling book." – NPR
 
"Lovely...May is an astute observer of life's emotional discouragements." – New York Times

"A gorgeous book, a generous book, a layered book of uncommon sensitivity and substance…A splendid and soul-salving read." – Maria Popova, Brain Pickings

"Drawing on her own life's difficult periods, May offers a guide to leaning into fallow times and savoring the lessons of hardship." – People Magazine

"Wintering is every bit as beautiful and healing as the season itself. Katherine May thoughtfully examines the emotional, spiritual, and geographical reality of the cold times, the dark days, and those periods of our lives when things are neither soft nor easy. In so doing, she offers a great and humane service to her readers: she shows us that wintering cannot be avoided, but need not be feared. This is truly a beautiful book." – #1 New York Times bestselling author Elizabeth Gilbert
 
"Wintering is the book equivalent of a perfectly timed hug you didn't know you needed, a warm blanket on a cold day. So many books about adversity focus on ways to get away from the discomfort, and this book so wonderfully and sincerely says it's okay to be here, even when it hurts. It's exactly what the world needs right now." – Nora McInerny, host of Terrible, Thanks for Asking
 
"Enthralling…[May] has a gift for unleashing unexpected comedy…There is so much to treasure here…Her sensual connoisseurship a joy." – The Guardian
 
"May brings a poet's eye and unexpected comedy to this enthralling celebration of our fallow season." – London Observer

"An empowering and touching read that will inspire a survivalist spirit on even the darkest days of winter." – Town & Country UK

"A beautifully written mix of memoir and philosophy...With a pandemic keeping us isolated in so many ways, May offers much-needed solace and comfort and a reminder that seasons eventually turn." " – starred Booklist ★  

"Beautiful...She is a poetic observer of the natural world, and quotable lines abound...I want to share Wintering with all my friends who experience winter blues, and keep a copy close at hand for the inevitable winterings of my own life." – BookPage