The Eighty-Dollar Champion (Adapted for Young Readers): The True Story of a Horse, a Man, and an Unstoppable Dream (Paperback)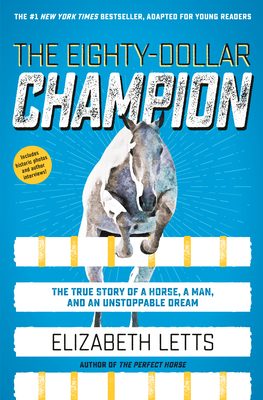 September 2011 Indie Next List
---
"America loves underdogs and stories that go against the odds. You couldn't get much longer odds than a plow-horse headed for the knacker's yard and a cash-strapped Dutchman winning the National Horse Show in Madison Square Garden. But win they did, inspiring the nation with the Cinderella story of a horse who escaped the butcher and learned how to fly. This is one for the heart!"
— Deon Stonehouse, Sunriver Books, Sunriver, OR
Description
---
Adapted from the #1 New York Times bestselling adult novel, this inspiring true story of a man and horse duo who rose to the top of the competitive equestrian world is one of unstoppable hope, inconceivable dreams, and the chance to have it all, perfect for animal lovers and history buffs alike.

On a bleak winter afternoon, Harry de Leyer first saw the horse he would name Snowman between the slats of a rickety truck bound for the slaughterhouse. Noting a spark in the horse's eye, the Dutch immigrant bought the beaten-up animal for only eighty dollars and took him to the family's modest farm on Long Island.

Though Snowman thrived in his new home, Harry needed money. Reluctantly, he sold Snowman to another farm a few miles down the road. But the shaggy horse had other ideas.

When he turned up back at Harry's barn, dragging an old tire and a broken fence board, Harry knew that he had misjudged the horse. Snowman then began his extraordinary path to stardom as Harry trained him to show jump, taking Snowman all the way to the very top of the sport.

This dramatic and inspiring rise to stardom of an unlikely duo is based on the insight and recollections of the Flying Dutchman himself. Snowman and Harry's story captured the heart of Cold War-era America--a story of unstoppable hope, inconceivable dreams, and the chance to have it all. Elizabeth Letts's message is simple: Never give up, even when the obstacles seem sky-high. There is something extraordinary in all of us.

Praise for the Adult Edition of The Eighty-Dollar Champion
"A classic American dream story, with a down-on-its-luck horse galloping in for good measure."-USA Today

"If you loved the story of Seabiscuit, the surprise champion racehorse, make a date to check out the true story of Snowman."-San Jose Mercury News

"This is a wonderful book—joyous, heartfelt, and an eloquent reminder that hope can be found in the unlikeliest of places. Most of all, it's a moving testament to the incredible things that can grow from the bond between animals and humans. If you love a great animal tale, you'll love this book!"—Gwen Cooper, author of Homer's Odyssey 
About the Author
---
Elizabeth Letts is the #1 New York Times bestselling author of non fiction books The Eighty-Dollar Champion and The Perfect Horse as well as two novels, Quality of Care and Family Planning. A competitive equestrian in her youth, Letts rode for California in the North American Junior Three-Day Eventing Championships. She currently lives in Southern California. To learn more about Letts and her books, go to elizabethletts.com and follow @ElizabethLetts on Twitter, Instagram, and Facebook.
Praise For…
---
Praise for the Adult Edition of The Eighty-Dollar Champion

A #1 NEW YORK TIMES BESTSELLER

"A classic American dream story, with a down-on-its-luck horse galloping in for good measure."-USA Today

"If you loved the story of Seabiscuit, the surprise champion racehorse, make a date to check out the true story of Snowman."-San Jose Mercury News

"This is a wonderful book—joyous, heartfelt, and an eloquent reminder that hope can be found in the unlikeliest of places. Most of all, it's a moving testament to the incredible things that can grow from the bond between animals and humans. If you love a great animal tale, you'll love this book!"—Gwen Cooper, author of Homer's Odyssey  

"The moving story of an indomitable immigrant farmer, his equally spirited horse, and their against-the-odds journey all the way to the winner's circle, The Eighty-Dollar Champion fascinates from the first page to the last. Elizabeth Letts has uncovered a forgotten slice of American history and brought it to magical life."—Karen Abbott, author of American Rose: A Nation Laid Bare: The Life and Times of Gypsy Rose Lee  

"There is something magical about stories in which humans and animals team up to combine their courage, intelligence, determination, physical prowess, and instincts to scale the heights, touch our hearts deeply, and inspire us in the most profound ways. Those are the best stories there are, I think, and The Eighty-Dollar Champion joins their ranks. There is a lot of wonderful emotion in this book, and it left me awestruck once more at the wondrous things animals and people can do when they join together to make some great and beautiful noise in the world."—Jon Katz, author of Meet the Dogs of Bedlam Farm

"A real live fairy tale about an unlikely rider and an even unlikelier horse who soared over obstacles to capture the hearts of a nation. An eloquent story about near misses and impossible odds and what can happen with a little luck and a lot of determination. I fell in love with Snowman and Harry, and so will you."—Susan Richards, author of Chosen by a Horse

"The perfect book at the perfect time. Snowman will lift you up and over."—Rita Mae Brown, author of the "Sister" Jane Foxhunting Mysteries series  

"A fun and wonderfully detailed story about a most remarkable bond between a man and his horse. You will fall in love with the eighty-dollar champion."—W. Bruce Cameron, author of A Dog's Purpose

"Not only a heartwarming tale of the bond between human and horse, but also a fascinating look at the the Eisenhower years, when faulty memory tells us that America was placid and conformist." —Mary Doria Russell, author of Doc

"[Elizabeth Letts] details the intricacies of the show world beautifully, [but it's] the relationship between the people in [Harry's] life and this remarkable, humble horse that will captivate the reader." —The Star-Ledger

"A heartwarming story begging for the Disney treatment." —Kirkus Reviews

"The story is thrilling. . . . Letts's taut, detailed writing vividly recounts the excitement of the shows; the heights these underdogs climbed; the world of the Eisenhower fifties; and what Snowman and Harry meant to the everyday people they inspired."—Shelf Awareness

"A fascinating, extremely well-told story." —Booklist