Humble Pi: When Math Goes Wrong in the Real World (Hardcover)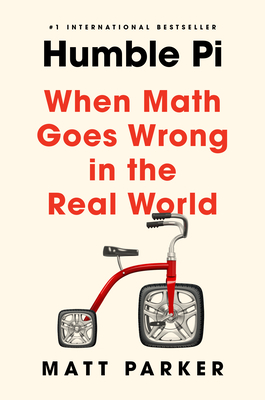 $27.00
Email or call for price
Description
---
#1 INTERNATIONAL BESTSELLER
 
AN ADAM SAVAGE BOOK CLUB PICK

The book-length answer to anyone who ever put their hand up in math class and asked, "When am I ever going to use this in the real world?" 

"Fun, informative, and relentlessly entertaining, Humble Pi is a charming and very readable guide to some of humanity's all-time greatest miscalculations—that also gives you permission to feel a little better about some of your own mistakes." —Ryan North, author of How to Invent Everything 

Our whole world is built on math, from the code running a website to the equations enabling the design of skyscrapers and bridges. Most of the time this math works quietly behind the scenes . . . until it doesn't. All sorts of seemingly innocuous mathematical mistakes can have significant consequences.

Math is easy to ignore until a misplaced decimal point upends the stock market, a unit conversion error causes a plane to crash, or someone divides by zero and stalls a battleship in the middle of the ocean.

Exploring and explaining a litany of glitches, near misses, and mathematical mishaps involving the internet, big data, elections, street signs, lotteries, the Roman Empire, and an Olympic team, Matt Parker uncovers the bizarre ways math trips us up, and what this reveals about its essential place in our world. Getting it wrong has never been more fun.
About the Author
---
Matt Parker is the author of Things to Make and Do in the Fourth Dimension as well as a stand-up comedian and YouTuber with over 100 million views. He writes about math for The Guardian, hosts the Science Channel's Outrageous Acts of Science, and appears regularly on various BBC shows including More or Less, The Infinite Monkey Cage, and QI. Matt performs his math stand-up routines in front of audiences of thousands and is the first person to use an overhead projector at the Hammersmith Apollo since Pink Floyd.
Praise For…
---
Praise for Matt Parker and Humble Pi:

"Parker is consistently very funny . . . . highly entertaining." —The Guardian

"Parker has a sly wit. . . . A clever, amusing book about some of life's more serious problems; highly recommended." —Library Journal

"A fascinating and deeply surprising journey into the hilarious and sometimes tragic realm of mathematical error. Brilliant." —Tim Harford, author of The Undercover Economist and Messy

"[Matt Parker] shows off math at its most playful and multifarious." —Jordan Ellenberg, author of How Not to Be Wrong  

"Matt Parker is some sort of unholy fusion of prankster, wizard, and brilliant nerd—math is rarely this clever, funny, and ever so slightly naughty."—Adam Rutherford, author of Creation

"A pleasant exploration of our deeply held incompetence at mathematics. . . . Fun reading for nonmathematicians." —Kirkus Reviews

"Numbers to die for. Four stars." —Mail on Sunday

"Matt Parker has pulled off something wonderful . . . his stories are superb." —The Daily Mail