Stay Hired: Thriving & Surviving in the 21st Century Workplace (Hardcover)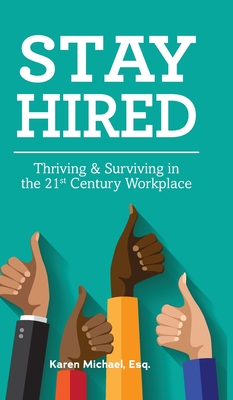 for information about purchasing this book, please contact orders@bookpassage.com
Description
---
"Stay Hired should be required reading for any person transitioning into the work world."-Shannon Gougis, Chief People Officer
You spend your whole life studying and training to do a job. But no one teaches you how to go to work.
Stay Hired offers real-world advice in short, easy-to-read chapters highlighting the best practices to thrive in the workplace. Employment attorney Karen Michael provides essential resources on fundamentals such as workplace conduct, ethics, discrimination and harassment, work-life balance, social media use, and employee legal rights and responsibilities.
Karen brings three decades of experience as a practicing attorney, human resources executive, college professor, columnist, and president of her own human resources and employment law firm. She now shares her expertise with those entering the workforce to stay hired, not fired.
"A great textbook for a life skills course addressing job readiness, career/social development, and financial planning 101. No graduate should leave school without it "-Reuben Daniels, Retired EEOC District Director & Acting COO