Growing Up Belvedere-Tiburon (Paperback)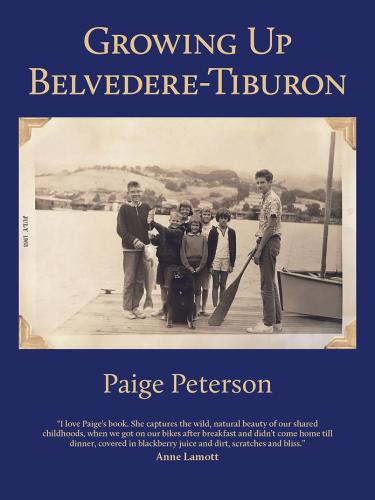 Description
---
Belvedere and Tiburon are located just across the Bay from San Francisco, but they seem to exist in another time. Paige Peterson's memories of her magical childhood and archival photographs that trace the history of these small, lovingly protected communities make this book into a visit to a real-life Brigadoon.

"No matter how long I have been away, returning to my family home carries me back to the days of my childhood. For some of the year, I leave my apartment in New York City and stay with my mother in our home on the Lagoon in Belvedere. My sister Laurie lives close by. We still use the house as we did when we were kids, as a closet. We eat and sleep outside. We read, write, paint, visit with family and friends, and tend to the garden. We swim, kayak, paddle, sail, and float on the Lagoon, and have fierce ping pong battles on the patio. We sit quietly on the weathered dock, watching the light change as the sun sets behind Mount Tamalpais, and we are flooded with memories of our childhood on the Belvedere Lagoon.

Behind our gate, we are nestled into nostalgia. The old apple tree. The same white posts holding up the house. The bricks that my grandfather laid down seventy years ago. The warm pea gravel under our bare feet on the pebble beach that extends out into the brackish Lagoon where daydreaming could last all afternoon.

Growing up in Belvedere, the bellowing of foghorns was the music of my morning. I can still taste the bowl of Sugar Jets that began my day. I made lunch—a peanut butter and jelly sandwich with an apple—and put it in a brown paper bag. My glass jar filled with water spent the night in the freezer so I could start with ice in the morning, knowing that if I ran out, there would be a neighbor's garden hose to drink from. My sister and I would set out on our bicycles to enjoy our magical Northern California haven, often trailed by our dogs fighting to keep up with us and relishing the adventure."

Those memories are gold. In the morning Paige and her sister packed sandwiches in paper bags and rode off on their bikes to explore the Tiburon Peninsula. Swimming, sailing, hiking, clamming, daredevil bike riding—their day was a long, unsupervised adventure. There was no interaction with parents until the Tiburon Fire Department blew the 4:30 whistle, signaling that it was time to head home. Her family's photographs confirm the story of fit, sun-kissed kids enjoying an idyllic childhood.

Historical photographs give context to that personal story. These images, selected by Paige Peterson and Archivist Dave Gotz, from the collection of the Belvedere-Tiburon Landmarks Society, introduce Mexican Ranchos, Portuguese dairymen, bohemian artists, and the people who have loved Belvedere and Tiburon and protected their special charm.

All proceeds from the sale of Growing Up Belvedere-Tiburon benefit the Belvedere-Tiburon Landmarks Society, landmarkssociety.com.
About the Author
---
As a journalist, Paige Peterson has reported extensively about the Middle East and contributed to Marin Magazine, National Council on U.S. Arab Relations, and New York Social Diary. She has illustrated A Christmas Carol, adapted by Jesse Kornbluth, and Blackie: The Horse Who Stood Still, which she co-authored with Christopher Cerf. As a painter, she is represented by Gerald Peters Gallery in New York and has been honored by The Guild Hall Academy of the Arts in East Hampton. She is Author and Artist in Residence at Literacy Partners and a board member of Catmosphere, National Council on U.S. Arab Relations and Safari West Wildlife Foundation. Raised in Belvedere, Ms. Peterson has two adult children and lives in New York City. Find more at paigempeterson.com and growingupbelvedere.com. Archivist Dave Gotz moved to California from Ann Arbor, Michi­gan more than 40 years ago. From 1982 to 1996, he owned School of Wood in Sonoma, restoring woodwork from classic cars, and also wrote a music column in the local paper. After graduating from San Francisco Law School in 1995, he and his wife Vickie settled in Tiburon. In 2001, he joined the Tiburon Heritage & Arts Commission. He was immediately fascinated by the history of the Tiburon Pen­insula. In 2008, he became Archivist for the Belvedere-Tiburon Landmarks Society. In 2015, he was appointed Town of Tiburon Historian. He has created several documenta­ries about Peninsula history and is photo editor and writer for Landmarks publications. Mr. Gotz has two adult chil­dren and lives in Tiburon.
Praise For…
---
"I love this new book by Paige Peterson and the Belvedere-Tiburon Landmarks Society. Always amazing and meticulous in its discovery and preservation of historical photographs, the Landmarks Society has found the perfect narrator for this new collection. Paige is both precise and charming in capturing the wild and natural beauty of our shared childhoods and habitats in Belvedere and Tiburon in the '50s and '60s. She extols the days of getting on our bikes after breakfast and not coming home till dinner, covered in blackberry juice and dirt, scratches and bliss. This combined effort brought me nostalgia and cheer."
— Anne Lamott

"Magical writing about a magical place."
— Susan Cheever

"Paige Peterson has written a lovely memoir of her childhood and girlhood in Belvedere. It clearly is a charming place to grow up and live and she has captured it in her remembrance."
—Joan Ganz Cooney

"Nan and I have visited your glorious venue, and I appreciate what you have done in writing and illustrating a big and beautiful coffee-table size book, the memory of being so lucky as to reside in Belvedere."
— Gay Talese

"Paige's love story about her relationship with Belvedere will make anyone reminisce and long for their own innocent childhood summers. Her evocative, literary, visual descriptions of even the simplest moments are like an escapist fantasy into a lost time. Reading this book feels like time travel, escape, and family bonding, all wrapped into one beautifully photographed Care package."
— Zibby Owens

"I found myself savoring each word of her delicious prose, and at the same time, eagerly anticipating what new adventure was coming next. This delightful book, filled with nostalgic photographs and rich history, will be a keepsake."
— Lisa McCubbin

"Paige Peterson takes us by the hand, like a childhood friend, and draws us into the atmosphere of an iconic California hometown. With a painter's eye, she shares the beauty of the region as well as the pressures of change over the decades. The smell of her grandfather's workshop and the salt air linger long after you close the book."
— Kyle Zimmer

"Paige Peterson's memoir is charming and evocative, and perfectly captures the feeling of what it was like growing up in one of the most magical places in America."
— Christopher B. Cerf

"Belvedere-Tiburon could not have a more talented, loyal, enthusiastic ambassador than Paige Peterson. She simply loves the place! And, now, because of her, we can too."
—Nancy Collins

"In Paige Peterson's memories of Belvedere, it's a Utopian enclave, protected and preserved by geography and pride. You think: too good to be true, it must be different now. But then you learn how, even as it has grown, it has maintained its specialness, and you hope, in your next life, you can grow up there."
— Jesse Kornbluth

"Paige has a creator's capacity for molding the past into an artwork, sometimes a painting, sometimes a garden, sometimes a living room, sometimes a piece of writing. Every story is a memoir of sorts — whether her book with Christopher Cerf, Blackie: The Horse Who Stood Still which I had the honor of publishing, or Growing Up Belvedere-Tiburon. Paige observes, she retains. She distills. And then she produces something that touches everyone with whom it comes into contact."
—Lena Tabori