The Haircut Who Would Be King (Paperback)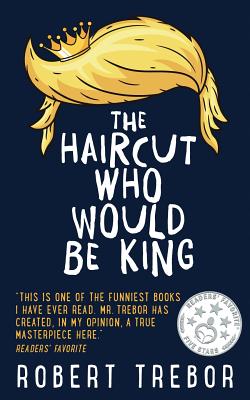 $14.95

Usually Ships in 1-5 Days
Description
---
A farcical sendup of Donald Trump's rise to power and volatile partnership with Vladimir Putin...As a young boy, Donald Rump was less than precocious--a miserable student, prone to implacable tantrums, whose emotional intelligence ceased maturing at the age of 9. But the region of the brain responsible for egomaniacal self-assessment was prodigiously large.
After some success and plenty more failure in real estate, he turns his attentions to reality TV and hosts a show called "Paycheck," each episode of which concludes with Rump singing "Don't Cry for Me Argentina."
Meanwhile, Vladimir Poutine was raised by KGB agents during the early years of Khrushchev's reign. Poutine, a latent homosexual who immerses himself in the self-consciously manly world of "physical culture," reads magazines about bodybuilding. Crushed by the demise of the Soviet Union, he copes in the most peculiar way: "he would slip into a silver lam gown, pop on a curly wig and perform Marlene Dietrich classics at a local drag bar."
Rump decides he'd like to try his hand at politics and recruits shock jock Alex Clamz from the popular but frothing radio show, "Disinfowarz." He runs for president opposite Mallory Claxton, a sensible woman with a sterling career in public service. Despite a bizarre campaign and a trail of seedy scandals, Rump wins with clandestine help from Poutine.
And then, the fun really begins.