Introducing OSCAR Therapy: A New Interspecies Behavioral-Diagnostics Paradigm and Problem-Reversal Therapy to Restore the Animal-to-Animal and An (Paperback)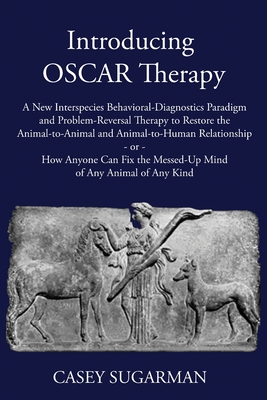 $49.99

Usually Ships in 1-5 Days
Description
---
OSCAR Therapy is a real-time "language" for helping you teach, communicate with, and navigate sticky situations with humans and/or captive exotic or domestic animals of any species and in any setting. You can use OSCAR Therapy to explain safety, training, medical, social, competition, or other context-based skills to any individual, regardless of species. OSCAR Therapy employs the most primal bio-emotional paradigm- a few specific rules of social nature- to assess, diagnose, treat, and resolve, even while it points out dead-end paths.
For those who want to have "a partner who reads my mind" OSCAR Therapy is the key to that lock. OSCAR Therapy is fair and respectful of both you and your counterpart, helping you to find the "us" in your relationship. OSCAR Therapy is unlike ANY current training or teaching method because the choices that we promote and foster in OSCAR Therapy are based in self-expression. Because of this, learning OSCAR Therapy is like getting a chiropractic adjustment to your interpersonal skills, even your inter-species interpersonal skills, for both the recipient and the practitioner alike Come see our OSCAR Therapy channel on YouTube
The benefits of OSCAR Therapy are many:
- OSCAR Therapy is a primal teaching format based on techniques that SAFELY alter the behavioral expression and choices of animals across all species, including humans.
- OSCAR Therapy is a quick and efficient way to diagnose and reverse (heal) most areas of Phobia and PTSD, SAFELY.
- OSCAR Therapy is the best way to teach, educate, and/or build working partnerships with ANY species.
- OSCAR Therapy is used to create and generate both talent and skill in the learner.**
- OSCAR Therapy does not alter personality. An individual's unique, distinctive character stays intact and is only enhanced. When the fog of confusion and distress lifts, that's when personality, style, and the individual's general charisma can finally shine through.
"Casey's work does not need to be substantiated by human experts and academic credentialing. Putting letters after her name will not be necessary. By pretending this information came from human innovation would water it down, and the information is much too important to muck it up that way. The work stands on its own."
-Candace K. Platz, D.V.M, U. S. Dressage Federation Gold Medalist, USDF Regional Champion AA Grand Prix
"Even positive reinforcement technique rarely gives you any information from that animal's point of view. Even in operant conditioning, we trainers have all been wired by the "training" we've been taught; but what we've been taught... is not a full conversation in any way. OSCAR is the full monty... the full conversation."
-Leita Hagemann, Dog Trainer, Connecticut
"My 12-year-old son has always had a severe dog phobia. We tried everything including professionals, but nothing helped. After three OSCAR sessions, (two of those only by video chat) he asked if we can get a dog " -Mary N.
"I've been unable to go in past my knees for 60 years. With Casey's keen attention to my UNCONSCIOUS behaviors in the water, eleven sessions is all it took to learn to swim." -Tim H.
"I have been a horse business advertiser for 25 years. Not only has there never been anything like this before, but as an OSCAR practitioner now myself, I can say that this is the most effective approach to helping animals that I've ever learned."
- Dana Stillwell, Founder of Steed Read Horseman's Classified, New England, US