The Native Star (Veneficas Americana #1) (Mass Market)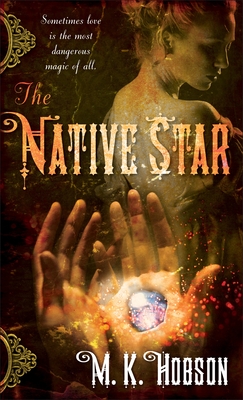 $7.99
Email or call for price
Other Books in Series
This is book number 1 in the Veneficas Americana series.
Description
---
In the tradition of Jonathan Strange & Mr. Norrell, this brilliant first novel fuses history, fantasy, and romance. Prepare to be enchanted by M. K. Hobson's captivating take on the Wild, Wild West.
 
The year is 1876. In the small Sierra Nevada settlement of Lost Pine, the town witch, Emily Edwards, is being run out of business by an influx of mail-order patent magics. Attempting to solve her problem with a love spell, Emily only makes things worse. But before she can undo the damage, an enchanted artifact falls into her possession—and suddenly Emily must flee for her life, pursued by evil warlocks who want the object for themselves.

Dreadnought Stanton, a warlock from New York City whose personality is as pompous and abrasive as his name, has been exiled to Lost Pine for mysterious reasons. Now he finds himself involuntarily allied with Emily in a race against time—and across the United States by horse, train, and biomechanical flying machine—in quest of the great Professor Mirabilis, who alone can unlock the secret of the coveted artifact. But along the way, Emily and Stanton will be forced to contend with the most powerful and unpredictable magic of all—the magic of the human heart.
About the Author
---
M. K. Hobson's short fiction has appeared in Realms of Fantasy, Fantasy & Science Fiction, Sci Fiction, Strange Horizons, Interzone, Postscripts, and many other publications. She lives in the first city in the United States incorporated west of the Rockies and fancies herself a historian, bon vivant, and raconteur. Her husband, daughter, yellow Lab, and moggy cats generally humor her. The Native Star is her first novel.
Praise For…
---
"The Native Star is engaging, atmospheric, and lovely. I was quite taken by the concept of an Old West built on a foundation of magic and zombie slave labor. Oh, and giant raccoons. Bring on the coons! And how spectacular is the name Dreadnought Stanton? This book utterly absorbed me from start to finish—these days you have no idea how rare that is. You have something special in your hands—no pun intended." —Gail Carriger, New York Times bestelling author of Soulless

"M. K. Hobson dazzles! The Native Star is an awesome mash-up of magic and steam-age technology—call it witchpunk. This debut novel puts a new shine on the Gilded Age." —C. C. Finlay
 
"Splendid! In The Native Star, M. K. Hobson gives us a Reconstruction-era America, beautifully drawn and filled with the energy of a young nation—and magic! Her heroine, Emily Edwards, is outspoken,  rash, loving, and true; a delight to spend time with. Could there be a sequel, please?" —Madeleine Robins