Garment of Shadows: A novel of suspense featuring Mary Russell and Sherlock Holmes (Paperback)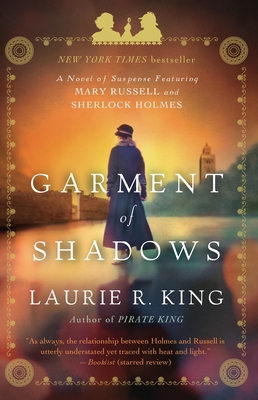 Other Books in Series
This is book number 12 in the Mary Russell and Sherlock Holmes series.
Description
---
NEW YORK TIMES BESTSELLER

Laurie R. King's New York Times bestselling novels of suspense featuring Mary Russell and her husband, Sherlock Holmes, comprise one of today's most acclaimed mystery series. Now the couple is separated by a shocking circumstance in a perilous part of the world, each racing against time to prevent an explosive catastrophe that could clothe them both in shrouds.
 
In a strange room in Morocco, Mary Russell is trying to solve a pressing mystery: Who am I? She has awakened with shadows in her mind, blood on her hands, and soldiers pounding on the door. Out in the hivelike streets, she discovers herself strangely adept in the skills of the underworld, escaping through alleys and rooftops, picking pockets and locks. She is clothed like a man, and armed only with her wits and a scrap of paper containing a mysterious Arabic phrase. Overhead, warplanes pass ominously north.
 
Meanwhile, Holmes is pulled by two old friends and a distant relation into the growing war between France, Spain, and the Rif Revolt led by Emir Abd el-Krim—who may be a Robin Hood or a power mad tribesman. The shadows of war are drawing over the ancient city of Fez, and Holmes badly wants the wisdom and courage of his wife, whom he's learned, to his horror, has gone missing. As Holmes searches for her, and Russell searches for herself, each tries to crack deadly parallel puzzles before it's too late for them, for Africa, and for the peace of Europe.
 
With the dazzling mix of period detail and contemporary pace that is her hallmark, Laurie R. King continues the stunningly suspenseful series that Lee Child called "the most sustained feat of imagination in mystery fiction today."

Praise for Garment of Shadows
 
"As always, the relationship between Holmes and Russell is utterly understated yet traced with heat and light."—Booklist (starred review)
 
"[A] taut tale . . . original and intriguing . . . This tantalizing glimpse into the life and times of a rapidly evolving Arabic society has remarkable resonance for our own uncertain times."—Publishers Weekly
 
"Those new to the series are in for a treat."—Bookreporter
About the Author
---
Laurie R. King is the New York Times bestselling author of thirteen Mary Russell mysteries, five contemporary novels featuring Kate Martinelli, the Stuyvesant & Grey novels Touchstone and The Bones of Paris, and the acclaimed A Darker Place, Folly, and Keeping Watch. She lives in Northern California.
Praise For…
---
"The great marvel of King's series is that she's managed to preserve the integrity of Holmes's character and yet somehow conjure up a woman astute, edgy, and compelling enough to be the partner of his mind as well as his heart."—The Washington Post Book World
 
Praise for Garment of Shadows
 
"As always, the relationship between Holmes and Russell is utterly understated yet traced with heat and light."—Booklist (starred review)
 
"[A] taut tale . . . original and intriguing . . . This tantalizing glimpse into the life and times of a rapidly evolving Arabic society has remarkable resonance for our own uncertain times."—Publishers Weekly
 
"Those new to the series are in for a treat."—Bookreporter

The award-winning novels of Laurie R. King are . . .
 
"A lively adventure in the very best of intellectual company."—The New York Times
 
"Erudite, fascinating . . . by all odds the most successful re-creation of the famous inhabitant of 221B Baker Street ever attempted."—Houston Chronicle
 
"Intricate clockworks, wheels within wheels."—Booklist (starred review)
 
"Imaginative and subtle."—The Seattle Times
 
"Impossible to put down."—Romantic Times
 
"Remarkably beguiling."—The Boston Globe