Pirate King (with bonus short story Beekeeping for Beginners): A novel of suspense featuring Mary Russell and Sherlock Holmes (Paperback)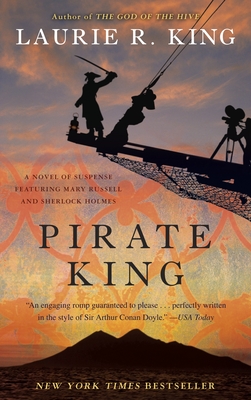 Other Books in Series
This is book number 11 in the Mary Russell and Sherlock Holmes series.
Description
---
NEW YORK TIMES BESTSELLER • "An engaging romp guaranteed to please . . . perfectly written in the style of Sir Arthur Conan Doyle."—USA Today
 
In England's young silent-film industry, the megalomaniacal Randolph Fflytte is king. But rumors of criminal activities swirl around his popular movie studio. At the request of Scotland Yard, Mary Russell travels undercover to the set of Fflytte's latest cinematic extravaganza, Pirate King. Based on Gilbert and Sullivan's The Pirates of Penzance, the project will either set the standard for moviemaking for a generation . . . or sink a boatload of careers.
 
As the company starts rehearsals in Lisbon, the thirteen blond-haired, blue-eyed actresses whom Mary is chaperoning meet the swarm of real buccaneers Fflytte has recruited to provide authenticity. But when the crew embarks for Morocco and the actual filming, Russell senses ominous currents of trouble: a derelict boat, a film crew with many secrets, decks awash with budding romance—and now the pirates are ignoring Fflytte and answering only to their outlaw leader. Where can Sherlock Holmes be? As movie make-believe becomes true terror, Russell and Holmes themselves may experience a final fadeout.
 
Features Laurie R. King's short story, Beekeepers for Beginners, previously available only as an eBook!
About the Author
---
Laurie R. King is the award-winning, bestselling author of seventeen Mary Russell mysteries, five contemporary novels featuring Kate Martinelli, and many acclaimed stand-alone novels such as Folly, Touchstone, The Bones of Paris, and Lockdown. She lives in Northern California, where she is at work on her next Mary Russell mystery.
Praise For…
---
"Brilliant . . . [This] tangled web includes some very high comedy from Gilbert and Sullivan, pirates, and early moviemaking."—Booklist (starred review)
 
"Fast-paced and funny."—St. Louis Post-Dispatch
 
LAURIE R. KING'S BESTSELLING NOVELS OF SUSPENSE FEATURING MARY RUSSELL AND SHERLOCK HOLMES ARE . . .

"Audacious."—Los Angeles Times
 
"Delightful and creative."—The Wall Street Journal
 
"Lively adventure in the very best of intellectual company."—The New York Times Book Review
 
"Rousing . . . riveting . . . suspenseful."—Chicago Sun-Times
 
"Beguiling . . . tantalizing."—The Boston Globe