Locked Rooms: A novel of suspense featuring Mary Russell and Sherlock Holmes (Paperback)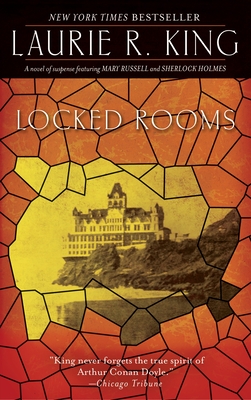 Other Books in Series
This is book number 8 in the Mary Russell and Sherlock Holmes series.
Description
---
"A truly bravura performance [with] all the magnetic appeal of the best of the original Conan Doyle novels."—The Strand Magazine

En route to San Francisco to settle her family's estate, Mary Russell, in the company of husband Sherlock Holmes, falls prey to troubling dreams—and even more troubling behavior. In 1906, when Mary was six, the city was devastated by a catastrophic earthquake. For years Mary has insisted she lived elsewhere at the time. But Holmes knows better.

Soon it is clear that whatever unpleasantness Mary wanted to forget hasn't forgotten her. A series of mysterious deaths leads Russell and Holmes from the winding streets of Chinatown to the unspoken secrets of a parent's marriage and the tragic "accident" that Mary alone survived. What Russell discovers is that even a forgotten past never dies . . . and it can kill again.
About the Author
---
Laurie R. King is the New York Times bestselling author of thirteen Mary Russell mysteries, five contemporary novels featuring Kate Martinelli, the Stuyvesant & Grey novels Touchstone and The Bones of Paris, and the acclaimed A Darker Place, Folly, and Keeping Watch. She lives in Northern California.
Praise For…
---
"Locked Rooms brims with lively 1920s color and verve, some of it in the warrens of San Francisco's Chinatown.... [a] vividly imagined series."—Seattle Times

"Richly imagined.... King's re-creation of San Francisco, especially the backstory during the devastating 1906 earthquake, is superb, and it's a pleasure to see the unusually competent Russell struggling with her own psyche."—Publishers Weekly (starred review)

"Utterly mesmerizing .... In alternating sections, told in first person for Mary and third for Holmes, the unraveling of long-buried and terrifying memories also unwinds a skein of wonderful historical texture.... A highlight in an altogether outstanding series."—Booklist (starred review)  

"A humdinger of a plot ... plus pulsating descriptions of San Francisco's tent cities, looters, and flattened Chinatown in the quake's aftermath."—Kirkus Reviews (starred review)

"A truly bravura performance . . . has all the magnetic appeal of the best of the original Conan Doyle novels."—Strand Magazine