Justice Hall: A novel of suspense featuring Mary Russell and Sherlock Holmes (Paperback)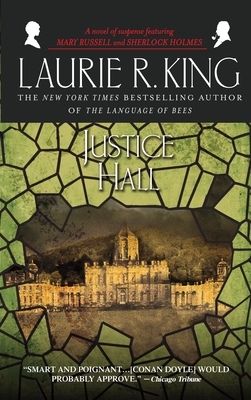 Other Books in Series
This is book number 6 in the Mary Russell and Sherlock Holmes series.
Description
---
Only hours after Holmes and Russell return from solving one murky riddle on the moor, another knocks on their front  door . . . literally.

It's a mystery that begins during the Great War, when Gabriel Hughenfort died amidst scandalous rumors that have haunted the family ever since. But it's not until Holmes and Russell arrive at Justice Hall, a home of unearthly perfection set in a garden modeled on Paradise, that they fully understand the irony echoed in the family motto, Justicia fortitudo mea est: "Righteousness is my strength."

A trail of ominous clues comprise a mystery that leads from an English hamlet to the city of Paris to the wild prairie of the New World. The trap is set, the game is afoot; but can Holmes and Russell catch an elusive killer--or has the murderer caught them?

BONUS: This edition contains an excerpt from Laurie R. King's Pirate King.
About the Author
---
Laurie R. King is the New York Times bestselling author of thirteen Mary Russell mysteries, five contemporary novels featuring Kate Martinelli, the Stuyvesant & Grey novels Touchstone and The Bones of Paris, and the acclaimed A Darker Place, Folly, and Keeping Watch. She lives in Northern California.
Praise For…
---
"Fascinating."—Orlando Sentinel

"A spellbinding mystery...superb."—Washington Post

"Audacious...Mary Russell is never less than fascinating company."—Los Angeles Times