That Dark and Bloody River: Chronicles of the Ohio River Valley (Paperback)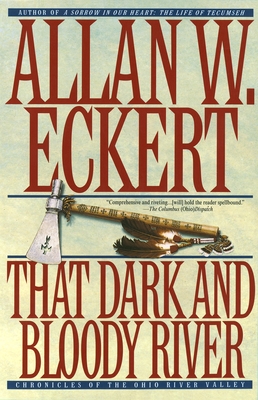 $22.00

Usually Ships in 1-5 Days
Description
---
An award-winning author chronicles the settling of the Ohio River Valley, home to the defiant Shawnee Indians, who vow to defend their land against the seemingly unstoppable.

They came on foot and by horseback, in wagons and on rafts, singly and by the score, restless, adventurous, enterprising, relentless, seeking a foothold on the future. European immigrants and American colonists, settlers and speculators, soldiers and missionaries, fugitives from justice and from despair—pioneers all, in the great and inexorable westward expansion defined at its heart by the majestic flow of the Ohio River. This is their story, a chronicle of monumental dimension, of resounding drama and impact set during a pivotal era in our history: the birth and growth of a nation.

Drawing on a wealth of research, both scholarly and anecdotal—including letters, diaries, and journals of the era—Allan W. Eckert has delivered a landmark of historical authenticity, unprecedented in scope and detail.
About the Author
---
A six-time Pulitzer Prize nominee, Allan W. Eckert is an Emmy Award–winning scriptwriter and a Newbery Honor author of books for young readers. He is also the author of the popular six-volume historical series Narratives of America and the creator of Tecumseh!, an outdoor drama staged regularly in Chillicothe, Ohio, that has played to more than a million people over the past 20 years.