The Secret Garden (Mass Market)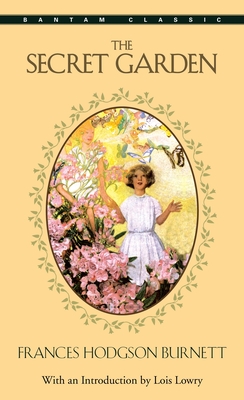 $5.95
Email or call for price
Description
---
"The Secret Garden should be on every child's bookshelf."—Amanda Craig, The Time
 
An enchanting story of transformation and compassion, Frances Hodgson Burnett's The Secret Garden is widely considered to be one of the most important works of children's literature. After her parents die of cholera, Mary Lennox, a difficult and sickly little girl, is brought from India to her mysterious uncle's sprawling estate on the Yorkshire moors. Mary continues in her self-absorbed ways until one day she discovers a hidden and neglected garden adjoining her uncle's mansion. When she meets Ben Weatherstaff, a curt but gentle gardener, and discovers her hidden-away invalid cousin, Colin Craven, the three come together to tend the garden, and Mary's life—as well as the lives of those around her—begins to change in unforeseen ways.

This Modern Library Paperback Classic is set from the text of the first American edition published in 1911. 

Praise for The Secret Garden

"It is only the exceptional author who can write a book about children with sufficient skill, charm, simplicity, and significance to make it acceptable to both young and old. Mrs. Burnett is one of the few thus gifted."—The New York Times
About the Author
---
Frances Hodgson Burnett was born in Manchester, England, on November 24 1849. After her father's death in 1853, Burnett's mother ran the family's iron foundry until the American Civil War caused the business to fail. Destitute, the Hodgsons moved to Tennessee in 1865 to stay with relatives in a log cabin. Frances lived there until 1873, when she married a doctor, Swan Burnett, whom she later divorced in 1898. She married Peter Townsend, an actor, in 1900.

From her teens Frances had written stories and tales to help her support the family and later claimed never to have written a manuscript that was not published. Her first widespread success came with That Lass o' Lowrie's in 1877, a tale of the Lancashire coal mines. But it was the publication of Little Lord Fauntleroy, in 1886, that brought the author fame and wealth and established Cedric as the model for a generations of young boys. Sara Crewe was published in 1888, and the rags-to-riches story was so successful that Burnett revised, expanded, and republished it in 1905 as A Little Princess. The beloved The Secret Garden appeared four years later to enormous critical and popular acclaim.

A prolific writer, Frances Hodgson Burnett wrote over 40 novels and plays and dozens of short stories during her lifetime. She died at Plandome, New York, on October 29 1924.
Praise For…
---
"This adaptation has its own special appeal. Although considerably shorter than the original, it remains faithful to the plot. Allen's oversize chalk drawings are handsome. Children sometimes pass over Burnett's story because by the time they are able to read it, they are no longer interested in the subject. For them, this adaptation will work well."—Booklist