This Charming Man (The Stranger Times #2) (Paperback)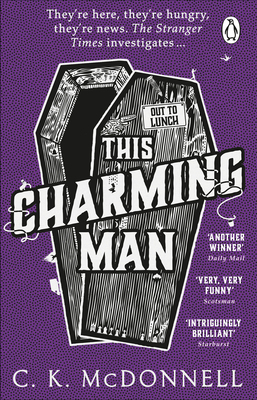 $17.95

Coming Soon - Available for Pre-Order Now
Description
---
Vampires do not exist. Everyone knows this. So it's particularly annoying when they start popping up around Manchester . . .

Nobody is pleased about it. Not the Founders, the secret organisation for whom vampires were invented as an allegory, nor the Folk, the magical people hidden in plain sight who only want a quiet life. And definitely not the people of Manchester, because there is nothing more irksome than being murdered by an allegory run amok. Somebody needs to sort this out fast before all Hell really breaks loose - step forward the staff of The Stranger Times.

It's not like they don't have enough to be dealing with. Assistant Editor Hannah has come back from getting messily divorced to discover that someone is trying to kidnap a member of their staff and while editor Vincent Banecroft would be delighted to see the back of any of his team, he doesn't like people touching his stuff - it's the principle of the thing.

Throw in a precarious plumbing situation, gambling debts, an entirely new way of swearing, and a certain detective inspector with what could be kindly referred to as 'a lot of baggage' and it all adds up to another hectic week in the life of the newspaper committed to reporting the truth that nobody else will touch.

This Charming Man is the second book in the critically acclaimed The Stranger Times series.

'Wonderfully dark, extremely funny, and evocative of Terry Pratchett - which I think is the highest compliment I can give.' ADAM KAY, about The Stranger Times . . .
'A gag-filled romp . . . in the spirit of Terry Pratchett.' The Times
'Great characters, a jet-propelled plot, and a winning premise.' Guardian
'Fresh and genuinely funny.' SFX
About the Author
---
Born in Limerick and raised in Dublin, C K (Caimh) McDonnell is a former stand-up comedian and TV writer. He performed all around the world, had several well-received Edinburgh shows and supported acts such as Sarah Millican on tour before hanging up his clowning shoes to concentrate on writing. He has also written for numerous TV shows and been nominated for a Kid's TV BAFTA.

His debut novel, A Man With One of Those Faces – a comic crime novel – was published in 2016 and spawned The Dublin Trilogy books and the spin-off McGarry Stateside series. They have been Amazon bestsellers on both sides of the Atlantic.

Caimh lives in Manchester. To find out more, visit whitehairedirishman.com.
Praise For…
---
"A gag-filled romp . . . in the spirit of Terry Pratchett." —The Times

"Wonderfully dark, extremely funny, and evocative of Terry Pratchett -which I think is the highest compliment I can give.'ADAM KAY, aboutThe Stranger Times

"McDonnell makes Manchesterchaotic, hilarious, elegiac and sinisterat the same time . . . very, very funny . . . the work has already been compared frequently to Terry Pratchett, and given the whip-crack sharp lines and wryness, it is not inappropriate. But it is not a weak clone of Pratchett's work, and it has its own political edge.'—SCOTSMAN

'Intriguingly brilliant. . . its greatest strength is in its engaging and enthralling characters, both new and old. The author revels in their personalities, their foibles and flaws as they guide you hilariously through an urban fantasy landscape bursting with myth and magic; all often hiding in plain sight . . .perhaps more Gaiman or Adams than Pratchett, McDonnell has a gift for describing the fantastical as delectably formulaic . . . if you enjoy your fantasy peppered with wit and deft creativity, thenMcDonnell's books will sit comfortably on your bookshelf next to those revered genre alumni.' —STARBURST

'Great characters, a jet-propelled plot, and a winning premise.'Guardian

'Fresh and genuinely funny.'SFX

"With crisp plotting, scabrous dialogue and deftly applied splashes of gore, former comedian C.K. McDonnell has served up another winner from his cast of delightful losers.'DAILY MAIL