Outside In: The Power of Putting Customers at the Center of Your Business (Hardcover)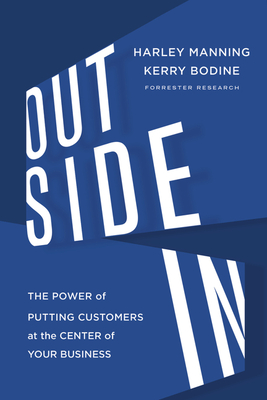 Description
---
What simple innovation brought billions in new investments to Fidelity? What basic misunderstanding was preventing Office Depot from achieving its growth potential? What surprising insights helped the Mayo Clinic better serve both doctors and patients?

The solution in each case was a focus on customer experience, the most powerful—and misunderstood—element of corporate strategy today.

Customer experience is, quite simply, how your customers perceive their every interaction with your company. It's a fundamental business driver. Here's proof: over a recent five-year period during which the S&P 500 was flat, a stock portfolio of customer experience leaders grew twenty-two percent.

In an age when customers have access to vast amounts of data about your company and its competitors, customer experience is the only sustainable source of competitive advantage. But how to excel at it?

Based on fourteen years of research by the customer experience leaders at Forrester Research, Outside In offers a complete roadmap to attaining the experience advantage. It starts with the concept of the Customer Experience Ecosystem—proof that the roots of customer experience problems lie not just with customer-facing employees like your sales staff, but with behind-the-scenes employees like accountants, lawyers, and programmers, as well as the policies, processes, and technologies that all your employees use every day. Identifying and solving these problems has the potential to dramatically increase sales and decrease costs.
About the Author
---
Harley Manning founded Forrester's customer experience research practice when he joined the firm in 1998. Today he leads a team of analysts that cover enterprise-level customer experience topics ranging from strategy to metrics and business models.

Kerry Bodine leads Forrester's research on experience design. Kerry's research, analysis, and opinions appear frequently on sites like Harvard Business Review, Forbes, and Advertising Age, and she blogs for Forrester and 1to1 Media.
Praise For…
---
"Why read Outside In? Because a focus on customer experience and an outside-in perspective are the cornerstones of business success. The strongest client relationships are built on trust, mutual respect, and really listening to each other. Those are the kinds of relationships that can last a lifetime."
— Vanguard Chairman and CEO Bill McNabb
"This eye-opener gives you a comprehensive, need-to-know look at how smart companies achieve sustainable success in dealing with customers.  Hint:  It involves the entire organization, not just those on the 'front lines.' The GPS-like guidance provided here is invaluable."
— Steve Forbes, Chairman and Editor-in-Chief, Forbes
 
"Enjoyable, Easy, Meets Needs. This is Manning and Bodine's Customer experience pyramid, listed in order of importance for the customer. Yes, it's hard to make the changes needed to deliver on these promises. But there is a simple first step: read this book.
— Don Norman, Nielsen Norman Group, author of Living with Complexity
"Manning and Bodine understand that a good customer experience is actually less expensive to provide than a poor one and customers will pay more for a good one than for a bad one. Nothing drives profitability like an excellent customer experience does."
— Dan Hesse, CEO, Sprint
"I define customer centricity as simply 'the one who pays you money placed at the center of everything you do.' If you buy that definition, then buy this book, for Manning and Bodine provide a blueprint for doing just that. Following its prescriptions will yield enjoyable experiences for your customers by understanding them — from the outside in."
—  B. Joseph Pine II, co-author, The Experience Economy and Infinite Possibility: Creating Customer Value on the Digital Frontier
 
"Looking forward, healthcare organizations need to make patient experience part of their strategic plans. It's as important as quality and safety. Manning and Bodine show why creating a great experience is important for any organization, and how to drive the change needed to make it a reality."
— Delos "Toby" Cosgrove, MD, CEO, Cleveland Clinic
"Here at Virgin, our brand is all about a great customer experience. Outside In provides the discipline to turn that thinking into successful business practices."
— Paul Sands, Head of Customer Experience Management, Virgin Atlantic Airways

"Here's a simple recommendation: if you have customers, you should read this book." —800-CEO-READ
"CIOs who want to travel down that path [of success] but need a bit of guidance should look at Outside In…By looking closely at the problems customers experienced that led them to call customer service, some of these companies either slashed costs by billions of dollars or generated billions in new revenue." —The Wall Street Journal