The Tigress Of Forli: Renaissance Italy's Most Courageous and Notorious Countess, Caterina Riario Sforza de' Medici (Paperback)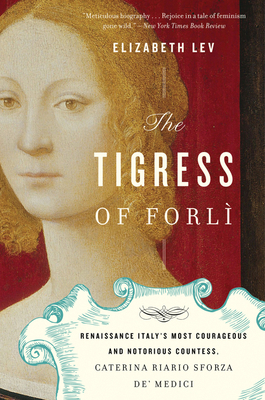 $16.99

Usually Ships in 1-5 Days
Description
---
The astonishing life of Caterina Sforza, one of the most prominent women of Renaissance Italy, who was a wife, mother, leader, and warrior with enough fierceness to make Machiavelli himself wince.

In this glittering biography, Elizabeth Lev reexamines Caterina's extraordinary life and accomplishments.

Raised in the court of Milan and wed at age ten to the pope's corrupt nephew, Caterina was ensnared in Italy's political intrigues early in life. After turbulent years in Rome's papal court, she moved to the Romagnol province of Forlì. Following her husband's assassination, she ruled Italy's crossroads with iron will, martial strength, political savvy—and an icon's fashion sense. In finally losing her lands to the Borgia family, she put up a resistance that inspired all of Europe and set the stage for her progeny—including Cosimo de Medici—to follow her example to greatness.

A rich evocation of the Renaissance, The Tigress of Forlì reveals Caterina Riario Sforza as a brilliant and fearless ruler and a tragic but unbowed figure.
About the Author
---
ELIZABETH LEV is a scholar of Renaissance art and culture and professor of Art History in Rome, where she lives with her family. This is her first book.
Praise For…
---
"A rich account of a dramatic and tragic life: a tale of murder, childhood marriage, revenge, rape, accession to power by a Florentine woman, and a violent downfall. Lev offers a rich, nuanced portrait of a highly controversial beauty and military leader and her violent albeit glittering Italian Renaissance milieu." — Publishers Weekly "An engrossing biography of one of Renaissance Italy's most accomplished powerbrokers. The author writes with a light touch and an eye for the pageantry and drama of the time—her subject was known as one of the best-dressed women in Italy—while colorfully recounting weighty affairs of state. An inspiring tale of the courage and fortitude of an enigmatic and indomitable woman."—Kirkus "Lev continues the recent biographical trend of unearthing extraordinary women from the historical dustpile. The Renaissance is hot right now, and this well-researched biography is a welcome addition to the reexamination of the era." —Booklist —