Father's Day: A Journey into the Mind and Heart of My Extraordinary Son (Hardcover)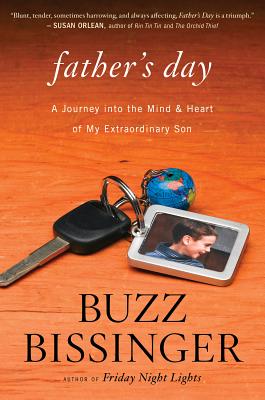 Description
---
A remarkable memoir from the best-selling author of Friday Night Lights and Three Nights in August.

Buzz Bissinger's twins were born three minutes—and a world—apart. Gerry, the older one, is a graduate student at Penn, preparing to become a teacher. His brother Zach has spent his life attending special schools. He'll never drive a car, or kiss a girl, or live by himself. He is a savant, challenged by serious intellectual deficits but also blessed with rare talents: an astonishing memory, a dazzling knack for navigation, and a reflexive honesty that can make him both socially awkward and surprisingly wise.

Buzz realized that while he had always been an attentive father, he didn't really understand what it was like to be Zach. So one summer night Buzz and Zach hit the road to revisit all the places they have lived together during Zach's twenty-four years. Zach revels in his memories, and Buzz hopes this journey into their shared past will bring them closer and reveal to him the mysterious workings of his son's mind and heart. The trip also becomes Buzz's personal journey, yielding revelations about his own parents, the price of ambition, and its effect on his twins.

As father and son journey from Philadelphia to Los Angeles, they see the best and worst of America and each other. Ultimately, Buzz gains a new and uplifting wisdom, realizing that Zach's worldview has a sturdy logic of its own: a logic that deserves the greatest respect. And with the help of Zach's twin, Gerry, Buzz learns an even more vital lesson about Zach: character transcends intellect. We come to see Zach as he truly is: patient, fearless, perceptive, kind—a man of excellent character.


About the Author
---
Buzz Bissinger is a Pulitzer Prize-winning journalist and author of four books, including the New York Times bestseller 3 Nights in August and Friday Night Lights, which has sold two million copies and inspired a film and TV franchise. He is a contributing editor for Vanity Fair and a sports columnist for The Daily Beast. He has written for the New York Times, The New Republic, Time and many other publications.
Praise For…
---
"Blunt, tender, sometimes harrowing, and always affecting, Father's Day is a triumph. Bissinger unfurls the whole fabric of love and pride and heartbreak and salvation that makes a family, with an honesty that will make you gasp."
— Susan Orlean, author of Rin Tin Tin and The Orchid Thief
"Bissinger has the great writer's gift of showing us we are not alone. Here he explores the religion all parents share: that our children's essential goodness will somehow grant them safe passage through a rough world. What a book! Every parent should read it."
— Chris Matthews, host of Hardball and author of Jack Kennedy: Elusive Hero
 "I loved this unflinching, heartbreaking, and ultimately triumphant tale of disability and difference, and what it means to be a father, a son, and a man." —
Jennifer Weiner
, author of
Then Came You
and
Fly Away Home
 "Buzz Bissinger's memoir — a paean to his remarkable son — is tender, funny, frightening at moments when love is re-stated; even brave — which memoiristic writing rarely gets the chance to be. It also reads as
unflinchingly true
, which should give it a long and useful life in the reader's heart." —
Richard Ford
 "
Father's Day
is the story of a road trip like no other. Searing and heartfelt, this is not just an unforgettable portrait of a father and his son; it is
a love story that speaks to the mystery, pain, and exhilaration of being human.
"—
Nathaniel Philbrick
, author of
Mayflower
and
The Last Stand
"This brave and beautiful memoir gets at the core of what it means to be a parent — how painful it can be, how scary it can get, and how rewarding it is. By facing a challenge that would try any of us, and beat many of us, Bissinger emerges a better man. He not only finds his son, but himself, and the reader finds something, too. After reading Fathers Day, I've rethought my assumptions about what makes a successful and worthy life. Ultimately, this is a mesmerizing story about how we can all be better."
— David Sheff, author of Beautiful Boy
"Buzz Bissinger has given completely of himself in this moving book about his son Zach, who was born too small, too soon. There is the father's disappointment and guilt, his confusion and frustration, his wonder and love. That Zach has a twin brother, who grew up unscathed, and that Zach's mind is as divided as his father's emotions, makes the story all that more compelling. Father's Day is wonderfully, achingly written, with all the doubt that tells you how truthful it is."
— Frank Deford, author of The Old Ball Game and The Entitled
"Every father of a special needs child should read this very insightful book." 
— Temple Grandin, author of Thinking in Pictures and Animals in Translation
"A fiercely honest memoir about the complex hard drive of a son's brain and the balky software of a father's heart. Though his story is singular, Bissinger makes it feel like part of that eternal saga — fathers and sons trying to connect."
— J.R. Moehringer, author of The Tender Bar
"Gorgeous and brutally honest . . . As much as this is a book for parents, who know well the crushing vulnerabilities of the job, it is also a story for grown children who understand what it means to love an imperfect parent. Would that we were all as forgiving as Zach.  Grade: A" – Entertainment Weekly
"Riveting . . . Impossible to put down."  -- New York Times
"Visceral, arresting, and frank." -- O Magazine
"A really good book, no matter what its genre, delivers a level of humanity that is both breathtaking and elemental. In Father's Day, Buzz Bissinger has delivered such a work . . . It's every bit as good [as Friday Night Lights]. By telling his own story, Bissinger has given voice to parents of special-needs children everywhere. Moreover, he has given everyone a story of hope, humor and humanity."  -- Houston Chronicle
"Gorgeous and brutally honest . . . As much as this is a book for parents, who know well the crushing vulnerabilities of the job, it is also a story for grown children who understand what it means to love an imperfect parent. Would that we were all as forgiving as Zach.  Grade: A" – Entertainment Weekly
"Bissinger may not seem like a likely candidate to pen a tender memoir—but he has." -- People
"A raw, intimate memoir that holds nothing back . . . Achingly tender." -- Seattle Times
"A testament to his searing love for his disabled son." -- Boston Globe
"Bruising yet tender." – Minneapolis Star-Tribune
"[Bissinger's] greatest accomplishment to date is sharing with the world the inner life of his son Zach  . . . The feel-good moments here are rarely sappy or sentimentalized, and it's not giving anything away to tell you that there's no trite happy ending here. What we get instead is something far more beautiful and substantial. We get to know Zach — and ourselves. Every high school in America should add this memoir to its curriculum. Father's Day implores us not only to open our hearts to the mentally challenged people around us, because that goes without saying. It also asks us to take the time to learn what every living soul has to teach us — even the ones who don't fully understand their own gifts. In gaining a new appreciation for his son's unique voice and by sharing it with such intimacy and compassion, Bissinger has done himself, his family, and his readers a tremendous service." -- Philadelphia Inquirer

"A wrenchingly honest road tale."  -- Publishers Weekly
"Moving . . . By being so open about his own struggles as a father, Bissinger turns our eye back toward ourselves, prompting, perhaps, a similar honesty in our own self-reflections. Although its subject matter is vastly different from that of the popular Friday Night Lights, readers of that book will note the same keen eye for character and emotion here." -- Booklist