Pigeon English (Hardcover)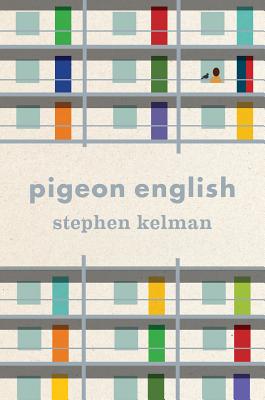 Description
---
Lying in front of Harrison Opoku is a body, the body of one of his classmates, a boy known for his crazy basketball skills, who seems to have been murdered for his dinner.
Armed with a pair of camouflage binoculars and detective techniques absorbed from television shows like
CSI,
Harri and his best friend, Dean, plot to bring the perpetrator to justice. They gather evidence—fingerprints lifted from windows with tape, a wallet stained with blood—and lay traps to flush out the murderer. But nothing can prepare them for what happens when a criminal feels you closing in on him.Recently emigrated from Ghana with his sister and mother to London's enormous housing projects, Harri is pure curiosity and ebullience—obsessed with gummy candy, a friend to the pigeon who visits his balcony, quite possibly the fastest runner in his school, and clearly also fast on the trail of a murderer.Told in Harri's infectious voice and multicultural slang,
Pigeon English
follows in the tradition of our great novels of friendship and adventure, as Harri finds wonder, mystery, and danger in his new, ever-expanding world.
About the Author
---
Stephen Kelman grew up in the housing projects of Luton, England. He has worked as a careworker, a warehouse operative, in marketing, and in local government administration. Pigeon English was shortlisted for the Man Booker and  Desmond Elliot prizes and has been published in twenty countries.
Praise For…
---
Shortlisted for the Man Booker Prize "This boy's love letter to the world made me laugh and tremble all the way through.
Pigeon English
is a triumph." —Emma Donoghue, author of
Room
 "Remarkable . . . Kelman's creation is plausible, convincing and often enchanting." —
Milwaukee Journal Sentinel
 "
Pigeon English
in a category beyond genre . . . This [is a] work of deep sympathy and imagination."—
Boston Globe
 "Continually surprising and endearing . . . There's a sweetnees here that's irresistible."
-- Washington Post
"Ingenious . . . Pigeon English packs a wallop." -- Cleveland Plain Dealer
"The mystery is secondary to the pleasures of listening to Harri as he prattles on winningly in a mix of street slang and Ghanaian expressions." —
Christian Science Monitor 
"
Pigeon English
is a fascinating look at a culture pushed to the margins by a nation's economic and empathic indifference." —
Time Out Chicago 
"A startlingly assured piece of work . . .With a very light touch, Kelman makes us view from a new perspective the kind of story we're used to reading about in the newspapers . . . Kelman is a writer to watch." —
Mystery Scene
 "The humour, the resilience, the sheer ebullience of its narrator—a hero for our times—should ensure the book becomes, deservedly, a classic." —
Mail on Sunday
(UK) "
Pigeon English
is a book to fall in love with: a funny book, a true book, a shattering book . . . If you loved Mark Haddon's
The Curious Incident of the Dog in the Night-Time
or Emma Donoghue's Man Booker–shortlisted
Room
, you'll love this book too." —
The Times
(UK)  "Fantastic . . . it seems hard to believe this is the author's first book." —
Guardian
(UK) "Like Harper Lee's Scout Finch and Miriam Toews' Thebes Troutman, Stephen Kelman's Harri is an original who seems to breathe real oxygen" —
Winnipeg Free Press
(Canada) "Rich with lingo, energy, and occasional terror,
Pigeon English
is a stark and funny look at life in London's rough housing projects. A compelling anatomy of our inner cities, Stephen Kelman's debut novel navigates the hectic, modern world while coping with its most violent accompaniments." —Tony D'Souza, author of
Whiteman
and
Mule 
"Utterly convincing and deeply moving, this is a book that we should all read if we want to understand the ugly world that we have somehow managed to create on the edges of society." —Clare Morrall, author of the Booker-shortlisted
Astonishing Splashes of Colour
and
The Man Who Disappeared