Mary Wrightly, So Politely (Hardcover)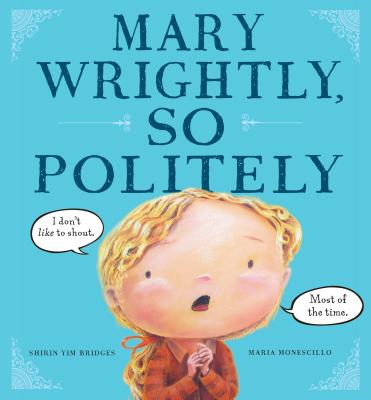 $16.99
Email or call for price
Description
---
Mary Wrightly is the best-behaved little girl around. She always politely says please and thank you and even "I'm sorry" when something isn't her fault. But when a shopper comes between Mary and the blue elephant toy she wants to buy for her beloved baby brother, will Mary just let the woman walk away with it? Speak up, Mary! Monescillo's charming illustrations capture the spirit of this gentle look at how asserting oneself is not rude, and even occasionally out-and-out necessary.
About the Author
---
Shirin Yim Bridges is an award-winning author and the founder of Goosebottom Books. She lives in Foster City, California. Visit her website at www.goosebottombooks.com.

MARIA MONESCILLO is the illustrator of Myra Wolfe's Charlotte Jane Battles Bedtime, and has also worked as an animator. She lives in Askim, Norway.
Praise For…
---
"A powerful, much-needed argument for the virtues of civility . . . a nearly perfect parable about being true to oneself in a rough-and-tumble world."
—Publishers Weekly, starred review

"Understated and sunny itself, this picture book subtly prescribes behavior for situations dire and everyday. So, um, well, will you give it a read...please?"
—Kirkus, starred review

"Mary, with her wavy blond hair and rosy pink cheeks, is an endearing character who learns when to speak up for herself."
—School Library Journal

"Bridges' text employs a gentle rhythm and spare language to create a real story out of its underlying theme: being polite and assertive are both important."
—Booklist

"Sometimes you just have to tell people what you want. And what this smart, affecting and original story wants is some well-deserved attention."
—The New York Times Online
"This would be a fine picture book for a young girl whose good manners could use tweaking."
—The Wall Street Journal

"This gently paced tale shows children there's room for both courtesy and confidence."
—Jennifer M. Brown, children's editor, Shelf Awareness, starred review

"[Mary] is endearing in her shy sweetness."
—The Bulletin of the Center for Children's Books —