Shadowshaper Legacy (The Shadowshaper Cypher, Book 3) (Hardcover)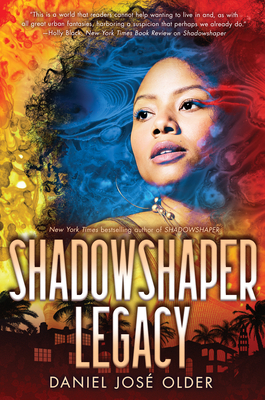 $18.99
Email or call for price
Other Books in Series
This is book number 3 in the The Shadowshaper Cypher series.
Description
---
The epic conclusion to the acclaimed Shadowshaper Cypher series!A house dividedSierra and the shadowshapers have been split apart. Juan, Anthony, and Izzy are in jail, anxiously waiting to find out what will become of them. Back in Brooklyn, the other shadowshapers have been getting threatening messages from whisper wraiths, catching strangely shaped figures stalking them, and fending off random spirits. A war is brewing among the houses, and the very magic of the shadowshapers is at stake.The fate of the worldsSierra is determined to protect her own in the coming conflict, even if that means keeping secrets from them. But a deal with Death by one of Sierra's ancestors has far-reaching consequences in the battles of the present, and as old fates tangle with new powers, Sierra will have to harness the Deck of Worlds and confront her family's past if she has any hope of saving the future and everyone she loves. Only doing so will mean following the magic to places the shadowshapers have never gone before . . . and may never return from.New York Times bestselling author Daniel José Older spins a masterful conclusion to his evocative and captivating Shadowshaper Cypher series in a finale of searing rebellion, the power of fate, and a magic unlike anything you've ever imagined.
About the Author
---
Daniel José Older has always loved monsters, whether historical, prehistorical, or imaginary. His debut series for young adults, the Shadowshaper Cypher, has earned starred reviews, the International Latino Book Award, and New York Times Notable Book and NPR Best Book of the Year picks, among other accolades. His debut middle-grade series, Dactyl Hill Squad, was named to the New York Times Notable Book list and to the NPR and Washington Post Best Book of the Year lists, among others. He has worked as a bike messenger, a waiter, and a teacher, and was a New York City paramedic for ten years. Daniel splits his time between Brooklyn and New Orleans.
Praise For…
---
Praise for Shadowshaper
Named one of the "100 Best Fantasy Books of All Time" by TIME magazine
A Top Ten YALSA Best Fiction for Young Adults Selection
A Top Ten ALA Quick Pick
A Kirkus Prize Finalist
An Andre Award Nominee
A New York Times Notable Children's Book
An NPR Best Book of the Year
A Publishers Weekly Best Book of the Year
"In the best urban fantasy, the city is not just a backdrop, but functions as a character in its own right . . . That is certainly true in Daniel José Older's magnificent Shadowshaper, which gives us a Brooklyn that is vital, authentic, and under attack . . . Older is able to infuse Shadowshaper with the spirit of Brooklyn in the summer, where the possibility of magic hangs shimmering in the air. This is a world that readers cannot help wanting to live in and, as with all great urban fantasies, harboring a suspicion that perhaps we already do." -- Holly Black, New York Times bestselling author of The Coldest Girl in Coldtown and The Iron Trial, in the New York Times Book Review
"The strength of Older's tale is in his meticulous attention to the details of the life of a brown-skinned, natural-haired Puerto Rican teenage girl. Older's storytelling is rich enough to warrant such treatment, because this is a world that will stay with readers long after the last page." -- Los Angeles Times
"Older's book is a first-rate example of how representation, diversity and themes of social justice and identity can be skillfully woven into a narrative -- not so that they disappear, but so that the story pivots on them in a way that is authentic, exciting, and ultimately satisfying." -- Cory Doctorow, Boing Boing
"Shadowshaper may be a page-turner, but it's also an allegory that touches on timely issues like gentrification, cultural appropriation, sexism and colorism without feeling pedantic. Combining that social commentary with magic, humor, PG-13 romance, Puerto Rican culture, a reverence for creative work and Older's keen ear for the way teens speak, it's as profound a representation as you could want of a young person's New York City in the 21st century." -- TIME
* "Warm, strong, vernacular, dynamic -- a must." -- Kirkus Reviews, starred review
* "Excellent diverse genre fiction in an appealing package." -- School Library Journal, starred review
* "What makes Older's story exceptional is the way Sierra belongs in her world, grounded in family, friends, and an awareness of both history and change." -- Publishers Weekly, starred review
* "Smart writing with a powerful message that never overwhelms the terrific storytelling." -- Booklist, starred review
Praise for Shadowhouse Fall
A Locus Award Finalist
"Older takes the idea of fantasy as metaphor and smashes it to bits, bringing us to a Brooklyn steeped in magic that feels utterly real and punch-to-the-gut perilous. A powerful adventure that blurs the line between the real and the imagined in daring, breathtaking ways, Shadowhouse Fall is not only a thrilling hero's journey, but a magical revolution on the page." -- Leigh Bardugo, New York Times bestselling author of Six of Crows and Crooked Kingdom
"Brilliant . . . A novel about Brooklyn, love, spirituality, family and something else. Something I can't even explain but am enthralled by and want more of. This is the beauty and magic of Older's writing -- he leaves us openmouthed and speechless, asking 'What just happened to me?!' Loved this book." -- Jacqueline Woodson, New York Times bestselling author of Another Brooklyn and Brown Girl Dreaming
"Shadowhouse Fall flips and reshuffles principles of light and darkness in stunning revelation after revelation. Older's vivid ink and prose deftly obliterates any bounds between a tangible and a supernatural Brooklyn. I am still under its spell." -- Rita Williams-Garcia, three-time Coretta Scott King Author Award-winner
"Older is a brilliant storyteller, and with sharp, smart, and hilarious dialogue and prose Shadowhouse Fall is a fresh, enthralling speculative novel for readers of all ages." -- Bredan Kiely, award-winning coauthor of All American Boys and critically acclaimed author of Tradition
"I turned pages so quickly I got paper cuts." -- NPR
"Older knows that today's young people are just as magical as his characters." -- Teen Vogue
* "Older paints a compelling picture of contemporary life for black and brown teens in cities: Afro-Latinx Sierra and her friends deal with police harassment and brutality, both on the streets of Bed-Stuy and at school, themes that feel especially timely and relevant . . . Older excels at crafting teen dialogue that feels authentic, and props to everyone involved for not othering the Spanish language. This second volume features a tighter plot and smoother pacing than the first, and the ending will leave readers eagerly awaiting the further adventures of Sierra and her friends. Lit." -- Kirkus Reviews, starred review
* "With the same keen eye for the power of art and a sly commentary on the insidious nature of racism and white supremacy -- as well as a deft handle on zippy teenage banter and cinematic pacing -- Older delivers a fantastic follow-up to his best-selling Shadowshaper (2015), which not only intensifies the stakes of the first book but expands the scope of his well-wrought, vivid world building... The expanding cast of well-rounded characters, clearly choreographed action, and foreshadowing of installments to come will have fantasy fans eagerly awaiting more of this dynamic, smart series." -- Booklist, starred review
* "Exciting . . . Older has upped the ante with this second installment." -- School Library Journal, starred review
"A stunning sequel that will leave fans clamoring for book three." -- Shelf Awareness
Praise for Shadowshaper
Named one of the "100 Best Fantasy Books of All Time" by TIME magazine
A Top Ten YALSA Best Fiction for Young Adults Selection
A Top Ten ALA Quick Pick
A Kirkus Prize Finalist
An Andre Award Nominee
A New York Times Notable Children's Book
An NPR Best Book of the Year
A Publishers Weekly Best Book of the Year
"In the best urban fantasy, the city is not just a backdrop, but functions as a character in its own right . . . That is certainly true in Daniel José Older's magnificent Shadowshaper, which gives us a Brooklyn that is vital, authentic, and under attack . . . Older is able to infuse Shadowshaper with the spirit of Brooklyn in the summer, where the possibility of magic hangs shimmering in the air. This is a world that readers cannot help wanting to live in and, as with all great urban fantasies, harboring a suspicion that perhaps we already do." -- Holly Black, New York Times bestselling author of The Coldest Girl in Coldtown and The Iron Trial, in the New York Times Book Review
"The strength of Older's tale is in his meticulous attention to the details of the life of a brown-skinned, natural-haired Puerto Rican teenage girl. Older's storytelling is rich enough to warrant such treatment, because this is a world that will stay with readers long after the last page." -- Los Angeles Times
"Older's book is a first-rate example of how representation, diversity and themes of social justice and identity can be skillfully woven into a narrative -- not so that they disappear, but so that the story pivots on them in a way that is authentic, exciting, and ultimately satisfying." -- Cory Doctorow, Boing Boing
"Shadowshaper may be a page-turner, but it's also an allegory that touches on timely issues like gentrification, cultural appropriation, sexism and colorism without feeling pedantic. Combining that social commentary with magic, humor, PG-13 romance, Puerto Rican culture, a reverence for creative work and Older's keen ear for the way teens speak, it's as profound a representation as you could want of a young person's New York City in the 21st century." -- TIME
* "Warm, strong, vernacular, dynamic -- a must." -- Kirkus Reviews, starred review
* "Excellent diverse genre fiction in an appealing package." -- School Library Journal, starred review
* "What makes Older's story exceptional is the way Sierra belongs in her world, grounded in family, friends, and an awareness of both history and change." -- Publishers Weekly, starred review
* "Smart writing with a powerful message that never overwhelms the terrific storytelling." -- Booklist, starred review
Praise for Shadowhouse Fall
A Locus Award Finalist
"Older takes the idea of fantasy as metaphor and smashes it to bits, bringing us to a Brooklyn steeped in magic that feels utterly real and punch-to-the-gut perilous. A powerful adventure that blurs the line between the real and the imagined in daring, breathtaking ways, Shadowhouse Fall is not only a thrilling hero's journey, but a magical revolution on the page." -- Leigh Bardugo, New York Times bestselling author of Six of Crows and Crooked Kingdom
"Brilliant . . . A novel about Brooklyn, love, spirituality, family and something else. Something I can't even explain but am enthralled by and want more of. This is the beauty and magic of Older's writing -- he leaves us openmouthed and speechless, asking 'What just happened to me?!' Loved this book." -- Jacqueline Woodson, New York Times bestselling author of Another Brooklyn and Brown Girl Dreaming
"Shadowhouse Fall flips and reshuffles principles of light and darkness in stunning revelation after revelation. Older's vivid ink and prose deftly obliterates any bounds between a tangible and a supernatural Brooklyn. I am still under its spell." -- Rita Williams-Garcia, three-time Coretta Scott King Author Award-winner
"Older is a brilliant storyteller, and with sharp, smart, and hilarious dialogue and prose Shadowhouse Fall is a fresh, enthralling speculative novel for readers of all ages." -- Bredan Kiely, award-winning coauthor of All American Boys and critically acclaimed author of Tradition
"I turned pages so quickly I got paper cuts." -- NPR
"Older knows that today's young people are just as magical as his characters." -- Teen Vogue
* "Older paints a compelling picture of contemporary life for black and brown teens in cities: Afro-Latinx Sierra and her friends deal with police harassment and brutality, both on the streets of Bed-Stuy and at school, themes that feel especially timely and relevant . . . Older excels at crafting teen dialogue that feels authentic, and props to everyone involved for not othering the Spanish language. This second volume features a tighter plot and smoother pacing than the first, and the ending will leave readers eagerly awaiting the further adventures of Sierra and her friends. Lit." -- Kirkus Reviews, starred review
* "With the same keen eye for the power of art and a sly commentary on the insidious nature of racism and white supremacy -- as well as a deft handle on zippy teenage banter and cinematic pacing -- Older delivers a fantastic follow-up to his best-selling Shadowshaper (2015), which not only intensifies the stakes of the first book but expands the scope of his well-wrought, vivid world building... The expanding cast of well-rounded characters, clearly choreographed action, and foreshadowing of installments to come will have fantasy fans eagerly awaiting more of this dynamic, smart series." -- Booklist, starred review
* "Exciting . . . Older has upped the ante with this second installment." -- School Library Journal, starred review
"A stunning sequel that will leave fans clamoring for book three." -- Shelf Awareness