Manor of Secrets (Hardcover)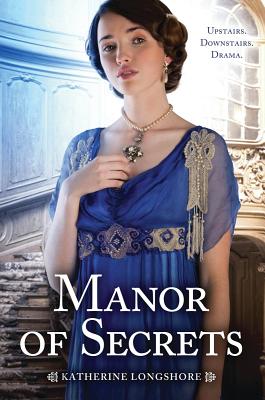 for information about purchasing this book, please contact orders@bookpassage.com
Description
---
The year is 1911. And at The Manor, nothing is as it seems . . .

Lady Charlotte Edmonds: Beautiful, wealthy, and sheltered, Charlotte feels suffocated by the strictures of upper-crust society. She longs to see the world beyond The Manor, to seek out high adventure. And most of all, romance.

Janie Seward: Fiery, hardworking, and clever, Janie knows she can be more than just a kitchen maid. But she isn't sure she possesses the courage -- or the means -- to break free and follow her passions.

Both Charlotte and Janie are ready for change. As their paths overlap in the gilded hallways and dark corridors of The Manor, rules are broken and secrets are revealed. Secrets that will alter the course of their lives. . . forever.
About the Author
---
Katherine Longshore is a former costume designer, coffee house barista and preschool teacher who has finally found her calling writing historical fiction for teens. She is the author of GILT, TARNISH, and BRAZEN, a series of novels set in the court of Henry VIII published by Viking. After five years exploring castles and country manors in England, she now lives in California with three British citizens and one expatriate dog. Visit her online at www.katherinelongshore.com.