I Survived the San Francisco Earthquake, 1906 (I Survived #5) (Paperback)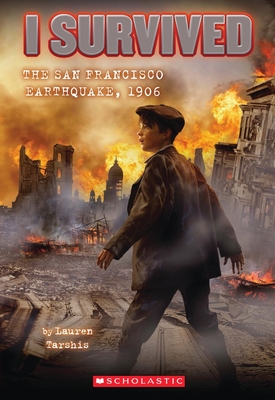 Other Books in Series
This is book number 5 in the I Survived series.
Description
---
The terrifying details of the 1906 San Francisco earthquake jump off the page!Ten-year-old Leo loves being a newsboy in San Francisco -- not only does he get to make some money to help his family, he's free to explore the amazing, hilly city as it changes and grows with the new century. Horse-drawn carriages share the streets with shiny new automobiles, new businesses and families move in every day from everywhere, and anything seems possible.But early one spring morning, everything changes. Leo's world is shaken -- literally -- and he finds himself stranded in the middle of San Francisco as it crumbles and burns to the ground. Does Leo have what it takes to survive this devastating disaster?The I SURVIVED series continues with another thrilling story of a boy caught in one of history's most terrifying disasters!
About the Author
---
Lauren Tarshis's New York Times bestselling I Survived series tells stories of young people and their resilience and strength in the midst of unimaginable disasters and times of turmoil. Lauren has brought her signature warmth and exhaustive research to topics such as the battle of D-Day, the American Revolution, Hurricane Katrina, the bombing of Pearl Harbor, and other world events. She lives in Connecticut with her family, and can be found online at laurentarshis.com.
Praise For…
---
Praise for I Survived the Sinking of the Titanic, 1912:"The fast pace and intrinsically fascinating disaster story will keep readers turning the pages." -- KirkusPraise for I Survived the Shark Attacks of 1916:"This is a gripping story that will hold the interest of reluctant readers." -- SLJPraise for I Survived Hurricane Katrina, 2005:"Expressive illustrations capture the drama of the storm and its aftermath, but the book's real power comes from its exploration of what it means to be a hero." -- Booklist

Praise for I Survived the Sinking of the Titanic, 1912:"The fast pace and intrinsically fascinating disaster story will keep readers turning the pages." -- KirkusPraise for I Survived the Shark Attacks of 1916:"This is a gripping story that will hold the interest of reluctant readers." -- SLJPraise for I Survived Hurricane Katrina, 2005:"Expressive illustrations capture the drama of the storm and its aftermath, but the book's real power comes from its exploration of what it means to be a hero." -- Booklist