Early Morning Riser: A novel (Hardcover)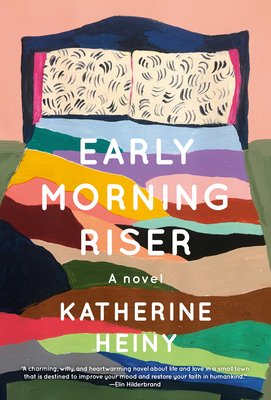 $26.95
Email or call for price
Staff Reviews
---
Few writers create endearing characters and hilarious dialog as well as Katherine Heiny and that remains true for her latest book, Early Morning Riser—a delightful tale of love and family, illustrating that while neither might be perfect, they may evolve into exactly what you need. Here we meet Jane, who has fallen for Duncan, the local lothario in their little Northern Michigan town of Boyne City, a place filled with quirky characters, many of whom have their own complicated relationships with Duncan. When a sudden tragic event changes their lives and relationships forever, we see the true stuff these people are made of. Heiny's tender observations and laugh-out-loud descriptions will leave you wishing for more time with this memorable group in Boyne City, embraced in the family of their own creation.
— From
Elaine & Luisa's Picks: Spring 2021
Description
---
Alternately bittersweet and laugh-out-loud funny, a wise, bighearted novel of love, disaster, and unconventional family—from the acclaimed author of Standard Deviation, who has been called the "literary descendant of Jane Austen, sharing Austen's essentially comic world view" (NPR).     

Jane falls in love with Duncan easily. He is charming, good-natured, and handsome but unfortunately, he has also slept with nearly every woman in Boyne City, Michigan. Jane sees Duncan's old girlfriends everywhere—at restaurants, at the grocery store, even three towns away.

While Jane may be able to come to terms with dating the world's most prolific seducer of women, she wishes she did not have to share him quite so widely. His ex-wife, Aggie, a woman with shiny hair and pale milkmaid skin, still has Duncan mow her lawn. His coworker, Jimmy, comes and goes from Duncan's apartment at the most inopportune times. Sometimes Jane wonders if a relationship can even work with three people in it—never mind four. Five if you count Aggie's eccentric husband, Gary. Not to mention all the other residents of Boyne City, who freely share with Jane their opinions of her choices.

But any notion Jane had of love and marriage changes with one terrible car crash. Soon Jane's life is permanently intertwined with Duncan's, Aggie's, and Jimmy's, and Jane knows she will never have Duncan to herself. But could it be possible that a deeper kind of happiness is right in front of Jane's eyes? Katherine Heiny's Early Morning Riser is her most astonishingly wonderful work to date.
About the Author
---
KATHERINE HEINY is the author of Standard Deviation and Single, Carefree, Mellow, and her short fiction has appeared in The New Yorker, The Atlantic, and many other magazines. She lives in Bethesda, Maryland, with her husband and children, and is a former resident of London, The Hague, and Boyne City, Michigan.
Praise For…
---
A Good Morning America Buzz Pick • A New York Times Book to Watch For • A Washington Post Best Book • An Esquire Best Book • An E! News Best Book • A Refinery29 Book to Read in 2021 • An Apartment Therapy Best Book • A Popsugar Best Book • A Newsweek Book to Read • A Parade Favorite Book of Spring • A Kirkus Best Book to Read in April • A New York Post Best New Novel

"The funniest novel of the year... You have to pay attention to a book like Heiny's... Sweetly sardonic... Delightful."
—Bethanne Patrick, The Washington Post

"The heroine of Katherine Heiny's buoyant new novel, Early Morning Riser, is a young second grade teacher named Jane who lives in Boyne City, Mich. On the very first page of the novel, Jane locks herself out of her house, calls a locksmith, and winds up spending the night and, eventually, her life with him… Heiny writes in a simple droll style about ordinary people who are often being less than their best selves… [A] literary descendant of Jane Austen, sharing Austen's essentially comic world view."
—NPR

"Katherine Heiny shows readers how to pay attention to the little things... Jane loves Duncan. But should she? Duncan is a handsome and friendly woodworker who moonlights as a locksmith in small-town Boyne City, Iowa. He's the guy everybody knows, wink-wink… Fortunately, Duncan is more complicated than that, as is everyone else in Katherine Heiny's quiet whirlwind of a novel... At its heart, this is a serious story full of lightness."
—Connie Schultz, The New York Times Book Review

"Early Morning Riser, which unfolds episodically over a period of 17 years, has the makings of a witty romantic comedy that evokes the work of Laurie Colwin... Spot-on descriptions and sharp observations about marriage... Flat-out wonderful—sharp and funny and melancholic in equal measure."
—Joanne Kaufman, The Wall Street Journal

"The romance of this wry novel lies in the community Jane creates around her."
—People

"A heartwarming novel about the chaos of relationships."
—Today

"Standard Deviation was one of my favorite books of the last decade, and Early Morning Riser contains the same wit, tenderness and razor sharp observations about modern relationships. I loved it."
—JoJo Moyes, author of Me Before You

"Early Morning Riser is a joy of a novel. Beautiful, poignant and laugh-out-loud funny. It's the kind of book you'll have no choice but to stay up reading all night, and then you'll be sad when you've run out of pages. Katherine Heiny's voice is unlike anyone else's, and it's just what the world needs now."
⁠—J. Courtney Sullivan, bestselling author of Friends and Strangers

"Warm, witty, touching - and frequently hilarious."
—David Nicholls, author of One Day

"Early Morning Riser is a charming, witty and heartwarming novel about life and love in a small town that is destined to improve your mood and restore your faith in humankind. Katherine Heiny — who has long been a personal favorite writer of mine — is at the height of her storytelling powers. Every sentence is a treat!"
—Elin Hilderbrand, bestselling author of 28 Summers

"Katherine Heiny is as warm and moving as Anne Tyler at her best, as funny as David Sedaris at his most hilarious, and one of the truly original voices in current fiction. Her wonderful second novel is a much-needed reminder that no matter how flawed, foolish, and downright annoying people can be, they're still capable of immense kindness and outrageously unselfish love. Be forewarned: reading Early Morning Riser could make you believe we're not necessarily all doomed."
—Stephen McCauley, author of My Ex-Life

"Glorious. I love how it evokes the rhythm of life in all its joy and ordinariness and chaos. I loved the dialogue, the relationships. I love the one-liners, the humour, the gorgeous detail, the food, the innermost thoughts, and the love."
—Nina Stibbe, author of Reasons to Be Cheerful

"Early Morning Riser is wise, sad and barkingly funny. Katherine Heiny writes brilliantly about what we mean by the word 'family' and her novel is loving without being soppy and warm without being cozy—I didn't want it to end."
⁠—Lissa Evans, author of Old Baggage

"Katherine Heiny's books feel like spending time with a smart, funny and beloved friend who always has a million interesting things to talk about but always wants to know about you, too. She is a charming and insightful and unique writer and Early Morning Riser is every bit as good as Standard Deviation, if not better." 
—Lisa Jewell, author of The Family Upstairs

"Gorgeous. Very, very funny in a knowing wry way but so tender, so beautiful. I loved all the characters."
—Marian Keyes, author of Grown Ups

"[A] heartfelt novel about making your own life when plans don't turn out as expected."
—New York Post

"Charming, hilarious... [This] one-of-a-kind story, featuring a cast of quirky characters, is a surefire literary mood boost with a heartwarming reminder of the many ways love appears in our lives."
—Real Simple

"Few writers so memorably capture the quirky interior lives of their characters as Heiny... She returns to form with Early Morning Riser, a wry and wise novel about the intertwined romantic lives of the residents of a small Michigan town... Heiny soars in her offbeat examination of small-town baggage and found families."
—Esquire

"The perfect pick me-up, filled to the brim with lovable eccentrics and delightful oddballs."
—Newsweek

"Nothing about this book is expected... a splendidly comical tale of an unconventional family that celebrates and skirts disaster together."
—TinaMarie Craven, New Canaan Advertiser

"Katherine Heiny's latest romance-adjacent work of literary fiction has been compared to Jane Austen's novels… An entirely unexpected ensemble cast of characters in the throes and on the edge of love."
—Parade

"A 'modern Jane Austen'... [Heiny] unites stylistic verve with laugh-out-loud humor, and is a perfect balance of literary and accessible..  I'd read the back of a cereal box if it was written by Katherine Heiny."
—Forbes

"Readers will desperately want to be a part of the unconventional family of friends at the center of Heiny's novel, which has more charm than any memory-filled bracelet... Bittersweet and bitterly funny."
—E! News

"There are some rare books that feel like nibbling on the prettiest, most delicious biscuit. It's only when you finish them, eking out the last few chapters because you don't want to waste a single precious crumb, that you realise the biscuit was in fact a protein-packed three-course meal, and an exceptionally satisfying one — nourishment for life... Early Morning Riser is about the nature of all kinds of love, about the deep pleasures and frequent exasperations of small-town life, about the joys and frustrations of families and domesticity, and about what, in the end, constitutes happiness. It is such a rich novel, each character neon-vivid and exquisitely drawn... Early Morning Riser is weighty, tender, astute, more funny than I know how to describe and, in places, profoundly sad — Heiny can break your heart in one sentence. It takes the tiny stuff of everyday life and makes it big and meaningful. Quiet things become loud. You put the book down and feel glad to be alive."
—India Knight, The Sunday Times (UK)

"The novel takes on big questions: the idea of what happiness looks like, and what "enough" feels like, and how you can or can't help loving who you love. It's also funny, with several characters... that somehow both serve as punch lines but also genuinely enrich the plot."
—SEEN Magazine

"If a handful of characters were transported from Anne Tyler's Baltimore to tiny Boyne City, Michigan, they might act a bit like the ones Katherine Heiny has gathered in Early Morning Riser. But Heiny's gentle exploration of how we tiptoe and often stumble through the minefield of love is both fresh and consistently entertaining... Though she mostly goes easy on her quirky creations, Heiny is unfailingly honest and never at a loss for a witty observation... Early Morning Riser is an amiable and observant novel with perfect pitch and plenty of grace notes along the way."
—BookPage

"Engrossing, tender... Accompanying Jane's wavering inner journey is an exploration of her various involvements, whether intended or not, with all kinds of colorful individuals in her town and the surrounding area. With sharply drawn portraits and acerbic wit, Heiny captures emotions, bonds,revelations, and heartbreak in this tale of unconventional interactions."
—Booklist

"This touching and fizzy comic novel... makes the ordinary extraordinary. A deep awareness of the ways the potential for tragedy lies just beneath the surface of small-town life gives the proceedings a sense of gravity and holds the humor in perfect balance. This is a winner."
—Publishers Weekly, starred

"More than a little contagious hilarity... Laugh-out-loud scenes seamlessly flow into deep consideration of what it means to be a family and the power of accepting one another, eccentricities and all. This irresistible delight is a much-needed balm during these unnerving times."
—Library Journal, starred

"The author of Single, Carefree, Mellow (2015) and Standard Deviation (2017) brings us new characters to fall in love with in this novel about love, family, and community. It's easy to adore the characters Heiny conjures in her novels and short stories. They tend to be quirky and smart, caring and passionate... Heiny's book finds beauty and humor in connection and community, family and friendship, and the way love can develop and deepen over time. A heartwarming novel with a small-town vibe that sparkles like wine sipped with friends under backyard fairy lights."
⁠—Kirkus, starred

"A warm-hearted tribute to small town living, with all its attendant exasperations… Witty, exuberant… Heiny clearly writes with a great deal of love for her characters and location, but also offers real insight into the ways in which accidental intimacy can lead to a deeper and truer understanding of ourselves."
—Refinery29