The Prisoner in the Castle: A Maggie Hope Mystery (Paperback)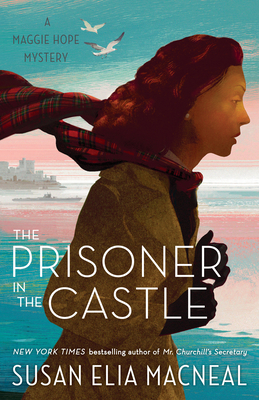 Other Books in Series
This is book number 8 in the Maggie Hope series.
Description
---
A series of baffling murders among a group of imprisoned agents threatens the outcome of World War II in this chilling mystery from the New York Times bestselling author of Mr. Churchill's Secretary.

November, 1942. World War II is raging, and former spy Maggie Hope knows too much: what the British government is willing to do to keep its secrets, who is lying, who the double-crossers are. She knows exactly who is sending agents to their deaths. These are the reasons Maggie is isolated on a remote Scottish island, in a prison known as Killoch Castle. When one of her fellow inmates drops dead in the middle of his after-dinner drink—he's only the first. As victims fall one by one, Maggie will have to call upon all her wits and skills to escape—not just certain death . . . but certain murder. For what's the most important thing that Maggie Hope knows? She must survive.

Praise for The Prisoner in the Castle

"The colonel sums it up best on page ten: 'If you take a pretty girl and teach her how to kill, it can cause problems.' Not just problems—electrifying action and nonstop surprises. I loved this book!"—R. L. Stine, author of the Goosebumps and Fear Street series

"Another literary tour de force . . . From the book's perfectly calibrated plot to its incisively etched characters, everything is handled with perfect finesse by the author."—Poisoned Pen Newsletter

"One pleasure of a mystery series is connecting with a character that changes and grows with each novel. . . . Maggie's intelligence and loyalty to the war effort continue to evolve in [Susan Elia] MacNeal's series. . . . Solid twists keep the plot of The Prisoner in the Castle churning until the surprise finale."—Associated Press

"A mystery . . . tailor-made for readers in the post-election, #MeToo era. . . . If you love a tricky puzzle that requires you to keep track of multiple alibis over time, this is your summer read."—The Washington Post

"Evocative."—Publishers Weekly

"MacNeal uses [Agatha] Christie's And Then There Were None as a framework for a character-driven mystery/thriller that successfully emulates the original."—Kirkus Reviews

About the Author
---
Susan Elia MacNeal is the New York Times bestselling author of the Maggie Hope mysteries and Mother Daughter Traitor Spy. MacNeal won the Barry Award and an AudioFile Earphones award and has been nominated for the Edgar, Macavity, Agatha, Left Coast Crime, Dilys, ITW Thriller, and Nero awards. She lives in Brooklyn, New York, with her husband and son.
Praise For…
---
"The colonel sums it up best on page ten: 'If you take a pretty girl and teach her how to kill, it can cause problems.' Not just problems—electrifying action and nonstop surprises. I loved this book!"—R. L. Stine, author of the Goosebumps and Fear Street series

"One pleasure of a mystery series is connecting with a character that changes and grows with each novel. . . . Maggie's intelligence and loyalty to the war effort continue to evolve in [Susan Elia] MacNeal's series. . . . Solid twists keep the plot of The Prisoner in the Castle churning until the surprise finale."—Associated Press

"A mystery . . . tailor-made for readers in the post-election, #MeToo era. . . . If you love a tricky puzzle that requires you to keep track of multiple alibis over time, this is your summer read."—The Washington Post

"Another literary tour de force . . . From the book's perfectly calibrated plot to its incisively etched characters, everything is handled with perfect finesse by the author."—Poisoned Pen Newsletter

"Evocative."—Publishers Weekly

"MacNeal uses [Agatha] Christie's And Then There Were None as a framework for a character-driven mystery/thriller that successfully emulates the original."—Kirkus Reviews

"Perfectly paced and brimming with intrigue and rich historical detail, The Prisoner in the Castle is an extraordinarily satisfying novel. Susan Elia MacNeal proves once again that she is a master, both at crafting characters and creating suspense."—Tasha Alexander, New York Times bestselling author of the Lady Emily mystery series

"The Prisoner in the Castle had me at 'a new Maggie Hope mystery,' but once you add And Then There Were None and a Scottish castle, how could any mystery reader resist? Darkly atmospheric, enchantingly macabre, and as beautifully woven as a clan tartan."—Lauren Willig, New York Times bestselling author of The English Wife

"The Prisoner in the Castle is a double agent of a novel! At the outset, it appears like a clever riff on Agatha Christie, but a few quick turns prove it to be an utterly modern, gripping thriller. Maggie Hope is smarter than ever, and Susan Elia MacNeal is truly at the height of her powers."—Sujata Massey, author of The Widows of Malabar Hill

"Maggie Hope is living my fantasy: getting the bad guys at a time of pure evil. I love this series, and literally inhaled her latest (and scariest) mission. Scotland? U-boats? Murder? Churchill? Buckle up as Maggie connects the dots again—with good sense and great style."—Lynn Sherr, journalist and author of Sally Ride: America's First Woman in Space

"Smart, addictive, personal, and propulsive, The Prisoner in the Castle had me riveted from the first page."—Jennifer Hillier, author of Jar of Hearts