The Knockout Queen: A novel (Vintage Contemporaries) (Paperback)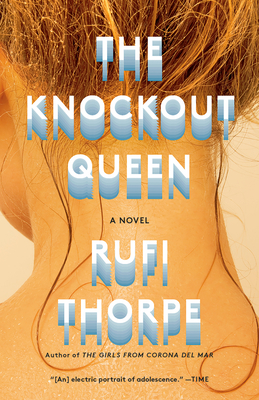 for information about purchasing this book, please contact orders@bookpassage.com
May 2020 Indie Next List
---
"To say I admire The Knockout Queen feels inadequate, though I do admire a great deal of it: its voice, depth, structure — you name it. But it's more honest just to say I love The Knockout Queen; I loved reading it, I felt involved in it, and, finally, I was so moved by its ending. This is an epic tale of friendship, one where the magnitude sneaks up on you quietly — but when it strikes home, it rings so brilliantly true."
— Will Walton, Books Are Magic, Brooklyn, NY
Description
---
A Finalist for the PEN/Faulkner Award for Fiction
An InStyle Best Book of the Year
A Refinery29 Best Book of the Year

By the end of high school, Bunny Lampert is 6'3 with the abs of a ninja turtle and the face of a boy angel. Her dad has chaotic salesman energy and her mom is dead. But from the outside, Bunny seems to have it all⁠—she's blonde, rich, and an Olympic volleyball hopeful. Michael⁠⁠—who has a ponytail and a septum piercing, works at Rite-Aid, and has a secret Grindr⁠—lives with his aunt in the cramped cottage next door to Bunny's McMansion. When Bunny catches Michael smoking in her yard, he discovers that her life is not as perfect as it seems.

Their friendship is as improbable as it is irresistible, but when Michael falls in love for the first time, a vicious strain of gossip circulates and a terrible, brutal act becomes the defining feature of both his and Bunny's futures⁠⁠. A beautiful and darkly comic book about doing things you didn't mean to do, wanting things you wish you didn't want, and loving people you can't afford to love.
About the Author
---
Rufi Thorpe received her MFA from the University of Virginia in 2009. She is the author of Dear Fang, with Love and The Girls from Corona del Mar, which was long listed for the 2014 International Dylan Thomas Prize and for the 2014 Flaherty-Dunnan First Novel Prize. A native of California, she currently lives in Los Angeles with her husband and sons.
Praise For…
---
A Kirkus Fiction Writer to Discover 

"[An] electric portrait of adolescence."
—TIME

"Full of verve and sketched in colors as vibrant as a Tilt-A-Whirl David Hockney landscape."
—Los Angeles Times

"The story of [Bunny and Michael's] intense, beautiful, life-wrecking friendship bursts with intelligence, humor and moral insight."
—People
 
"A tender, furious ode to the connections that somehow still endure, despite everything."
—Entertainment Weekly

"The Knockout Queen is a must-read."
—CNN
 
"Ultimately, The Knockout Queen delivers its intended punch with a complex story of friendship, family, right and wrong, and the fragility of teenage angst. The eventual resolution of Michael and Bunny's fates is also a searing reminder of how one action can change your trajectory, putting your life on a course different from the one you imagined for yourself."
—San Francisco Chronicle
 
"In Thorpe's Technicolor world, everyone is an innocent and everyone is culpable and no one is absolved, and the result is a novel both nauseatingly brutal and radically kind. Brilliantly off-kilter and vibrating with life."
—Kirkus (starred)
 
"Thorpe comes back swinging with her best novel yet. . . . The Knockout Queen is a moody and mordantly funny contemplation of the rigors of growing up that will leave readers reeling."
—BookPage (starred)
 
"Thorpe always has a way into a character that makes them known to you, of bringing small details, humor, and observation to light, that you find yourself remembering the person as if they were in your own life. . . . It allows a level of intimacy, of knowing, of actually falling in love with the flawed people who inhabit the pages. Thorpe's gift and well-honed talent is clear, palpable, and, for me, undeniable. . . . She has reached a rare status of authors for me: I will read anything she writes."
—Martin McClellan, Seattle Review of Books
 
"Darkly comic and fiercely intelligent."
—Poets and Writers
 
"One of the most piercing, accurate portrayals of what it means to be a teenager, and figuring out who you are in the world that I've ever come across. . . . Thorpe's ability to capture the ways in which we manifest psychic pain in physical ways is uncanny, and the end result is a coming-of-age novel that is unsettling and resonant in all the most important ways."
—Kristen Iversen, Refinery 29
 
"[Thorpe] writes with savage poignancy as she explores identity, adolescent friendship, and the insatiable longing for intimacy. Her novel is devastatingly honest, her characters vulnerable, and her readers will be spellbound."
—Booklist 
 
"Fierce. . . . Deeply realized and complex."
—Publishers Weekly