Look How Happy I'm Making You: Stories (Paperback)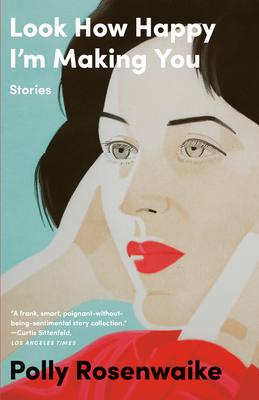 for information about purchasing this book, please contact orders@bookpassage.com
Description
---
ONE OF THE BEST BOOKS OF THE YEAR:
GLAMOUR • KIRKUS REVIEWS

The women in Polly Rosenwaike's Look How Happy I'm Making You want to be mothers, or aren't sure they want to be mothers, or—having recently given birth—are overwhelmed by what they've wrought. One woman struggling with infertility deals with the news that her sister is pregnant. Another, nervous about her biological clock, "forgets" to take her birth control while dating a younger man and must confront the possibility of becoming a single parent. Four motherless women who meet in a bar every Mother's Day contend with their losses and what it would mean for one of them to have a child.

Clever, empathetic, and precisely observed, these stories offer rare, honest portrayals of pregnancy and new motherhood in a culture obsessed with women's most intimate choices.
About the Author
---
POLLY ROSENWAIKE has published stories, essays, and reviews in The O. Henry Prize Stories 2013, The New York Times Book Review, Glimmer Train, New England Review, The Millions, and the San Francisco Chronicle. The fiction editor for Michigan Quarterly Review, she lives in Ann Arbor with the poet Cody Walker and their two daughters.
Praise For…
---
"A frank, smart, poignant-without-being-sentimental story collection."
—Curtis Sittenfeld, Los Angeles Times

"[A] debut collection of stories that should be required reading for all women of childbearing years. . . . Precise, quirky and magical."
—Cathy Alter, The Washington Post/The Lily

"Armed with wit, tenderness and candor, Rosenwaike helps obliterate any taboos that may still exist surrounding the tribulations of women's reproductive lives."
—People (Book of the Week)

"A beautifully written and beautifully conceived series of stories about, well, conception—about the harrowing and mundane and profound ramifications of trying to extend the species. Among the thousands of books for prospective and new parents, I doubt any will make you feel more understood and less alone than this one."
—Anthony Doerr, author of All the Light We Cannot See

"Whatever your stance on becoming a mom, you'll want to read this book."
—Bustle

 "The stories in this collection of short fiction explore every facet of motherhood—fertility, pregnancy, the baby-years, the flipside (childlessness), and more—treating the most intimate details of women's lives with ruthless attention and tender care." 
—Mary Laura Philpott, author of I Miss You When I Blink

"Offers a candid look into one of the most intimate choices a woman can make with humor and heart."
—Glamour

"I rejoiced in this collection. A radical, unflinching cycle of stories that radiate with truth and depth and care. I could weep for how good it is to see such rich, profound narratives about women's reproductive lives. Happy tears."
—Elisa Albert, author of After Birth

"This polychromatic assortment of fictional tales plumbs the wonders and woes of the maternal."
—"O," The Oprah Magazine

"Rosenwaike's stories turn the idealized Madonna view of childbearing on its head."
—Ms.

 "[Rosenwaike] captures what it is to be a mother, a would-be mother, an almost mother or a not-mother with such clever perceptiveness making the stories recognizable, familiar and strangely comforting."
—The Independent (UK)

"Rosenwaike fully inhabits the interiority of [her characters]—and though they reside in overlapping spheres, each is distinct in her desires, jealousies, fears, and hopes."
—Buzzfeed

"Deeply resonant. . . . An exquisite collection that is candid, compassionate, and emotionally complex."
—Kirkus Reviews (starred review)

"Striking. . . . Rosenwaike's edgy stories are endearingly honest, excruciatingly detailed, and irresistibly intimate, expertly depicting what motherhood means to millennials."
—Publishers Weekly

"Rosenwaike's remarkable prose conjures emotions so effectively that readers will feel pulled into the characters' lives."
—Booklist