The Disappeared (A Joe Pickett Novel #18) (Paperback)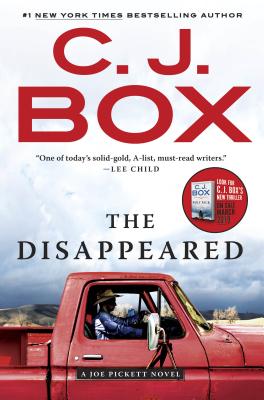 $16.00
Email or call for price
Other Books in Series
This is book number 18 in the A Joe Pickett Novel series.
Description
---
Don't miss the JOE PICKETT series—now streaming on Paramount+

Wyoming game warden Joe Pickett has two lethal cases to contend with in this electrifying novel from #1 New York Times-bestselling author C.J. Box.

Wyoming's new governor isn't sure what to make of Joe Pickett, but he has a job for him that is extremely delicate. A prominent female British executive never came home from the high-end guest ranch she was visiting, and the British Embassy is pressing hard. Pickett knows that happens sometimes--these ranches are stocked with handsome young cowboys, and "ranch romances" aren't uncommon. But no sign of her months after she vanished? That suggests something else.

At the same time, his friend Nate Romanowski has asked Joe to intervene with the Feds on behalf of falconers who can no longer hunt with eagles even though their permits are in order. Who is blocking the falconers and why? The more Joe investigates both cases, the more someone wants him to go away. Is it because of the missing woman or because he's become Nate's advocate? Or are they somehow connected? The answers, when they come, will be even worse than he'd imagined.
About the Author
---
C. J. Box is the #1 New York Times bestselling author of the Joe Pickett series, five stand-alone novels, and the story collection Shots Fired. He has won the Edgar, Anthony, Macavity, Gumshoe, and two Barry awards, as well as the French Prix Calibre .38 and a French Elle magazine literary award. His books have been translated into twenty-seven languages. He and his wife Laurie split their time between their home and ranch in Wyoming.
Praise For…
---
Praise for The Disappeared

"Joe Pickett, the conscientious game warden in these rugged novels... he shows the tough-and-tender qualities that make him such a great guy to have on your side."—New York Times

"...tightly crafted story with a sense of place.  Box makes you smell that sawmill burner and feel the cold of a Wyoming blizzard as Pickett struggles through the snow to solve the mystery of Cowboy Kate."—Denver Post

"[A] slow-burn thriller ... one of the most deliberate and sure-footed in the series. In many ways it is a roots novel, a throwback to the earliest Pickett books, with its environmental themes and overlapping plot lines ... the threats are subtle, the mystery more compelling."—Arizona Republic

"It's difficult to come up with new superlatives to describe C. J. Box's Joe Pickett series, but his latest, The Disappeared, makes it a whole lot easier…thriller writing at its very best, as big and broad as the Wyoming landscape painted in shades mixed perfectly between dark and light."—Providence Journal

"This page-turner leads you down one path before tossing you onto another...And just when you think the breathless action is over, Box bows out with a cliffhanger that leaves you with fingers clutching your book, "Arrrgh!" on your lips."— Daily Oklahoman

"Box has crafted another thriller with many surprising twists and turns...The Disappeared is a gripping thriller that should appeal to readers who love tales from the Wild West"— The Durango Herald

"The eighteenth installment of this hugely popular series delivers everything fans want: a compelling mystery, high-stakes action in a beautiful setting, and enjoyably humorous interaction between characters they've come to know and love. There's a reason we keep coming back for more."—Booklist

"Superlative...[T]he book's key environmental issue enhances the satisfying conclusion. Also welcome are Box's underrated touches of wry humor, generally overlooked as one of his strengths. Series fans and newcomers alike will be rewarded."—Publishers Weekly (starred review)

"It's a treat to see Joe's daughter pulled into working with her father; there's an unexpected role for his reptilian mother-in-law, the imperishable Missy Vankueren; a false lead he follows will have you whooping with laughter....The final pages find Box's hard-used hero both triumphantly successful and in deep trouble once again in perhaps the most finely balanced conclusion in this rewarding series."—Kirkus Reviews

Praise for Vicious Circle

"A compelling tale that also rings with emotional resonance."—Associated Press

"The unexpected, suspenseful turns will keep readers enthralled.  Another winner for Box."—Library Journal (starred review)

"Bracingly familiar pleasures expertly packaged...first-timers will be intrigued and fans amply rewarded."—Kirkus Reviews

"This outing is the most suspenseful yet in this world-class series, setting a new standard for Box."—Publishers Weekly (starred review)

"We've noted previously how the fully fleshed family dynamic is one of this series' enduring strengths, and that pays dividends here as we viscerally feel Joe's fear for his loved ones and his powerlessness to protect them. Box masterfully tightens the suspense until we're caught in a vicious circle of our own and unable to stop reading."—Booklist

"C. J. Box is back and better than ever."—Providence Journal