Without Precedent: Chief Justice John Marshall and His Times (Paperback)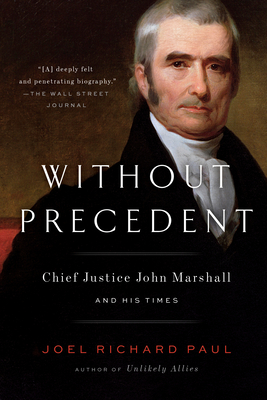 Description
---
From the author of Unlikely Allies and Indivisible comes the remarkable story of John Marshall who, as chief justice, statesman, and diplomat, played a pivotal role in the founding of the United States.
 
No member of America's Founding Generation had a greater impact on the Constitution and the Supreme Court than John Marshall, and no one did more to preserve the delicate unity of the fledgling United States. From the nation's founding in 1776 and for the next forty years, Marshall was at the center of every political battle. As Chief Justice of the United States—the longest-serving in history—he established the independence of the judiciary and the supremacy of the federal Constitution and courts. As the leading Federalist in Virginia, he rivaled his cousin Thomas Jefferson in influence. As a diplomat and secretary of state, he defended American sovereignty against France and Britain, counseled President John Adams, and supervised the construction of the city of Washington. D.C.

This is the astonishing true story of how a rough-cut frontiersman⁠—born in Virginia in 1755 and with little formal education—invented himself as one of the nation's preeminent lawyers and politicians who then reinvented the Constitution to forge a stronger nation. Without Precedent is the engrossing account of the life and times of this exceptional man, who with cunning, imagination, and grace shaped America's future as he held together the Supreme Court, the Constitution, and the country itself.
About the Author
---
Joel Richard Paul is a professor of constitutional and international law at the University of California Hastings Law School in San Francisco. He is the author of Unlikely Allies: How a Merchant, a Playwright and a Spy Saved the American Revolution, which was named one of the best books of 2009 by The Washington Post. He lives in northern California.
Praise For…
---
Praise for Without Precedent:
 
"[Paul] has crafted a scholarly but highly readable and often entertaining chronicle that embeds Marshall among the leading lights of the nation's founding generation, humanizing him along the way... [Marshall] is justly celebrated as the most far-sighted justice ever to lead the Supreme Court. His lasting achievements are ably served by Mr. Paul's deeply felt and penetrating biography." —Wall Street Journal

"Law professor Joel Richard Paul brings exactly the kind of perspective that a legal scholar can best provide to this engaging biography of US Supreme Court Justice John Marshall." —Christian Science Monitor

"Engrossing... Paul brings to life Marshall's seminal cases." ­—The Weekly Standard

"[Paul] has added a well-written and admiring biography to the long line of Marshall scholarship." —San Francisco Chronicle

"Compelling... Paul's narrative excels when providing background details and the political context of Marshall's famous decisions. Unlike many previous Marshall biographies, this book properly focuses on the practical circumstances that form the ground of Marshall's decision-making." —National Review

"[Paul] compellingly details the path that brought Marshall to the Supreme Court and how he was able to achieve so much while there in the absorbing and aptly titled Without Precedent... This engrossing account of a key figure in our early history makes for excellent reading." —BookPage

"[A] comprehensive and insightful biography... Paul has produced an excellent treatment of an unquestionably impressive life." —Publishers Weekly, starred review

"A well-informed, perceptive, and absorbing biography of a titan of American history." —Kirkus Reviews, starred review


"This historical account of the longest-serving Chief Justice in the court's history provides in-depth insight into the early days of the Supreme Court and Marshall's lasting influence." —Above The Law

"Paul offers an impressive biography on John Marshall, a politician and judge who became known as the nation's most powerful Supreme Court justice during his run in the 1800s." —Houston Chronicle
"In his engrossing biography of John Marshall, the fourth chief justice of the United States, Paul... makes a compelling case for Marshall's enduring impact on the Constitution. With the verve that distinguished his previous book, [Unlikely Allies,]... Paul deftly evokes Marshall as a leader who imagined a dynamic interpretation of the Constitution." —The National Book Review

"This very human story should be of great interest to almost all readers. Well written and drawing on rich primary sources, Without Precedent lives up to its title and will be an excellent addition to American-history collections." —Booklist

"This masterly work elucidates the indelible imprint that Marshall made on the U.S. Constitution and its subsequent interpretation." —Library Journal

"An examination of the life and work of John Marshall masterfully put into the context of his times. The echoes of his decisions as chief justice still reverberate in our era." —San Francisco Chronicle

"Joel Richard Paul capably draws the reader into the factual and legal complexities involved in dozens of court cases without resorting to legalese… This comprehensive and insightful biography is mostly homage to this often-overlooked founder of our nation. But Paul does not ignore Marshall's 'blind spots', his occasional faulty reasoning or compromised ethics. As a biographer, Paul exceptionally balances Marshall's character development with his historic achievements in a very human story." —The Missourian

"Paul capably frames the facts and the importance of the issues, as well as Marshall's big picture thinking about the outcome. … This biography lives up to its title in that it provides the reader with a clear picture of who John Marshall was, how he grew as a leader and as a jurist, in a time when his nation was going through some growing pains of its own." —Potus Geeks

"A highly entertaining and educational biography that should be on a lawyer's reading list." —Iowa Lawyer Magazine

"Anyone interested in the law and our country's Founders will find this book revealing and enjoyable." —Jill Abramson, former Executive Editor of The New York Times and co-author of Strange Justice
 
"You don't have to be a constitutional law scholar to enjoy this lively, wonderfully engaging account of the life and times of Chief Justice John Marshall." —William Taubman, Pulitzer Prize-winning author of Khrushchev: The Man and his Era and Gorbachev: His Life and Times

"Joel Richard Paul has written a fascinating and deeply authoritative biography of one of the most overlooked but important members of the founding generation. John Marshall was a lawyer, justice, and statesman, who as much as anyone else helped shape the nation's court system and left a lasting imprint on our legal principles—and much more. Here, in Without Precedent, Marshall gets the attention he so justly deserves." —Jay Winik, author of The Great Upheaval and 1944
 
"I would have predicted that there was nothing worth saying about John Marshall that hadn't already been said. I would've been so wrong. In every chapter of this page-turning account of Marshall's pivotal place in our nation's history, even the expert will learn something new. How did Joel Paul figure out, for instance, that the great Chief Justice probably suborned perjury on his brother's part during the bizarre Marbury v. Madison trial? You owe it to yourself to read Joel Paul's terrific book to find out." —Laurence H. Tribe, Carl M. Loeb University Professor and Professor of Constitutional Law, Harvard Law School

"Who was John Marshall, really? Thousands meet him anew each year solely through his published opinions. But finally, Joel Richard Paul gives us this captivating, indispensable account, painting a fascinating picture of the frontiersman, soldier, illusionist, strategist, diplomat and international lawyer who became not just the man behind Marbury, but so much more." —Harold Hongju Koh, Sterling Professor of International Law at Yale Law School

"Joel Richard Paul offers an engaging study of Marshall, both the man and the jurist... Anyone interested in the American founding and the man who, perhaps more than any other, guided the republic through its most formative years, will appreciate this book." —Law360