The Last Ocean: A Journey Through Memory and Forgetting (Hardcover)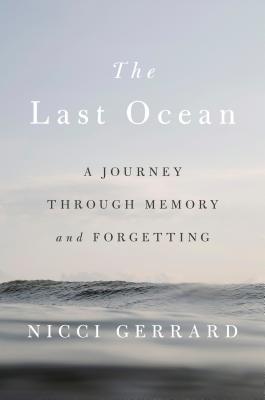 $28.00
Email or call for price
Description
---
From the award-winning journalist and author, a lyrical, raw and humane investigation of dementia that explores both the journeys of the people who live with the condition and those of their loved ones

After a diagnosis of dementia, Nicci Gerrard's father, John, continued to live life on his own terms, alongside the disease. But when an isolating hospital stay precipitated a dramatic turn for the worse, Gerrard, an award-winning journalist and author, recognized that it was not just the disease, but misguided protocol and harmful practices that cause such pain at the end of life. Gerrard was inspired to seek a better course for all who suffer because of the disease. 

The Last Ocean is Gerrard's investigation into what dementia does to both the person who lives with the condition and to their caregivers. Dementia is now one of the leading causes of death in the West, and this necessary book will offer both comfort and a map to those walking through it. While she begins with her father's long slip into forgetting, Gerrard expands to examine dementia writ large. Gerrard gives raw but literary shape both to the unimaginable loss of one's own faculties, as well as to the pain of their loved ones. Her lens is unflinching, but Gerrard honors her subjects and finds the beauty and the humanity in their seemingly diminished states. 

In so doing, she examines the philosophy of what it means to have a self, as well as how we can offer dignity and peace to those who suffer with this terrible disease. Not only will it aid those walking with dementia patients, The Last Ocean will prompt all of us to think on the nature of a life well lived.
About the Author
---
As well as being a novelist, Nicci Gerrard is a journalist, a campaigner and a humanist celebrant. Nicci Gerrard writes for The Observer and is the co-author, with Sean French, of the UK bestselling Nicci French thrillers. In 2016 she won the Orwell Prize for Journalism, for a piece exploring dementia. Following her father's death in 2014, she co-founded John's Campaign which seeks to make care for those who are vulnerable and powerless more compassionate, and is now a national movement in the UK.
Praise For…
---
"A tender, inquisitive tour of a subject that can be raw and painful." —John Williams, The New York Times

"A beautifully written, thoughtful look at dementia, it explores what might be the best, most humane way to treat people as their dementia advances—a crucial question in an era when about 1 out of 6 people over 80 get the condition . . . Gerrard, a British journalist and novelist whose father had dementia, offers particular empathy for family caregivers, who often find themselves with a deep sense of loss as their loved one's selfhood seems to slip away." —AARP

  "[A] vivid combination of memoir and investigative journalism…With dementia now afflicting one in six people over 80, Gerrard's informative and thought-provoking book is pertinent to all." —Publishers Weekly (starred review)

"Revelatory and moving… carr[ies] both an emotional and a philosophical charge… A beacon of a book amid a sea of darkness."—Kirkus, starred review

"[Gerrard's] powerful and beautifully written book takes the reader on a poignant voyage."—The Guardian 

"Immensely powerful . . . an incisive and compelling read . . . [Gerrard] has an elegant yet devastating turn of phrase."—The Sunday Times

"Essential reading about love, life, and care"—Kate Mosse, author of Labyrinth

"Nicci Gerrard exudes understanding of the breadth, scale and complexity of the dementias and the challenges they pose for society. Yet she communicates simply, personally and practically as if speaking individually to each of us"—Sebastian Crutch Professor of Neuropsychology, Dementia Research Centre, University College London

"Nicci Gerrard writes with power, insight, empathy and extraordinary beauty about the world of dementia . . . and demonstrates how we can address the fear, despair and ignorance that has accompanied its spread"—Paul Webster, editor of the Observer

"Gerrard ranges widely and wisely, raising questions about what it is to be human and facing truths too deep for tears"—Blake Morrison, author of And When Did You Last See Your Father?
 
"Evocative and powerful, shining a light on a world which is often hidden and misunderstood"—Jane Cummings, Chief Nursing Officer for England

"Gerrard writes beautifully, encyclopedically, and with humanity"—Nicholas Timmins, honorary fellow of Royal College of Physicians
 
"Nobody has written on dementia as well as Nicci Gerrard in this new book. Kind, knowing and infinitely useful"—Andrew Marr

"This is a tender, lyrical, profound, urgent book . . . Gerrard has penned a treatise on what it is to be human"—Yasmin Alibhai-Brown