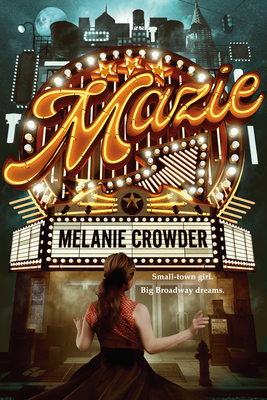 $18.99
Email or call for price
Description
---
*"Deserves a standing ovation." --Kirkus Reviews (starred review)

*" This is a terrific and realistic piece of historical fiction that is perfect for theater lovers and historical fiction fans." --SLC (starred review)

*"The peppy first-person narrative keeps the story zipping along, and adroitly placed period details make the setting come alive in this bighearted, exuberant novel." --Publishers Weekly (starred review)

An eighteen-year-old aspiring actress trades in starry Nebraska skies for the bright lights of 1950s Broadway in this show-stopping novel from award-winning author Melanie Crowder.

Mazie has always longed to be on Broadway. But growing up in her small Nebraska town, that always seemed like an impossible dream. So when an opportunity presents itself to spend six weeks auditioning, Mazie jumps at the chance, leaving behind everything--and everyone--she's ever known.

New York City is a shock to the senses: thrilling, but lonely. Auditions are brutal. Mazie's homesick and she misses the boyfriend whose heart she broke when she left. Nothing is as she expected.

With money running out, and faced with too many rejections to count, Mazie is more determined than ever to land a role. But when she discovers that booking a job might mean losing sight of herself, everything Mazie always thought she wanted is called into question.

Mazie is the story of a girl caught between two lives--and two loves--as she navigates who she is, what matters most, and the cost of following her dream.

Praise for Mazie:

"Entertaining and heartfelt."-- Booklist

"Mazie's authenticity makes this novel stand out. Recommended for all collections, especially where theater is popular."– School Library Journal

About the Author
---
MELANIE CROWDER holds an MFA in writing from Vermont College of Fine Arts and is the author of the critically
acclaimed Audacity and An Uninterrupted View of the Sky. She lives with her family on the Colorado Front Range.
Visit Melanie online at www.melaniecrowder.net. Follow her on Twitter and Instagram @MelanieACrowder.
Praise For…
---
*"Filled with Broadway trivia, the book is a dream for musical theater fans, and the love story between Mazie and Jesse is heartfelt. The characters, including secondary ones, are well developed and fully realized, and the book features noteworthy queer representation. Deserves a standing ovation." --Kirkus Reviews, starred review

"Crowder's latest is an inspirational story of bravery and confidence, following an easily charming heroine. Readers will be swept away to the 1950s and a post-war Broadway scene alongside Mazie as she leaves everything that she's known, journeying to a new city to chase her acting dreams. Entertaining and heartfelt." --Booklist