The Goddesses: A Novel (Paperback)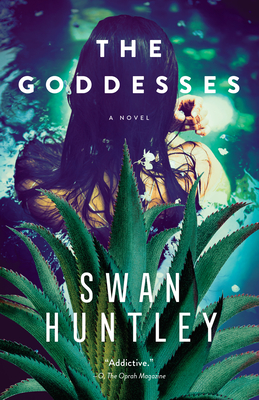 for information about purchasing this book, please contact orders@bookpassage.com
Description
---
The Descendants meets Single White Female in this lush and compelling novel about a woman who moves to Hawaii, only to find herself drawn into a dangerous and mysterious friendship, from the author of We Could Be Beautiful.

 When Nancy and her family arrive in Kona, Hawaii, they are desperate for a fresh start. Nancy's marriage is in shambles, and she and her husband sleep in separate bedrooms. Their twin sons have been acting out, exhibiting risky behavior. But Hawaii is a refreshing paradise: they plant an orange tree in the yard; they share a bed once again; and Nancy resolves to make a happy life for herself. It's then that she takes a yoga class and is stricken by the charismatic teacher, Ana. Soon, they are spending all their time together, driving around the island, sharing dinners, and relaxing in Ana's hot tub. During all this time spent with Ana, Nancy starts neglecting her family, skipping dinners, and leaving her children to their own devices. But she doesn't care. She feels understood in a way she's never experienced, and she knows that she will do anything Ana asks of her. A seductive story of friendship and manipulation set against the idyllic tropical lull of the Big Island, The Goddesses is a stunning psychological portrait by one of fiction's most exciting new voices.
About the Author
---
SWAN HUNTLEY is the author of We Could Be Beautiful. She earned her MFA from Columbia University and has received fellowships from the MacDowell Colony and the Ragdale Foundation. She lives in California and Hawaii.
Praise For…
---
"An addictive fictional saga in which a jilted wife goes to the mat to save her marriage and her morale."
—O Magazine, "10 Titles to Pick Up Now"
 
"A dazzling story of manipulation, unexpected connections, and answering your heart's true desires, The Goddesses is one of the boldest reading experiences of 2017 (oh, and you'll finish the book with major Hawaii wanderlust)."
—Brit+Co., "7 Thrilling Summer Reads with Fierce Female Leads"

"An engrossing portrait of female friendship, Huntley's sophomore novel explores the risks and rewards of finding an unexpected soul mate. Huntley lets the idyllic Hawaiian setting wash over the reader, the volcanoes and starry skies the perfect background for Nancy's self-discovery. Readers who enjoyed Camille Pagán's Life and Other Near-Death Experiences and the works of Meg Wolitzer will savor the slow burn of this expressive and electric novel."
—Stephanie Turza, Booklist (Starred Review)

"As in her first book, Huntley is a keen social observer, empathetic and biting at once… [A] gripping psychological portrait of a woman at a personal crossroads. A haunting story of betrayal and forgiveness that packs an unexpectedly emotional punch."
—Kirkus
 
"If Swan Huntley's 2016 bestselling suspenser, We Could Be Beautiful, grabbed you and wouldn't let you go, hold on to The Goddesses, about a woman who has just moved to Hawaii with her family an develops a friendship with a yoga instructor that gets close—and then way too close—for comfort."
—Lisa Shea, Elle

"An engaging account of a middle-aged woman's journey for an identity apart from her family... Readers will be pulled along by the quick-moving story."
—Publishers Weekly
 
"A woman tries to start over in Kona, Hawaii, with the help of a mysterious yoga teacher."
—Time Magazine 
 
"Hoping to push the reset button on her troubled marriage, Nancy heads to Hawaii with her family. It's idyllic -- until her yoga instructor turns out to be more malevolent than she seems."
—People