The Warburgs: The Twentieth-Century Odyssey of a Remarkable Jewish Family (Paperback)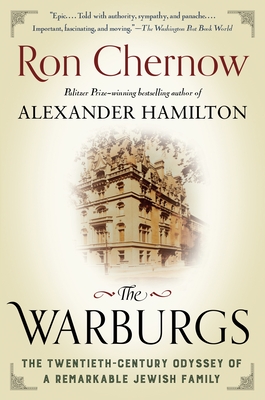 $21.00

Usually Ships in 1-5 Days
Description
---
From the Pulitzer Prize–winning bestselling author of Alexander Hamilton, the inspiration for the hit Broadway musical, comes this definitive biography of the Warburgs, one of the great German-Jewish banking families of the twentieth century.

Bankers, philanthropists, scholars, socialites, artists, and politicians, the Warburgs stood at the pinnacle of German (and, later, of German-American) Jewry. They forged economic dynasties, built mansions and estates, assembled libraries, endowed charities, and advised a German kaiser and two American presidents. But their very success made the Warburgs lightning rods for anti-Semitism, and their sense of patriotism became increasingly dangerous in a Germany that had declared Jews the enemy.

Ron Chernow's hugely fascinating history is a group portrait of a clan whose members were renowned for their brilliance, culture, and personal energy yet tragically vulnerable to the dark and irrational currents of the twentieth century.
About the Author
---
Ron Chernow's bestselling books include The House of Morgan, winner of the National Book Award; The Warburgs, which won the George S. Eccles Prize; The Death of the Banker; Titan: The Life of John D. Rockefeller, nominated for the National Book Critics Circle Award; Washington: A Life, which received the Pulitzer Prize for Biography; and Alexander Hamilton, nominated for the National Book Critics Circle Award and adapted into the award-winning Broadway musical Hamilton. Chernow has served as president of PEN American Center and has received seven honorary doctoral degrees. He lives in Brooklyn, New York.
Praise For…
---
"A twentieth-century epic [told] with authority, sympathy, and panache. . . . Important, fascinating, and moving." —The Washington Post Book World

"Excellent. . . . An enthralling story, told with a novelist's zest." —The New York Times Book Review

"Splendid. . . . Chernow does a wonderful job fleshing out the lives of the major characters in this family drama." —The Wall Street Journal
 
"[Ron Chernow] has surpassed himself in this absorbing chronicle." —The New Yorker
 
"This is grand-scale scholarship. . . . It is all here, along with so much of the painful, tumultuous history of our time, all in one splendid book." —David McCullough, author of The Wright Brothers

"Ron Chernow's blockbuster history traces the heart-rending saga of this German-Jewish banking family. . . . Despite his scrupulous documentation of sources, Chernow is never less than readable. A graceful and lucid writer, he offers old-fashioned narrative in the grand style." —Newsday

"The history of a fascinating family. . . . What we learn about in this book is people. . . . Chernow is very good at bringing them to life. He has a sharp eye for detail. . . . One can open the book anywhere and enjoy it." —The New Republic

"Ron Chernow . . . has made the stories of these four brothers the cornerstones of a dark, though not quite tragic, family saga. [He is] a graceful writer with an eye for the telling anecdote. . . . The result is a book of considerable pathos and immediacy. . . . Through his portrait of this complex dynastic organism, he sheds interesting light on various larger historical themes." —The Boston Globe

"Excellent family history. . . . This chronicle of one of the most important banking families in history tells us much about the people. . . . A great, and lengthy, saga." —The Times (London)

"The Warburgs stand revealed as a family more fortune-kissed, fated and fascinating even than the Kennedys, and . . . just as important . . . and now their story has been ably told." —The New York Daily News